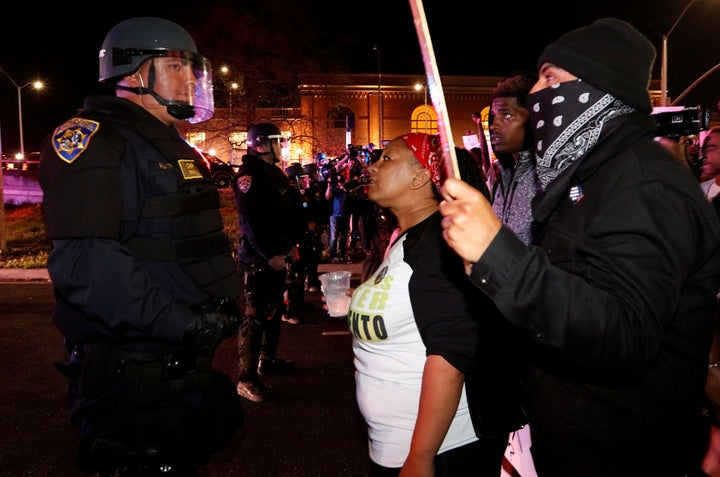 When former San Francisco 49ers quarterback Colin Kaepernick took a knee during the national anthem in August 2016, it was in protest of unjust police killings of black Americans.
For his courage, Kaepernick lost his job, the NFL lost its mind by forbidding the peaceful action ― and meanwhile, at least 378 black Americans have lost their lives in police killings.
That most recent estimate of black police violence victims comes from data compiled by The Washington Post and analyzed by HuffPost.
Last August, HuffPost reported that based on the Post's data, at least 223 black Americans had been killed by police gunfire in the year since Kaepernick first sat, then took a knee, to protest police violence. Less than a year later, that number has increased by at least 155 people.
It's likely that the real number of victims is higher. Between Aug. 14, 2016 ― when Kaepernick first sat out the national anthem ― and now, at least 253 of the people listed in the Post's database did not have their race confirmed. Furthermore, the database only includes shooting deaths, so people like Eric Garner, a black father who was unarmed when an officer put him in a fatal chokehold, would not be included.
In total, 3,357 people have been fatally shot by police since 2015, according to the Post's data.
The sobering numbers come just after the NFL announced its cowardly decision on Wednesday to ban kneeling during the national anthem. The league can now fine teams that participate in protests, with the punishment of individual players left up to their team.
In a statement, NFL Commissioner Roger Goodell said that "on-field protests created a false perception among many that thousands of NFL players were unpatriotic." (He did not seem to understand that silencing a peaceful protest might also come across as unpatriotic.)
Yet President Donald Trump has called the protests a "total disrespect of our heritage," and "a total disrespect of everything we stand for."
Trump even suggested that protesting players should leave the country.
"You have to stand proudly for the National Anthem or you shouldn't be playing," Trump said. "You shouldn't be there. Maybe you shouldn't be in the country."
Despite the vitriol, Kaepernick did reach out to veterans to make sure his protests were respectful. Initially, the former quarterback simply sat out the anthem, but former Green Beret Nate Boyer says he persuaded him to kneel.
"That's how it all started with Colin and I, neither of us knew that kneeling would be the result of our conversation," Boyer wrote in an open letter to both Kaepernick and Trump last October. "Colin wanted to sit, I wanted him to stand, and so we found a common ground on a knee alongside his teammates. I believe that progress and real change happens in this world when you reach across the divide, you build a bridge, you swallow your pride, you open your mind, you embrace what you don't understand, and ultimately you surrender."
One person killed by police since Kaepernick began protesting was 22-year-old Stephon Clark, who was shot at 20 times by two officers in his own backyard in Sacramento, California, earlier this year. He was armed with only a cellphone.
Clark's death sparked a wave of protests across the city. And why not? The killing was sickening, and Clark deserved more than to be another statistic.
But the NFL doesn't seem to care about that.
Popular in the Community