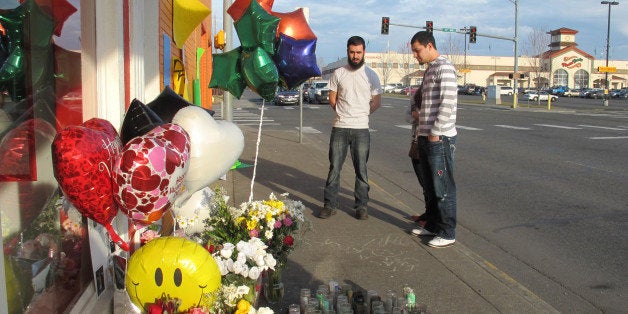 Michael Brown , Eric Garner and Antonio Zambrano-Montes were all unarmed men who died at the hands of police officers, sparking protests from critics who questioned whether the killings were justified.
Michael Brown and Eric Garner are now household names in the United States. Antonio Zambrano-Montes? Not so much.
Zambrano-Montes, a Mexican migrant worker, was shot and killed by police officers on Feb. 10 in Pasco, Washington. Video footage appears to show Zambrano-Montes throwing rocks at police and then running away with his hands raised before the officers shot him, though the Pasco Police Department has defended its officers' actions. The New York Times called the killing the Latino community's "Ferguson moment."
In the wake of Zambrano-Montes' death, some are questioning the way major television networks, which play a major role in setting the national news agenda, cover police violence cases in which the victims are Hispanic.
The episode was only the latest in a number of recent instances of police brutality against Latinos. Yet the media's response fell far short of the constant coverage that followed the killing of Michael Brown in Ferguson, Missouri. Neither Fox News nor CNN, the two leading national news channels, have run any segments covering Zambrano-Montes on their national broadcasts, according to a search of TVEyes, a service that archives television footage. MSNBC's "The Reid Report" ran one segment on the case on Feb. 13.
TV Eyes doesn't provide national-level data for Univision, the top-rated Spanish-language broadcaster, but searches in local markets showed that the network has covered the story multiple times over the last two weeks on national programs, including "Primer Impacto," "Despierta América" and "Al Punto."
That's no surprise to many observers who have long criticized the under-representation of Latinos at the top English-language networks. These critics say the lack of diversity leads the networks to pass over stories that are important to Hispanics and to portray the community less sympathetically.
Last year, a study published by Columbia University's Center for the Study of Ethnicity and Race found that "stories about Latinos comprise less than 1 percent of all main news media coverage, and the majority of these stories feature Latinos as lawbreakers."
"Violence or discrimination against Latinos does not tend to resonate among most Americans because Latinos are generally not perceived as Americans but recent immigrants or foreigners with no deep roots and histories in the U.S.," Frances Negrón-Muntaner, the center's director and the lead author of the study, told The Huffington Post. "So, abuses of power or injustices toward Latinos remain out of sight and out of mind."
Gustavo Arellano, the editor of the paper O.C. Weekly, agreed.
"When it comes to Latinos -- American media still only thinks of them as immigrants," he said. "They can't think of them as victims of police brutality or anything else but immigrants."
Arellano, who has covered the Latino community and police violence in Southern California for two decades, blames the "laziness of the media" for failing to shine a brighter spotlight on cases like that of Zambrano-Montes.
"For me, killing an unarmed person is killing an unarmed person and the media should scrutinize that, and see Latinos as being unduly victimized by the police," he said.
Whether or not the media covers it, the Latino community faces a complex and often difficult relationship with law enforcement. A poll last year found that 68 percent of Latinos feared that law enforcement officials -- including both police and the Border Patrol -- would use excessive force against them. In New York City, 27 percent of police street interrogations using the controversial "stop-and-frisk" tactic in the first three quarters of 2014 targeted Latinos, according to data from the New York Civil Liberties Union. This figure is far higher than the 12 percent rate for whites, but also well below the 54 percent for blacks. (Roughly 71 percent of New York City is white, a 2014 census estimate indicates.)
Stereotypes among the general public also help limit national attention to police violence against Hispanics, according to Gregory Chris Brown, a professor of criminal justice at California State University, Fullerton. Because the news media often portrays Latinos as criminals, Brown says, news reporters and producers are likely to view Latino victims with more skepticism.
"You know that idea, 'if it bleeds, it leads?" Brown said. "If it's a Latino that's bleeding and it's law enforcement that made him bleed, that's not newsworthy, because the idea is that the Latino did something to make it happen."
"If a Latino shot a cop? That would make the news," he added.
The professor attributes the news media's extensive coverage of the killings of Michael Brown in Ferguson and Garner in Staten Island not to greater interest from journalists, but to the fact that protesters and prominent voices in the African-American community forced the media to take notice.
"Until it comes to the attention of these activist groups that make the news media pay attention, nothing happens," Brown said. "If you have no political power, you have no economic power, you're not going to get recognized."
But when it comes to raw political power, Latinos have had more trouble. Despite high-profile get-out-the-vote campaigns, the voter turnout rate among eligible Hispanics lags well behind those of African-Americans, whites and Asian-Americans, according to data from Gallup. And although Latinos make up about 16 percent of the U.S. population, they only make up 6 percent of Congress, according to figures compiled by The Guardian. African-Americans, by comparison, constitute 13 percent of the general population and 9 percent of Congress.
Federico Subervi, a professor at Kent State University who studies the portrayal of Latinos in the media, says the lack of national political leadership helps explain why police violence against Latinos receives relatively little attention on national television.
"There's no prominent Latino leaders who can mobilize nationwide for prompt action on such matters," Subervi said. "There are politicians, but they're not going to be going out stirring up the folks more than their immediate constituencies."
A 2013 study by the Pew Research Center's Hispanic Trends Project backs up Subervi's point. The study found that Latinos were almost totally unable to recognize a prominent Latino leader. When asked to name one, some 62 percent of the 5,103 respondents said they didn't know. "No one" was the second-most popular answer, receiving 9 percent.
Supreme Court Justice Sonia Sotomayor -- who is precluded by the nature of her job from speaking out on controversial issues -- came in third place with 5 percent, tied with Sen. Marco Rubio (R-Fla.).
Before You Go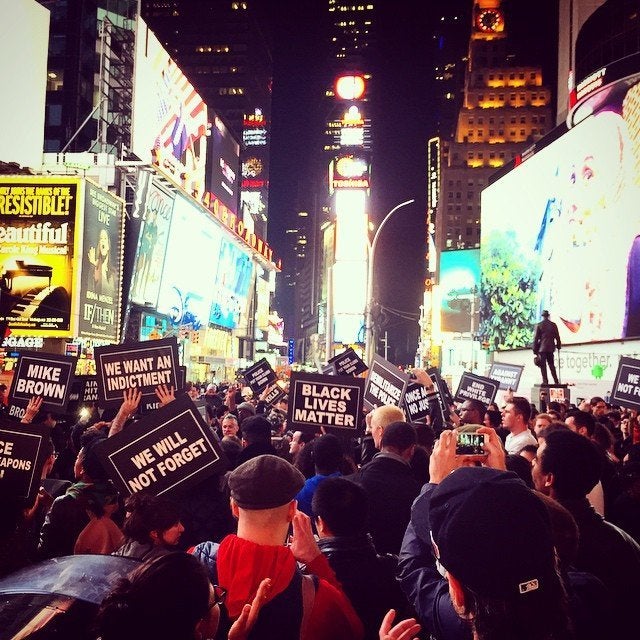 Ferguson Protests Around the Country
Popular in the Community