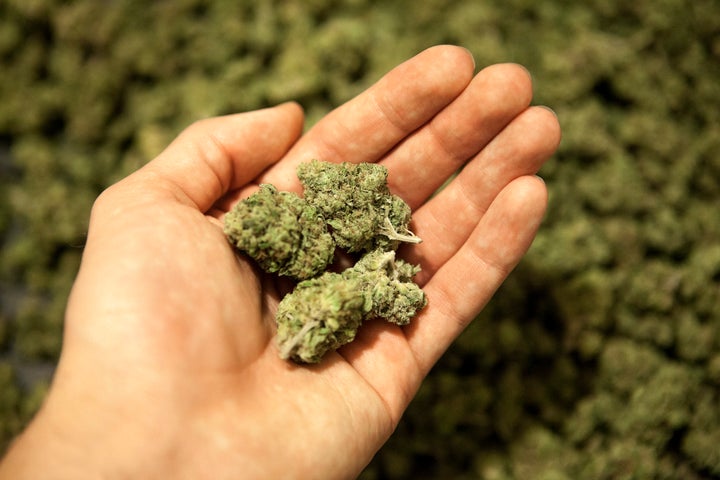 A new survey of thousands of police officers from departments around the U.S. suggests that the majority don't agree with the federal government's stance on marijuana.
Marijuana is still a Schedule I substance under federal law, meaning it's categorized as one of the most dangerous drugs, with a high potential for abuse and no medicinal value. But a Pew Research Center survey published Wednesday reveals that 68 percent of police officers believe marijuana should be legal in some form.
Nearly one-third of the officers said weed should be legal for medical and personal use, while 37 percent said it should be legal for medical use alone. Just 30 percent said that weed should not be legal at all.
The law enforcement community is less enthusiastic about marijuana legalization than the general public, which has shown record-high levels of support for legal weed in recent years. The latest Pew survey shows that 49 percent of Americans believe marijuana should be legal for medical and personal use, with an additional 35 percent in favor of legal weed for medical use alone. Just 15 percent of the public believes marijuana should be illegal.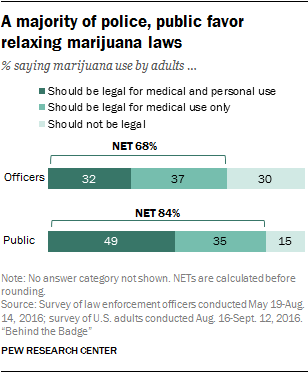 These relaxed laws reflect a shift in public attitudes toward marijuana, with many Americans now viewing the plant as having therapeutic value ― or at least seeing it as no more harmful than other drugs like alcohol or cigarettes.
But that doesn't mean law enforcement priorities toward marijuana have kept up with public opinion. In 2015, U.S. police made more than 574,000 arrests for possession of small amounts of marijuana, more arrests than they made for all violent crimes combined, according to a report from the American Civil Liberties Union and Human Rights Watch. The arrest data shows that black Americans continue to be arrested at a higher rate than their white peers, despite statistics that show they use the drug at the same rate.
The future of marijuana policy at both the state and federal level hangs in the balance as President-elect Donald Trump prepares to take office. Trump's nominee for attorney general, Sen. Jeff Sessions (R-Ala.), has clearly outlined his personal opposition to weed and legalization efforts. At his Senate confirmation hearing Tuesday, he left the door open to increased federal interference in state-legal marijuana operations, a course of action that would appear to put him at odds with Trump's stated position on the issue.
Pew's data is the result of online interviews with 7,917 law enforcement officers from 54 police and sheriff's departments across the U.S., administered between May 19 and Aug. 14, 2016. Pew also polled 4,538 respondents from the general public between Aug. 16 and Sept. 12, 2016.
Read the Pew Research Center's full report here.
Popular in the Community