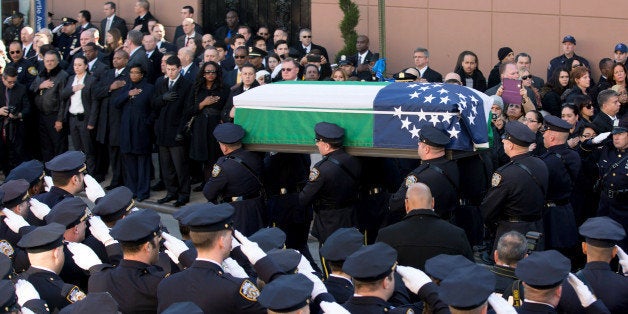 However, the number of officers killed has been declining in recent years. The 2014 figure is well below the 64 officers who were killed on average each year between 1980 and 2014. The year 2013 actually saw the lowest number of officers killed in action in the last 35 years. Only 27 officers were killed feloniously that year, which means that while 2014's number appears to be a spike, it's actually lower than the average figure from the past several years.
Some key statistics from the report include:
46 of the 51 officer killings involved offenders using guns;
Of those 46 incidents, 32 of the incidents involved handguns, 11 involved rifles and three involved shotguns;
35 of the 51 officers were wearing body armor at the time;
17 officers were killed in the South, 14 in the West, 8 in the Midwest, 8 in the Northeast and 4 in Puerto Rico;
An additional 44 officers were accidentally killed in the line of duty;
Of those 44 officers, 28 died in vehicular collisions, and only 15 of them were wearing seat belts.
Federal experts have long acknowledged that that estimate is too low, and a handful of more recent, unofficial reports — online databases compiled and fact-checked by volunteers — place the toll much higher, at about 1,100 deaths a year, or three a day. Yet they do not suggest that the pace of police killings or the racial composition of victims as a group has changed significantly in the last two years or so.
Like Us On Facebook |

Follow Us On Twitter |

Contact The Author
Related
Popular in the Community