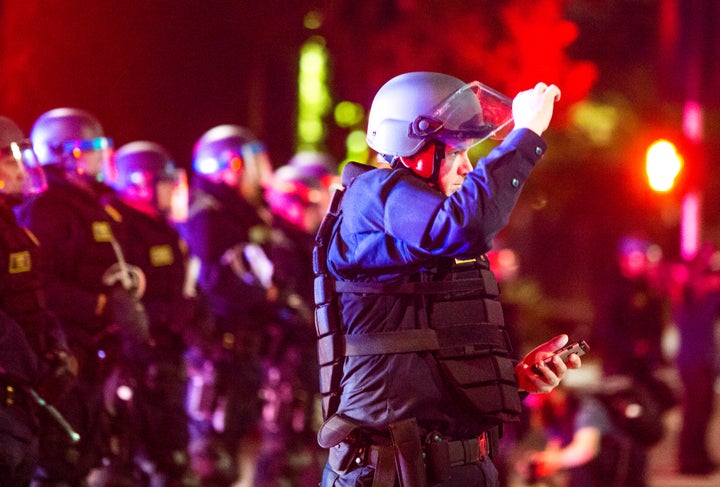 Jeralynn Blueford got a standing ovation when she spoke at a packed Oakland City Council meeting in July 2016. Her 18-year-old son Alan was killed by Oakland police in 2012.
"Take our pain and give it a higher purpose," she said. "No more police brutality."
That "higher purpose" is embodied by the Oakland Police Commission created by Measure LL, which is on your ballot on November 3. Alan's mother has said his death was "arbitrary, unnecessary and racist." Yet it was never independently investigated. This measure is meant to change that.
Explain to me like I'm 5: What does Measure LL do?
Say your brother or son was harmed by the police. How would the measure help? It means that your complaint would get investigated by trained board members who are independent from the police. Independence is important, since police are normally investigated—and cleared—by their friends and former co-workers in the District Attorney's office.
After investigating, the new commission can discipline the officers, or in extreme cases, fire the police chief.
How is this better than the current system?
Right now, if you have a complaint against the police, you can take it to the Citizen's Police Review Board. They will then do something about as helpful as a waterproof towel. The current board can't discipline or fire anyone. It can recommend things to the Oakland Police Department, which OPD is perfectly free to ignore.
Also, the existing board is far from independent because Oakland's Mayor appoints all of its members. The Mayor is historically cooperative with the police department, so the police are able to influence the people chosen to oversee them.
To replace the Review Board, Measure LL will create the Oakland Police Commission and the Community Police Review Agency. These groups can discipline officers and can even fire the police chief for cause, if five of seven commission members agree. The commission also provides the shortlist of new potential police chiefs from which Oakland's mayor chooses.
The process is designed to be unusually free from police influence. Four commission members are chosen by a civilian selection panel, and three chosen by Oakland's mayor. (In case you're wondering who selects the selection panel—it's the City Council.) This makes the commission the only one in the country with a majority of members not appointed by politicians, according to Dan Kalb, one of the two Oakland City Council members who proposed the measure. No current or former OPD or police union member can serve.
However, some activists who fought for the commission now oppose it, partly because of the Mayor's power to appoint three board members, which was added to the proposal at a late stage. "We do not trust the mayor to make these appointments," said Cat Brooks of the Anti-Police Terror Project at the July 26 City Council meeting. She also opposes an amendment allowing officers to appeal the board's decisions using a binding arbitration process.
But other police accountability advocates have rallied behind it. "We hope it won't stop people from voting for it," Pamela Drake of the Coalition for Police Accountability said of the mayoral appointments. The Coalition has backed the measure so strongly that the group changed its name to Yes on Measure LL.
How Measure LL would have helped in a real-life death at police hands:
Measure LL could have helped Alan Blueford's family get accountability after he was killed. If Blueford's parents had been able to complain to the Agency set up by Measure LL, their case would certainly have been investigated. The Agency is required to pursue all complaints involving use of force, in-custody deaths, and profiling.
Unlike the current Police Review Board, the director of the Agency established by Measure LL will have access to officers' personnel records. So he or she could have learned that Officer Masso, the cop who shot Blueford, had resigned from NYPD after he was accused of beating up a suspect.
Measure LL would also have prevented Oakland police from claiming that Blueford had fired a gun at them. The new agency would have seen the full incident report on Blueford's death, which was kept hidden from outsiders for five months in 2012. The agency would therefore have known from the start that Officer Masso was not wounded by Blueford, but instead shot himself in the foot.
Under Measure LL, the police chief overseeing the Blueford case could have been fired for withholding the report, since the Commission can fire a chief for failing to cooperate with their investigation.
Measure LL would have made Officer Masso far more likely face disciplinary action over Blueford's death, because the Agency can recommend disciplinary measures. If the Chief of Police rejects the recommendations, this disagreement gets resolved by members of the new Oakland Police Commission.
Under the current system, Masso was not disciplined. He remained an Oakland officer until he voluntarily left to join the force in Hollister, CA.
Oakland has a dark history of racially charged police brutality, and its recent past is no less disturbing. Eight men of color of  were killed by Oakland police in 2015. The city had the third highest rate of civilian police killings in the nation. And in 2016, three police chiefs quit in one week after at least eleven officers were involved in sexually exploiting a teenage girl. Measure LL supporters cite this outrage as evidence that more oversight is badly needed.
"Very disturbing is an understatement," said Rashidah Grinage of the scandal. Grinage has worked on police accountability for over 20 years and strongly supports Measure LL. "Something different must be done to provide Oakland residents with the ability to hold the Department accountable when they engage in such abysmal and unethical, if not illegal, behavior."
Calling all HuffPost superfans!
Sign up for membership to become a founding member and help shape HuffPost's next chapter