Lt. Mark Tiller did not violate the law when he fired two shots into a moving vehicle in July, killing Zachary Hammond as the unarmed 19-year-old attempted to flee, a state prosecutor announced Tuesday.
Tiller, a Seneca, South Carolina, officer, has maintained that he fired his gun because he feared for his life. Otherwise, he said, Hammond would have run him over.
The dash-cam video, released Tuesday, may call that story into question. But the prosecutor, 10th Circuit Solicitor Chrissy Adams, did not, finding Tiller's claim to be reasonable.
In an eight-page statement, Adams gives a detailed explanation of why she decided not bring charges after an investigation that included numerous interviews and forensic analysis of the video and the crime scene. She says the unusual length of her explanation is a response to "rumors, innuendo, and false information that has been reported."
Adams' statement hits many of the points that prosecutors regularly cite when clearing a police officer in a controversial shooting. She breaks down the video in slow motion, even though she repeatedly stresses that the officer had to respond to the situation in real time. She paints a sympathetic portrait of Tiller and his actions, while repeatedly noting that Hammond had acted criminally, thereby somehow inviting his own death.
If you've been following police shootings -- and the general lack of prosecution for the officers involved -- a lot of this looks familiar.
Step 1: Explain how the video corroborates the officer's version of events.
In the video below, Tiller speeds into a Hardee's parking lot, where Hammond and a passenger had pulled up next to an undercover police officer. Hammond's passenger, 24-year-old Tori Morton, had accidentally set up a drug deal with the officer, after sending a text to the wrong number and contacting a state trooper instead of her intended buyer.
The 20-second clip -- taken from a more complete dashcam video -- shows just how quickly the scene unfolded. It's hard to watch, but take a look for yourself.
Tiller's attorney had maintained all along that Hammond "rapidly accelerated in the direction of Lt. Tiller, forcing the lieutenant to push off of Mr. Hammond's car to keep from being struck and run over." He'd also claimed that Tiller fired "in order to stop the continuing threat to himself and the general public."
Here's how Adams describes the video.
Tiller quickly approaches Hammond's car on the driver's side with his gun drawn and repeatedly orders Hammond to stop and to show his hands. Hammond ignores Lt. Tiller's clear instructions to stop and show his hands. Hammond then puts his car in drive in order to attempt to flee the scene. Hammond then turns the car hard left toward Lt. Tiller resulting in Lt. Tiller being face to face with Hammond at the driver's window. The dash cam video shows Hammond's vehicle veering toward Lt. Tiller and accelerating rapidly. Tiller back pedals a few steps to avoid being knocked down by Hammond's car and is seen pushing off the vehicle as it veers towards him. The dash cam video shows Tiller's feet going underneath the car at the approximate time the shots are fired.
According to Adams, the first shot "can be heard almost immediately after Tiller pushes off the car and when his body is still exposed to danger from the vehicle." She also makes multiple mentions of the fact that the first words out of Tiller's mouth after shooting Hammond were "he tried to hit me."
Other observers -- and even experts on police accountability -- may disagree with Adams' conclusion and description of events, particularly about what sort of danger Tiller was actually in when he fired his gun. It may seem fair to wonder if the video really shows Hammond trying to hit Tiller. But as Adams goes on to note, when considering an indictment, that's not the main question.
Step 2: Remind the public that it doesn't matter if the video looks bad.
In her statement, Adams notes that the legal standard for use of lethal force, laid out by the Supreme Court in Graham v. Connor, requires that each "use of force must be judged from the perspective of a reasonable officer on the scene, rather than with the 20/20 vision of hindsight." The ruling gives officers a great amount of leeway, specifically cautioning against judging police too harshly for split-second decisions made in "tense, uncertain and rapidly evolving" situations.
Here's how Adams describes the process:
The law prohibits viewing Lt. Tiller's decision to use deadly force from the perspective of a "Monday morning quarterback". When viewing the video we have the benefit that Tiller did not have: we have hours to watch the video and question Tiller's decision to fire his weapon. Lt. Tiller had seconds to make this decision. The video viewed at full speed, standing alone, is troublesome. However, when the video and the totality of the investigation is evaluated and the laws of our State are applied, it is clear that Lt. Tiller broke no State laws. The evidence from this investigation corroborates and supports Lt. Tiller's belief that he was going to be run over. Therefore, the only conclusion that can be rendered is that deadly force was justified.
As Adams points out, what matters is that the video doesn't provide any clear evidence to show that Tiller didn't reasonably believe his life was in danger. In Tiller's statement following the incident, he said he knew Hammond "was attempting to run me over," which led him to shoot. The video can't disprove that, and Adams concludes it supports Tiller's "assertion that he was in fear for his life and safety."
Step 3: Attack the character of the person killed by the officer.
Adams could have simply explained why she'd concluded that Tiller was within his authority to shoot Hammond, but throughout her statement, she also implies that the 19-year-old had it coming.
For one, he was involved with drugs and may have been high at the time of his death.
Toxicology for Hammond showed that he tested positive not only for cocaine, but also for Levamisole, the cutting agent that is commonly used in cocaine. Your forensic analyst would testify that Hammond had consumed cocaine within 3-6 hours of his death and that he was actively under the influence of cocaine at the time of his death. Furthermore, cocaine packaged in a manner consistent with distribution was found in Hammond's front left shorts pocket. Marijuana packaged consistent with distribution was found near Hammond's seat in the vehicle. Hammond also tested positive for marijuana and, again, your forensic analyst would testify that Hammond had consumed the marijuana within 3-6 hours of his death. Scales consistent with the illegal drug trade were also found in Hammond's vehicle.
Adams uses a number of Hammond's text messages, recovered from his phone, to portray him as a criminal who often fled the law. She even suggests that Tiller may have somehow sensed this about Hammond in the seconds between confronting the teen and shooting him dead.
Hammond's own words paint a very clear picture of his state of mind the night of his death. In addition, Hammond's own words provide support for Lt. Tiller's perception of Hammond's behavior during the sequence of events that unfolded that evening. In the text messages recovered from Hammond's phone, Hammond talks about being "in full outlaw mode" and that he would "go out shootin". In fact, Hammond had the word "Outlaw" tattooed on his left forearm the month prior to his death. Hammond talks about running a police checkpoint on June 23, 2015 with "Kalyn", a girl he supplied drugs to and had a relationship with, and with his mother, Angie Hammond. He talks again about running a police checkpoint on July 2, 2015 with his brother, Dylan Hammond. We confirmed Hammond had indeed fled a Clemson City Police checkpoint [in] the early morning hours of June 23, 2015. The officer at the checkpoint saw what he believed to be methamphetamine in the vehicle and as he attempted to open the car door to detain Hammond, Hammond fled the checkpoint and was not apprehended that night.
Adams highlights other messages to further drive home this narrative of a "dangerous and destructive" individual who posed a threat not just to the police officer but to others.
The messages indicate a pattern of aggressive tendencies toward law enforcement and an anti-authority attitude. The messages also threaten aggravated violence toward others. Just four days prior to his death Hammond refers to himself as a "criminal" and says he is "like an animal now". Hammond also talks about being a member of a gang and even goes so far to say that the police will "just take me one day." The messages show a pattern of verbally aggressive and threatening behaviors. The messages also evidence that Hammond had a propensity to lose his temper and display extremely intense and contrary emotions which would have likely made him extremely reckless. Hammond's own words are compelling, and reinforce Lt. Tiller's perception that Hammond tried to run him over, and that Hammond was an immediate threat to Lt. Tiller and potentially others. The text messages further indicate that Hammond had been on a dangerous and destructive course for a significant period of his life.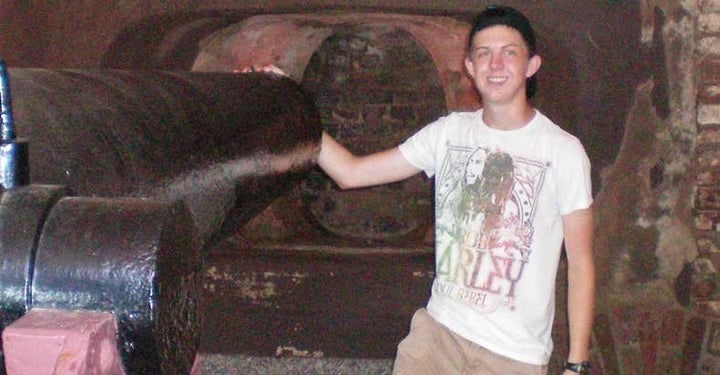 Step 4: Admit that the officer didn't do everything perfectly.
Plenty of people will likely watch the video and wonder if the incident could have played out better. If Tiller had followed police protocol more closely, it might have. But according to Adams, his missteps can't be considered criminal.
In her statement, Adams says it is "concerning that Lt. Tiller chose to run up to Hammond's car." Law enforcement experts apparently concluded that Tiller took an "improper approach and position," which contributed to his losing control of the situation. She continues:
The proper position would have been for Tiller to stay behind his car door when ordering Hammond to stop the car. As you are aware, this policy is in place for the officer's own safety in attempting to apprehend suspects in a car. We watched, in detail, the slow motion version of the video as well. I was told that officers, even though they are trained not to do so, run up to cars on a daily basis. We all agreed, and case law supports, that any potential violation of policy in the approach to the vehicle in this instance does not amount to criminal responsibility.
Later, Adams writes that "our energy now needs to be redirected toward training law enforcement officers in our State and ensuring training for situations such as this is offered on a recurring basis."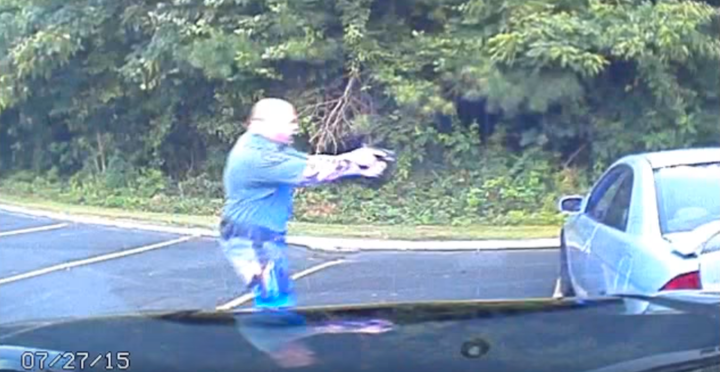 Step 5: Remind people that the officer isn't a bad guy and that he was just doing his job.
Adams says that a "thorough and complete" investigation was conducted into Tiller's background and social media history.
[That] inquiry did not reveal any noteworthy information. Your investigators also found no prior complaints for excessive use of force against Lt. Tiller. We also reviewed all use of force reports that were filed by Lt. Tiller, pursuant to Seneca Police policy. Those use of force reports did not indicate a pattern of inappropriate aggressive behavior or the inappropriate use of force in any of the reported incidents.
Again, Adams notes that Hammond and his passenger were in the wrong.
Hammond and Morton were in the Hardee's parking lot to commit felonies and subsequently attempted to flee, thereby endangering the welfare of Tiller and the general public at large. Lt. Tiller was in the Hardee's parking lot lawfully and fulfilling the duties of his job. Lt. Tiller did not have a duty to retreat. Hammond had a duty to comply with police orders. Hammond made the intentional choice not to comply with police orders which was a decision he had clearly made in advance, as evidenced by his own words in his cell phone text records.
Step 6: Conclude by asking why the dead person had to go and get himself killed.
To Adams, this was a difficult situation in which bad decisions were made. Yes, Tiller may be responsible for some of those decisions, but according to Adams, there's no proof that his mistakes were criminally negligent, even if they ultimately ensured that Hammond's poor choice became a fatal one. In the end then, Adams -- like all too many prosecutors across the country -- concludes that the best way for a civilian to avoid getting killed by a police officer is to follow his or her orders, even though failing to do so is not a crime punishable by execution. From Adam's statement:
What happened during this encounter is a tragedy. No parent should ever have to bury their child. I am also cognizant of the fact that no officer ever wants to shoot and kill another human being. Officers are thrust into extremely dangerous situations every day and are at risk of losing their lives at the hands of violent criminals. When officers lawfully order citizens to stop, and they refuse as Zachary Hammond did, everyone loses. Zachary Hammond failed to comply with Lt. Tiller's orders and as a result he lost his life. When Hammond made the conscious decision to flee a lawful stop he set in motion this tragic chain of events.
Read Adams' statement in full:
Popular in the Community