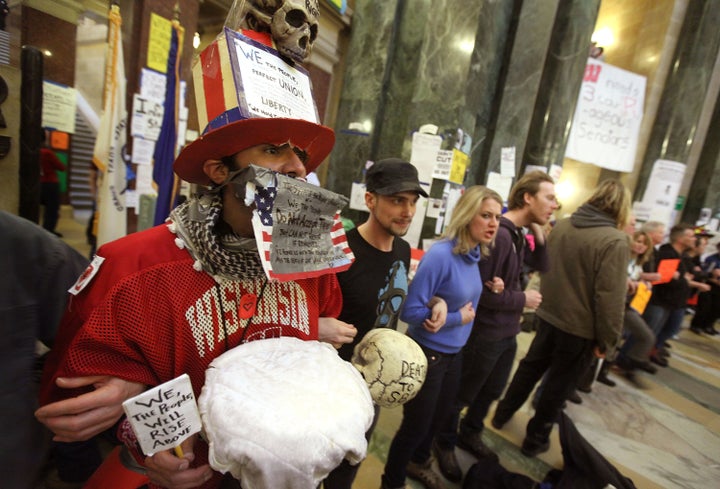 MADISON, Wis. -- Dozens of protesters camped overnight in the Wisconsin Capitol and vowed to be back in full force Monday after police backed away from threats to close the building, where demonstrators have held steady for two weeks to oppose Republican-backed legislation aimed at weakening unions.
Police decided not to forcibly remove protesters after thousands ignored a 4 p.m. Sunday deadline to leave so the normally immaculate building could get a thorough cleaning. Capitol Police Chief Charles Tubbs said no demonstrators would be arrested as long as they continued to obey the law.
"People here have acted lawfully and responsibly," Tubbs said. "There's no reason to consider arrests."
The floors where several hundred protesters had slept previous nights looked unusually bare late Sunday as the smaller crowd of people walked around in socks, lounged on blankets and curled up under jackets.
But organizers said they were confident that demonstrators who were persuaded to leave Sunday would return to continue fighting Republican Gov. Scott Walker's efforts to strip nearly all public workers from their collective bargaining rights. Protesters have staged a sit-in that began Feb. 15 and hit its peak Saturday, when more than 70,000 people descended on the Capitol grounds for a rally.
Walker argues that his measure would help close a projected $3.6 billion deficit in the 2011-13 budget. He believes that freeing local governments from having to collectively bargain with public employee unions would give them the flexibility needed to deal with forthcoming budget cuts.
Labor leaders and Democratic lawmakers say the bill is intended to undermine the unions and weaken a key base of Democratic Party voters.
Paul Golueke, 24, a social worker from Milwaukee, said he planned to stay at the Capitol until at least Tuesday, when Walker is scheduled to unveil his two-year budget.
"If the budget contains provisions like in this budget-repair bill I'll stay here as long as it takes," Golueke said. "Scott Walker doesn't understand our passion. The eyes of the nation, of the world, are on us and we can't back down."
The state agency that oversees the Capitol had asked demonstrators to leave by Sunday afternoon, saying the building was in dire need of a cleaning. But it was clear that the estimated 4,000 protesters had no intention of leaving voluntarily.
Tubbs, the police chief, said demonstrators who had occupied all three floors of the Capitol would have to relocate to the ground floor. He said anyone who left the building would not be allowed back in until the morning, although union officials were allowed to deliver food to the protesters during the night.
"It was a victory for peace. It was a victory for democracy," said Kara Randall, 46, a massage therapist from Middleton who had already spent five nights at the Capitol.
Walker's spokesman declined to comment late Sunday on the police decision to keep the Capitol open to demonstrators. In an interview earlier in the day on NBC's "Meet the Press," Walker said the lengthy protests haven't eroded his resolve to push forward with his legislative agenda.
"Year after year, governors and legislators before us have kicked the can down the road," Walker said. "We can't do that. We're broke. It's about time someone stood up and told the truth in our state and said here's our problem, here's the solution and let's do this."
Walker's proposal stalled in the state Senate when its 14 Democrats fled the state for Illinois, leaving the legislative body one vote short of a quorum. The Democratic senators have vowed to stay away from Wisconsin for as long as it takes.
One of the Democrats, Sen. Lena Taylor, sent a tweet to support the protesters that read: "Thank you for exercising your 1st amend right - I'm glad my actions give you opportunity to stand/sit/express yourself!"
Popular in the Community