While millions of Americans were enjoying Thanksgiving with their loved ones, the family of 27-year-old Hollywood producer Eric Kohler was combing the streets of southern California in a desperate attempt to find clues to his whereabouts.
"It didn't even feel like Thanksgiving," Kohler's older sister, Kristina Loren, told The Huffington Post. "Me, my mom, and my dad, drove around from sunup to sundown, canvassing the streets, talking to people and handing out flyers."
Kohler, a visual effects producer who has worked on several notable films, including "The Avengers," "San Andreas" and "X-Men," has been missing since Nov. 24. According to his sister, he was working at Vitality VFX in Gardena, when he left the office at about 3:30 p.m. to review shots for an upcoming film. Kohler was scheduled to return to the office for a 7:30 p.m. follow-up meeting, but he never arrived and no one has seen him since.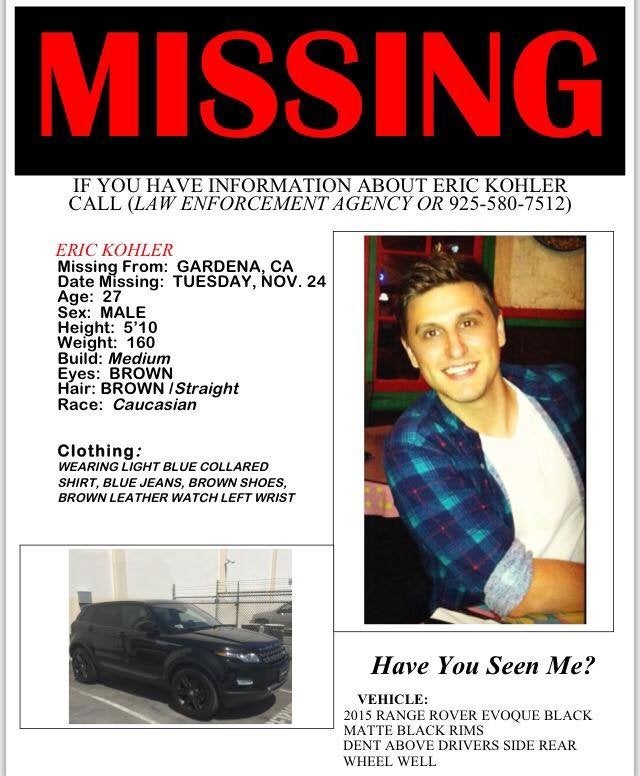 "He left his laptop, his backpack, his sweater and everything on his desk, so he had full intentions of coming back for the meeting," Loren said. "When he didn't show up for work the next day, everyone got concerned and contacted me and my family."
Loren said her family has been able to access her brother's Google account, which provided them his location history.
"After he left work, he went up the street to where there is a shopping center and a gas station," Loren said. "His phone pinged there till about 3:55 p.m., and his last outgoing call out was made to his office at 4:01 p.m., telling them he would be back at 7:30 p.m."
Loren and her family went to the shopping center, located at South Western Avenue and Imperial Highway in Westmont, and were able to view surveillance footage of Kohler's vehicle driving away from the shopping center. However, they were unable to determine who was behind the wheel of the vehicle. Where Kohler's vehicle went after that remains a mystery. There has been no further activity on his cellphone.
"We really tried pushing with the Los Angeles Police Department to get somebody on this, but they didn't even assign a detective until yesterday afternoon," Loren said. "It's really frustrating. They act like it's not a big deal, like he's some young Hollywood guy who took off and will just show up. And we're like, 'No, this is not who he is. He's dedicated to his work and didn't just choose to leave on his own.'"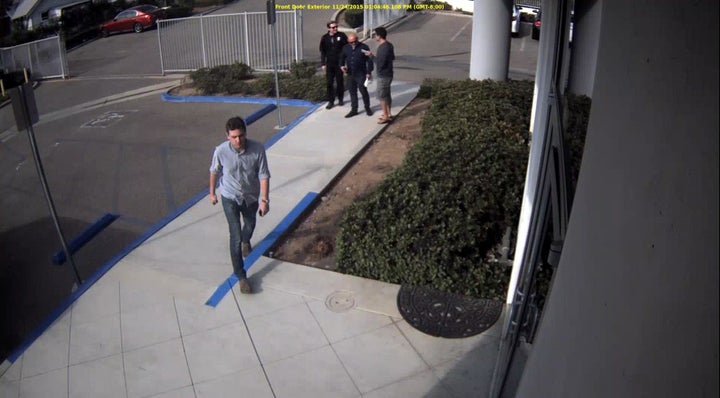 Kohler's sister said her brother's Range Rover is equipped with a LoJack device, but police have yet to request the GPS data from the company and Land Rover refuses to share it with the family without a court order.
"My mom's been on the phone bawling to the corporate guy at Land Rover and all he's say is, 'Sorry ma'am, there's nothing I can do for you,'" Loren said. "It's insane. I understand there are privacy laws, but there should be exceptions in cases such as this where someone's life is on the line. How can they not understand that?"
Kohler's family said they plan to hire an attorney if authorities do not move forward in requesting the information. The LAPD hasn't responded to requests for comment from HuffPost. But a spokesperson from Land Rover said LoJack is a separate company and that they are looking into the issue.
For now, the search for answers continues.
"It's been a week and I need my baby brother home," Loren said. "I would do anything for him to come home. It's really heartbreaking."
Kohler, a resident of Culver City, is described as being 5 feet 10 inches tall and 160 pounds, with brown hair and brown eyes. He was last seen wearing a light blue short-sleeved shirt, blue skinny jeans and brown suede shoes. Kohler's vehicle is described as a 2015 Range Rover Evoque with black rims and a small dent on the driver's side. The SUV reportedly had no license plates, but did have "Hornburg" car dealer plate coverings.
Anyone with information about Eric Kohler's disappearance is asked to call the LAPD at 213-996-1800.
PHOTO GALLERY
Missing People
Calling all HuffPost superfans!
Sign up for membership to become a founding member and help shape HuffPost's next chapter