A man suspected in at least two hammer attacks around Manhattan was shot by New York police on Wednesday around 10:15 a.m. local time.
A spokesperson for the NYPD confirmed to The Huffington Post that there was an officer-involved shooting at Eighth Avenue and 37th Street in the Hell's Kitchen neighborhood. Contrary to earlier statements from NYPD that the suspect had been fatally shot, he was listed in critical but stable condition.
On Wednesday afternoon, the NYPD released a video of the shooting on its official Twitter account:
Officers Geraldo Casaigne and Lauren O'Rourke spotted the suspect on Wednesday morning after checking in on a report of an unrelated assault, the NYPD said in a statement. When the officers approached Baril, he allegedly swung the claw side of the hammer at O'Rourke, causing her to step back and fall to the ground. Officer Casaigne then fired four times, striking Baril twice, once in the right arm and once in the torso.
A spokesperson said that the suspect was the same man believed to have recently attacked as many as four people in Manhattan, at least two of them with a hammer.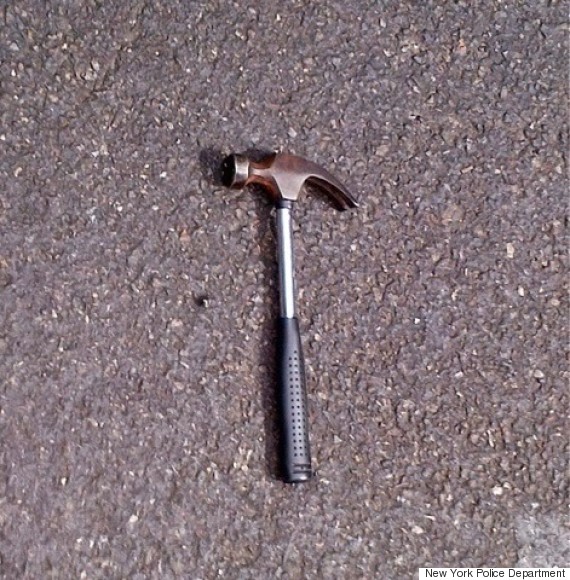 Hammer recovered at the scene of the shooting. Photo: NYPD.
Claudia Lopez, 34, told HuffPost she was walking down the street to work when she heard three deafening gunshots.
"I had my headphones on and was listening to music loudly, and the gunshots still startled me," Lopez said. She went over to the scene, where she said she saw a man lying down, and police surrounding him. She said she saw a hammer on the ground nearby the suspect.
"I was definitely scared," she said.
This is a developing story and will be updated.
REAL LIFE. REAL NEWS. REAL VOICES.
Help us tell more of the stories that matter from voices that too often remain unheard.