For more than two years, anti-police protests have been flooding the media. According to the National Law Enforcement Officers Memorial Fund, the number of law enforcement officers that have been shot and killed is the highest it has been in five years.
"The fact that police shootings are up is a major concern to everyone," Officer Adam Mazur-Baker said. "I am more vigilant than ever of my surroundings."
The 28-year-old man from Warren, MI volunteers at Center Line Department of Public Safety as a police reserve officer and is currently attending Oakland Community College Fire Academy.
"A reserve officer is someone who went through law enforcement training and works side by side with full-time officers," he said. "I do not get paid but when I am working I have full police authority and respond to the same calls as other officers."
One of the officers that he has worked alongside is Police Sgt. Colin Rose. Rose, 29, is one of the 64 law enforcement officers that have been killed this year. The Wayne State University police officer was shot in the head on November 22 while conducting a traffic investigation. Mazur-Baker carried the fallen sergeant's casket at his funeral that took place in St. Clair Shores earlier this month.
"It was an honor to remember him but also a sad and tough day for everyone because he was so well liked," he said. "The support we saw from fellow officers all over the U.S. was absolutely amazing. Officers and citizens and showered [his family] with love and support."
Mazur-Baker is aware of the reality of danger that comes along with the job.
"I am constantly on guard, not only for myself, but also fellow officers because of my profession," he said.
He must remain alert because he has an eight-year-old son, Aidan, who depends on him.

"The hardest part of being a full-time dad and managing a career is that I have to make sacrifices when it comes to missing things with my family," he said. "The struggle of missing my son pushes me to work harder and make sure that I always go home to him."
Because law enforcement is not the only passion he has in his life, some aspects of his job are especially distressing.
"One of the worst calls I will ever remember is getting called for a child not breathing," Officer Adam Mazur-Baker said. "Upon arrival we found a child laying in his bed and he was blue. We attempted to do CPR but the child had already passed away. Having to tell a mother that her child was dead and then question her while she is trying to grieve is one of the hardest parts of the job."
Sadly, his death was ruled as negligent. The parents were charged and convicted.
"After that call I went home for the day and hugged my son," he said.
Due to the ongoing public disapproval of the police force, it is difficult to recognize the humanity in law enforcement.
"We are human just like them," he said. "I bleed red just like everyone, I make mistakes just like everyone, and I have a family to go home to just like everyone."
He exudes passion for the work when he discusses his career.
"I love being able to help people and make a difference in the community," he said. "The job is an amazing job. Every day and every call is different and I look forward to it."
Mazur-Baker has intense opinions of what the public should consider with his own and his fellow officers' career choice.
"The public disapproval of law enforcement is actually heart-breaking," officer Mazur-Baker said. "There have been some recent issues that have put law enforcement in a negative spotlight and have people calling all cops bad. The media fuels [this]."
"Being a police officer is not an easy job," he said. "Our job is one of the most stressful jobs out there. We have to make life and death decisions in a split second and those decisions are not always easy or understood, but no matter what we are always here to help."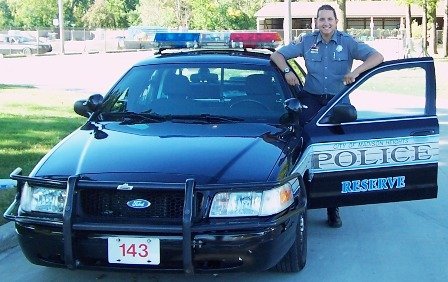 Calling all HuffPost superfans!
Sign up for membership to become a founding member and help shape HuffPost's next chapter