On the one-year anniversary of Philando Castile's death, Minnesota Gov. Mark Dayton (D) called for a new law enforcement training fund to be named in Castile's honor.
Surrounded by Castile's family at a press conference on Thursday, Dayton said that Castile's death after being shot by former Minnesota police Officer Jeronimo Yanez during a traffic stop was "one of the very most traumatic events that has occurred in my six and a half years as governor of Minnesota."
On July 6, 2016, Yanez pulled over Castile, who was driving with his girlfriend Diamond Reynolds and her 4-year-old daughter, who was in the back seat. Yanez told Castile that he was being pulled over because his brake light was out and asked if Castile had his license and insurance. Castile told the officer that he was carrying a firearm, which he was licensed for, and Yanez told him not to reach for it. Yanez later claimed he thought Castile was reaching for his gun, while Reynolds said he was reaching for his license and insurance. Yanez fired into the car, shooting and killing Castile.
On June 16, Yanez was found not guilty of second-degree manslaughter and two counts of endangering safety by discharging a firearm. Castile's family reached a nearly $3 million settlement with the city of St. Anthony on June 26.
Dayton said he'd sent a letter to Minnesota's Peace Officer Standards and Training board asking that the state's new $12 million training fund bear Castile's name. The funding bill was passed with bipartisan support in the state legislature.
"My hope is that the fund will provide training in the best practices to improve law enforcement's relationships with people in all Minnesota communities, and will also create partnerships, in which community and law enforcement officers are together designing and delivering that training," Dayton wrote.
According to the Pioneer Press, the governor's council on law enforcement and community relations supported a proposal by Clarence Castile, Philando's uncle, to name the fund after his late nephew. The governor appointed Clarence Castile to the 15-member POST board, which will work out the specifics of the training program.
Castile's mother, Valerie Castile, spoke in favor of the training fund bill at the press conference Thursday.
"We need this bill," she said, thanking the governor and the POST board for the proposal to name the fund after her son. "We need this extra training for our police officers. Because at the end of the day, everyone wants to go home. The police wants to go home, and the civilian wants to go home."
But the naming suggestion was met with opposition from a coalition of law enforcement unions, the Star Tribune reported. In a joint statement, five law enforcement organizations stated that Dayton's remarks "fuel deeper divisions between people of color and law enforcement."
The president of the Police Officers Federation of Minneapolis wrote in the joint statement that the fund should instead be named for an officer killed in the line of duty. The organizations argued the governor used the anniversary of Castile's death to "lob more tone-deaf insults at cops across Minnesota."
The coalition noted that Dayton on Thursday reiterated his previous statement that Castile would still be alive if he were white. Dayton met privately Friday with the current and former leadership of the Minnesota Police and Peace Officers Association and a group of police chiefs from across the state.
The news conference was just one of several events planned to commemorate Castile's death. Friends and family planned a candlelight vigil and memorial on Thursday and a lantern release Friday night. On Friday, Castile's former high school classmates awarded the first of an annual scholarship planned in his honor for a high school senior to use toward higher education.
As she spoke on the one-year anniversary of her son's death, Valerie Castile advocated for deeper understanding in the community.
"I just feel like we should love one another more and get to know each other, get out of your police car, walk around, get to know the people," she said. "Don't make such snap judgments, because everyone's not a bad person. But with the training bill, that will help."
Before You Go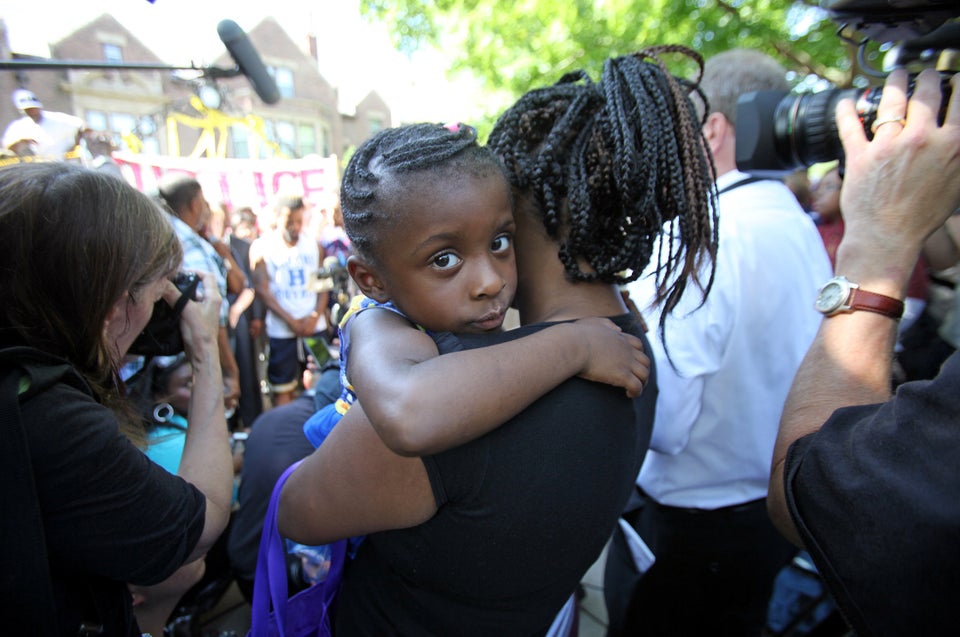 St. Paul Protesters Show Support For Philando Castile
Popular in the Community