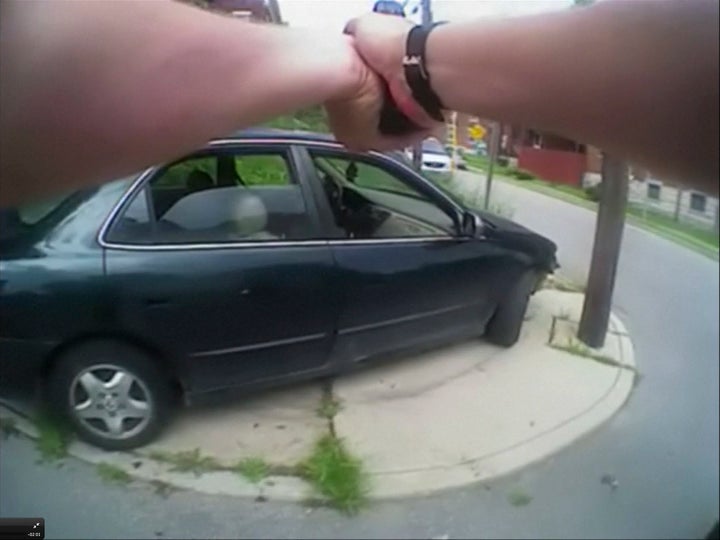 Police chiefs, officers and citizens across the country have gone on record in support of policy changes in response to controversial instances of police exercising extreme, often deadly force.
But police unions, which serve as mouthpieces for many rank-and-file officers, are responding by holding up the push for reform. Over the past few months, unions in a number of cities have stated that the only way they'll accept change is if they get something in return.
In some cases, unions have taken a particularly hard-nosed approach to bargaining, seeking financial concessions from taxpayers in exchange for measures designed to ensure that officers are doing their jobs effectively and appropriately.
Earlier this month in Cincinnati, a local Fraternal Order of Police attorney sent a "cease and desist" letter to the city, saying that officers should only use body cameras if the city was willing to pay them more.
Daniel Hils, president of one of Cincinnati's Fraternal Order of Police lodges, acknowledged that body cameras are coming whether he likes it or not. But to him, the devices mean additional expectations and responsibilities for officers, and should therefore translate to more compensation.
"We recognize [body cameras are] the direction we're going," Hils told The Huffington Post. "But I believe this is a game changer, as far as complexity of the job. And this level of monitoring will result in positives and negatives about what it's like to be a policeman. Because of that, I think it does require some additional compensation or at least bargaining for that."
Taxpayers in the city were already expected to foot the $6 million bill for the 700 body cameras scheduled to be on the street by the end of the year. And Cincinnati already understands the value of these devices. Last year, footage from a body camera worn by a University of Cincinnati police officer provided key details surrounding the controversial fatal shooting of an unarmed black man during a traffic stop. A grand jury later indicted the officer on charges of murder and manslaughter.
Still, some experts on public sector unions see merit in Hils' argument. And it isn't unusual for unions to take advantage of a potential shift in their day-to-day functions, said Nelson Lichtenstein, director of the Center for the Study of Work, Labor and Democracy at the University of California Santa Barbara.
"You enhance the duties or add additional responsibilities to a job and then you want to be compensated for it," he told The Huffington Post. "That's what collective bargaining is all about."
But some advocates for reform say demanding more money for officers to wear body cameras is insulting. Unions are now effectively holding transparency and accountability hostage, and treating basic oversight like a luxury item that isn't included in the usual terms of service.
This sort of resistance conflicts with some of the broader messaging from law enforcement. Many police officers have said they support body cameras. Top brass apparently wants them, and law enforcement officials have said they'll benefit both officers and civilians. Police departments, though not in Cincinnati, have scrambled to sweep up federal government grants to implement body camera programs. And all of this makes sense, considering the public is broadly in favor of them.
Yet earlier this month in Boston, the city's Police Patrolman's Association tried to put a halt to a body camera rollout after officers refused to volunteer for a pilot program. The city had previously reached an agreement stating participation would be voluntary, but when no officers came forward, the mayor said he'd push ahead and assign the devices to officers. The police union and city briefly sparred over which party had violated the terms of the contract, but Police Commissioner William Evans later confirmed to HuffPost that the Police Patrolman's Association had failed to obstruct the process.
"One hundred officers have been selected to participate in the [body-worn camera] pilot program," he said. "The officers were selected by an independent party … who will be performing the evaluation at the end of the pilot period."
Nobody is eager to be put under constant surveillance on the job, so some of this resistance may be logical, says Jay Stanley, senior policy analyst with the ACLU's Speech, Privacy, and Technology Project. Considering the nature of police work, however, the public is always likely to be less sympathetic to their expectations and demands.
"Police officers have been granted the power by the community to use brutal and even in some circumstances deadly force," Stanley told HuffPost. "So with great power comes the need for great checks and balances."
And body cameras aren't the only issue police unions are stalling.

A union in San Antonio recently fought back against an attempt by city officials to give the police chief greater power to reprimand repeat misconduct by his officers. Union leaders sought additional compensation ― beyond the current contract's 14 percent pay increase over the next four years ― for agreeing to the higher standards. As it stands now, misconduct cases among cops in the city effectively disappear after two years.
Officers later voted for a version that didn't include the reforms, which is now headed to the City Council for approval, amid outcry from local activists.
Police unions have been equally intransigent in Seattle, where officers in July overwhelmingly rejected a new labor contract with the city that would have included both wage hikes and accountability measures. The police department there has been under intense scrutiny over its failure to remedy unconstitutional policing practices as part of a 2012 consent decree between the Justice Department and the city. Earlier this month, a federal judge issued a harsh rebuke of the union, declaring from the bench that "black lives matter."
Unions aren't in the business of public opinion, of course. They're intended to serve as unapologetic, unwavering advocates for police officers.
"Bad PR? The hell with it," Lichtenstein said. "Union leaders want to consolidate their base and get re-elected in the next election."
But just because unions may be acting in an entirely predictable way doesn't make it any less concerning to those who see reform as an integral step toward restoring public confidence and trust in policing.
"When it comes to policy, all too often we have seen police unions pushing for officers to be given special treatment when it comes to investigations of critical incidents," Stanley said. "That is something that police departments should not be able to do."
Popular in the Community