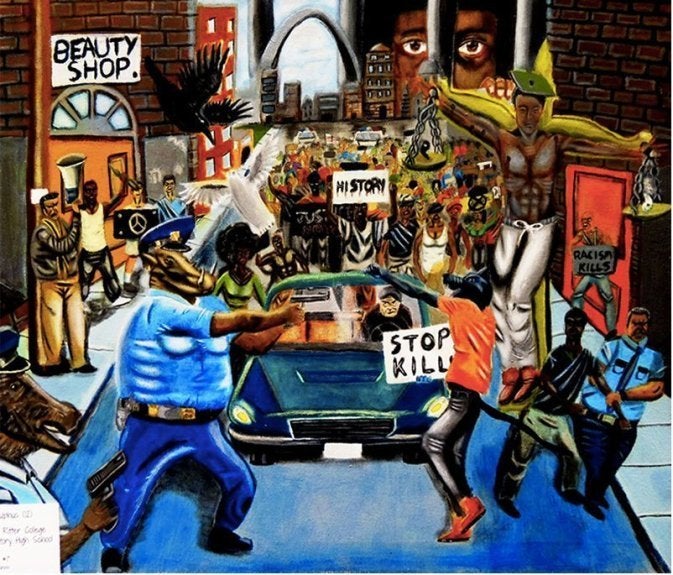 Police groups are urging lawmakers to remove a contest-winning painting from the U.S. Capitol, saying its portrayal of a protest that depicts officers and a demonstrator as animals is anti-law enforcement.
In a letter to House Speaker Paul Ryan (R-Wis.) this week, a coalition of California police unions called Missouri teenager David Pulphus' artwork "reprehensible and repugnant" for representing police officers as "Pigs intent on gunning down innocent people." Other police groups have also criticized it, saying it doesn't belong in the Capitol.
Pulphus submitted his painting, "Untitled #1," to the 16th Congressional Art Competition as a constituent of Rep. Lacy Clay (D-Mo.) last year. Clay gave it top honors and commended Pulphus' "colorful landscape of symbolic characters representing social injustice, the tragic events in Ferguson, Missouri and the lingering elements of inequality in modern American society" in a May statement.
The acrylic painting now hangs on the wall of a tunnel beneath the Capitol, alongside hundreds of other works submitted to the annual competition.
But Pulphus' politically charged imagery struck a nerve with police unions, which have been highly critical of protests for police reform. Most of their outrage focuses on the painting's supposed depiction of officers as "pigs," a derogatory term for police officers.
One of the characters does appear to have tusks, making it look more like a warthog or wild boar than a pig. The other officers look even less porcine, and one appears to have the face of a bulldog. A protester also has an animal head.
The work features signs that read "racism kills" and "stop kill," a slogan that appears to be cut off by the protester in the foreground. Slogans like this have been regular features at demonstrations since an officer killed black teenager Michael Brown in 2014.
But some law enforcement officials say the image itself could incite violence against cops.
"They're basically saying that all police officers who wear the uniform are racist and kill African-Americans, and that's not the truth," Paul Kelly, president of the San Jose Police Officers Association, told the Bay Area News Group. "It absolutely may trigger someone else to say, 'I'm done with this. I'm going to take action. I'm going to kill a cop.'"
So far, Clay has resisted calls to take "Untitled #1" down. He's gotten a number of angry phone calls and discussed the controversy with Rep. Dave Reichert (R-Wash.), a former sheriff, according to the St. Louis Post-Dispatch. Although the two congressmen interpret the work differently, neither has plans to pursue its removal.
Asked how he's defended the painting to its detractors, Clay told the Post-Dispatch that he simply invoked the rights guaranteed by the Constitution.
"I said, 'Look now, we cannot be selective about people's constitutional rights," said Clay. "The Supreme Court has said artistic expression is a form of speech, and we cannot abridge freedom of speech.'"
Clarification: Language in this story has been amended to more accurately describe the location of the painting.
Before You Go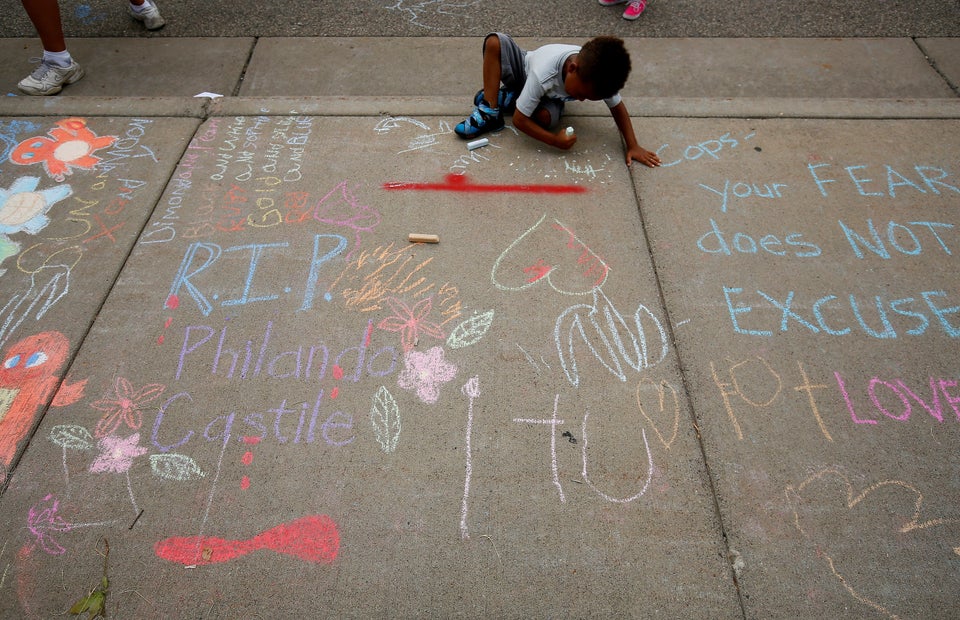 Children Protest Police Killings
Popular in the Community