Investigators searched two Iowa hog farms Thursday after turning to data from a Fitbit activity tracker and social media in a high-tech hunt for missing college student Mollie Tibbetts.
Searchers, including a growing team of FBI agents, found no sign of Tibbetts, but continued the hunt with a canine unit, reported local ABC affiliate, KCRG-TV.
Tibbetts, 20, a University of Iowa student, hasn't been seen since July 18. She had been dog-sitting near her home in rural Brooklyn, Iowa, for her boyfriend, who was out of town, according to police, and she was last seen jogging nearby.
It's unclear what sparked the search of the farms, located about 15 minutes outside Brooklyn.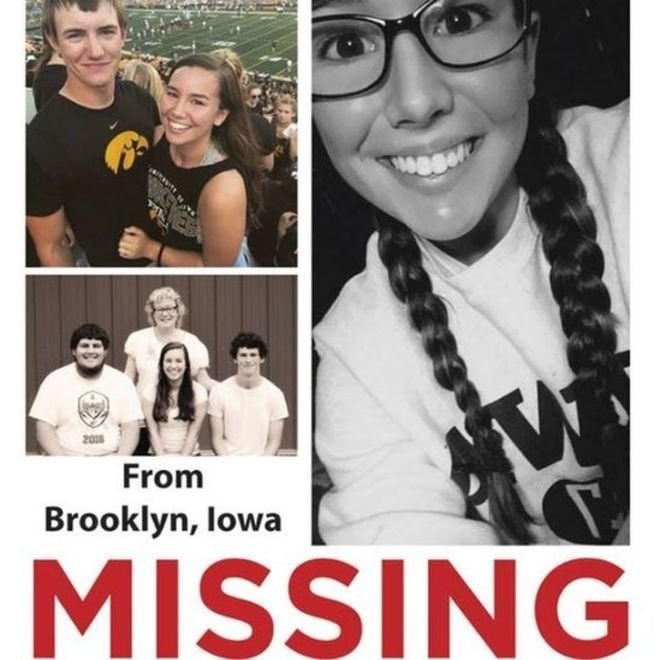 Some 15 FBI agents have joined the Iowa Division of Criminal Investigation in the search for Tibbetts. Besides quizzing possible witnesses, they've turned to data from the Tibbetts' Fitbit wristband, as well as cellphone pings and social media data.
Investigators executed search warrants for Tibbetts' Fitbit data, and her Snapchat, Instagram and Facebook accounts, state Division of Criminal Investigation spokesman Mitch Morvedt said.
"This is a new arena for us. That's part of the reason we called the FBI in. It's probably pretty new to them, too," Mortvedt told CNN. "I don't know of another case here in Iowa where we have used specifically Fitbit info."
Investigators said they hope to establish a timeline of Tibbetts' movements, including location. Fitbit can be a trove of valuable information, including heart rate as well as GPS location tracking.
Tibbetts' boyfriend, Dalton Jack, who said he was working in Dubuque for a construction company when his girlfriend disappeared, said running was her regular evening routine.
"She probably has on her Fitbit because she never takes it off. She uses it for the sleep tracker and for all her runs and everything," Jack told ABC News. "She probably has her cellphone, but it's either off or dead, and we've tried calling it obviously and it goes straight to voicemail."
Tibbetts' family has set up a Facebook page for announcements and to spread the word about the missing student.
"We remain in awe and indebted to the help, creativity, outreach and love that you have shown Mollie and all of us," wrote family member Sandi Tibbetts Murphy. "Please keep sharing Mollie's information so we can bring our girl safely home."
It's "frustrating. It's powerless. We're racking our brains, thinking what can we think of to tell the investigators," Tibbetts' aunt Kim Calderwood told the Des Moines Register. "It's the worst thing — to want to fix something you can't fix."
Related
Popular in the Community