This weekend there seemed to be even more violence against police officers than we has become the "usual" or "normal" amount. This Saturday a young officer from my small police department was shot and injured. It just seemed to continue with the assassination of an officer in San Antonio and the ambushing of other officers in Florida and Missouri. It just continued all weekend. I am sick and tired of wearing this black band around my badge. I am very busy with work at the moment and wanted to write a posting, but just don't have the time. I asked one of the best most decent human beings I know for his thoughts so I could share them. Billy Bolin, is a community cop, a champion of the "little guy" and a great friend...these are his thoughts on what is going on right now.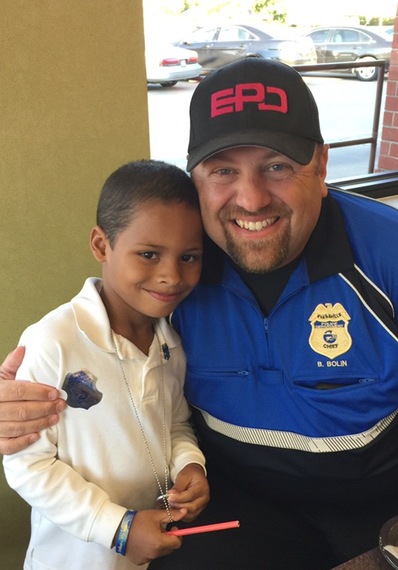 Where do we go from here?
Bill Bolin, Chief of Police, Evansville Indiana
As I watched the morning news today, all I could think was, "Where do we go from here?" Four officers shot across our country yesterday, two of them in ambush style shootings -- just because they wear a uniform. Another officer was shot this weekend at a department where I have good friends. Is this a short-lived epidemic or is this just the beginning of a new normal for America?
When I arrived at work this morning, I had to speak with some officers about a toy drive we have coming up in a few weeks that has provided toys to local hospitals for the past seven years. I went back to our detective office and ran into a detective sergeant, who was on vacation, but was here making preparations for the annual FOP Christmas Party, which will host over one hundred disadvantaged children in a couple weeks and provide them each with several presents. I stopped in another sergeant's office who was working on rooming lists for a program the department has which will be sending 48 kids from economically depressed areas to Walt Disney World in January. Then I went to meet several of our officers who were helping deliver food baskets for a local organization called The Dream Center. Tomorrow, several of our staff will be volunteering at The Evansville Rescue Mission, which is a local homeless shelter.
All of these officers, who are doing terrific things, could be targeted because of the uniform they wear. When Officer Gray is delivering food baskets, she could be a target. When Sgt. Hildebrandt is going to buy toys for a kids Christmas Party, he could be a target. When officers are working at the homeless shelter tomorrow, they could be targets. Where do we go from here?
It's easy, we can continue to blame it on President Obama, President-Elect Trump, the media or whoever your personal boogey man is, but the bottom line is change starts at home. What are your personal beliefs towards people of different races? What are your personal beliefs on people of different religions? What are your beliefs on the police? What are you teaching your kids (through words and deeds)? It all comes down to respect and working with one another. When all of us try this, we all will be better off.
Calling all HuffPost superfans!
Sign up for membership to become a founding member and help shape HuffPost's next chapter