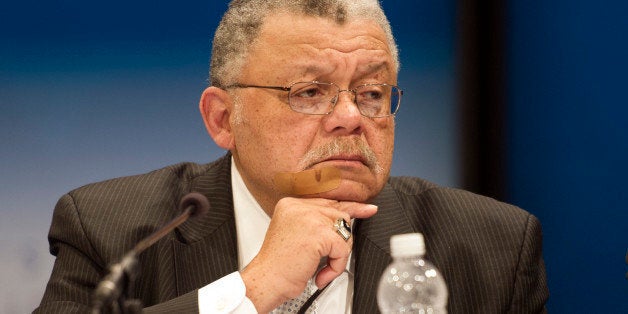 WASHINGTON -- A presidential task force on policing issues released an interim report on Monday, with recommendations that ranged from considering the use of body cameras to decoupling immigration enforcement from routine policing to ensuring that officers get enough sleep.
President Barack Obama had established the panel by executive order in December after a series of high-profile deaths at the hands of police and protests calling for greater accountability for officers who use deadly force. The President's Task Force on 21st Century Policing held several lengthy meetings in D.C., Ohio and Arizona over the past several months to hear comments from the public, interest groups and law enforcement representatives.
One of the major issues facing the task force was "how to bring unity of purpose and consensus on best practices to a nation with 18,000 separate law enforcement agencies and a strong history of a preference for local control of local issues," according to Monday's report.
Laurie Robinson, a former Justice Department official who co-chaired the task force, noted Monday that law enforcement agencies in the U.S. are "very decentralized" even at the state level, which will make it more difficult to implement the recommendations. While the report suggests that Obama should direct federal law enforcement agencies to review the task force's proposals, it notes that the federal government may need to form partnerships with private organizations to help advance those ideas.
The task force recommends that law enforcement agencies and municipalities avoid requiring officers to issue a certain number of tickets or make a certain number of arrests for purposes of generating revenue. The report additionally suggests that law enforcement agencies develop policies for handling mass demonstrations, recommending that they "minimize the appearance of a military operation and avoid using provocative tactics and equipment that undermine civilian trust."
More data and a "culture of transparency" in police departments could help in building trust with the community, the report says. The task force recommends that law enforcement communicate with citizens and the media quickly after any serious incidents and suggests that officials release summaries of use-of-force incidents within 24 hours. The task force also urges law enforcement to report data on officer-involved shootings to the federal government and recommends that policies encourage the reporting of such information.
Robinson said it was important to convince law enforcement unions and other interest groups to support the task force's recommendations.
"Those kinds of associations and union groups are critical, because they're very close to their members," Robinson said.
Calling all HuffPost superfans!
Sign up for membership to become a founding member and help shape HuffPost's next chapter
BEFORE YOU GO
PHOTO GALLERY
Police Misconduct 2014