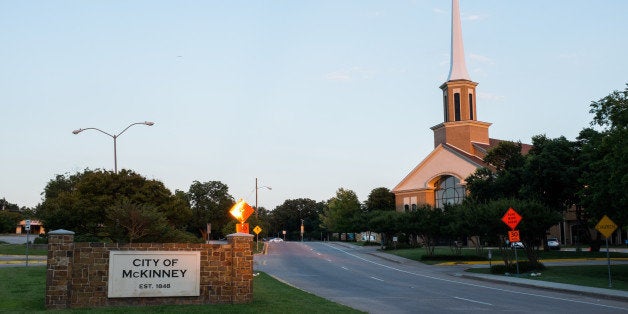 Summer is a time for youthful frolicking. Children across the nation are flocking to parks, playgrounds and pools to play and enjoy their well-earned vacation from school. Unfortunately the coverage of the police force's response to black children at a pool in McKinney, Texas this past weekend was a painful reminder that not all children can expect summertime to be carefree. The video reminded me of other incidents both past and present that reflect how excessive force is used to police black children. It was another devastating graphic example of how black bodies continue to be vulnerable to reckless law enforcement officers.

I did not need to see the video to understand that many see black children and teens as rowdy, uncivilized and even violent. It is traumatizing to see their bodies treated with contempt by law enforcement and fellow citizens. It has been widely reported that harsh and disproportionate punishments of black children happen during the school year so it's only logical that those ideas and reactions do not take a vacation during the summer.

The troubling incident in McKinney reminded me of the need to prepare myself for the racial dynamics in outdoor spaces as summer kicks into high gear. For many parents playgrounds, parks and pools are places to let down your hair and let you child run free. I rarely feel comfortable doing so. I must be vigilant for another parent or an authority figure crossing the line and mistreating my child or other black children. This is just one of the hazards of what I call parenting while black. While this is not a scientific study, over the years I have noticed the disparate treatment of black children in these public spaces that are meant to be sites of leisure and recreation.

Many have noted the ways public recreational facilities, and pools in particular, have been central in the battleground for racial integration. While people are no longer throwing chemicals into pools to keep blacks out there is often an unwelcoming attitude. At my local pools there have been many times when I noticed rules being over zealously enforced when black children break them, but ignored when non-black children then do so. I also have observed that authority figures such as camp counselors and life guards speaking caringly to non-black children to correct behavior while they are abrasive with black children. Given this pattern I often find myself speaking to lifeguards about how harshly they address black children and the need to apply rules fairly across the population.

While microaggressions by lifeguards at the pool can be considered a small problem given the other issues facing African Americans today, I think that it's symptomatic of other larger issues. Public spaces should not only be for the privileged. I can only wonder if this kind of treatment and the lack of public pools in neighborhoods with black children is the primary reason black children are more likely to drown than other groups. I believe if all parents helped to equalize the treatment of children there would be less tension and more fun at the pool for everyone.
Related
Popular in the Community