By Sigmar Gabriel and Angel Gurría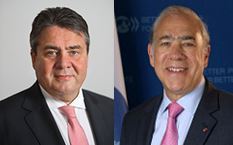 The digital revolution is well under way and is far from reaching its peak. Our work and home lives rely increasingly on the Internet. Smartphones have become our ubiquitous assistants, helping us with practically every issue. Digital clouds provide data access from almost everywhere. Digitised manufacturing will be the industrial modus operandi of the future. The future is clearly digital, bringing challenges as well as opportunities.
With the global economy stuck in a low growth trap characterised by slowing productivity and rising inequality, the German G20 Presidency will highlight the potential of the digital transformation as it goes to work on an agenda for new sources of growth and employment.
Technologies such as cloud computing, big data and artificial intelligence will be drivers of innovation, participation and social welfare. They will help to tackle policy challenges in a wide range of areas, including health, agriculture, public governance, taxes, transport, education and the environment. Continued innovation and falling prices should help to reduce disparities between and within countries in access to and use of digital technologies.
Against this backdrop, the German G20 Presidency will focus on three key issues:
First, successfully leveraging the growth potential of the digital economy will require high-quality and competitively priced access to the communications infrastructure on which digital applications and services can be built. The G20 can make a difference by committing to have all households and companies connected to high-speed Internet by 2025. This will require public and private investment. We must ensure that we do not hold back the potential for growth and social inclusion with sub-standard or incompatible infrastructure.
Second, Industry 4.0 - the digitalisation of manufacturing or the "manufacturisation" of the digital world - will require a new era in innovation and R&D policies, and a strong focus on competition policy, including international regulatory cooperation and joint international work on standards and norms. Interoperability of interfaces is an essential condition for Industry 4.0 and the Internet of Things. Machines will need to be able to communicate across borders for companies to continue to manufacture globally. A robust and non-discriminatory administrative framework among G20 countries would encourage investors to put their money in digital products and enable SMEs and start-ups to make digitalisation a priority.
Third, the digital revolution requires a free flow of information while guaranteeing privacy and trust in the reliability and security of networks, as well as the protection of consumer rights. All these goals should be implemented in parallel and in an equivalent manner by all G20 members. With the increasingly large-scale collection and analysis of data, it is essential to address privacy and security risks as an economic and social issue. The G20 can provide strategic guidance on building robust protection of personal data across borders. This should include measures like clear and interoperable frameworks, digital security risk management and strengthened consumer protection rules in the digital economy.
The digital transformation will create new markets and new jobs, while some existing jobs may need to be reshaped or retooled. We will need a particular focus on ensuring that people have sufficient digital literacy and skills to reap the benefits of the digital shift or at least not be threatened by it. Protecting those least equipped to navigate the digital transition will require a pro-active policies. Our educational systems and on-the-job-trainings will need adapting. Digital education means orientation and self-determination in the digital future. Without this foundation, the digital transformation will fall short, or worse, in both business and society. Ensuring that as many people as possible in all countries can participate in the digital economy is the best way of leveraging its opportunities and managing its downsides.
Determined to support the digital transformation, Germany has made the digital agenda a key theme of its G20 Presidency in 2017, building on the foundations laid by the Chinese G20 Presidency last year. The OECD has the same ambition. The Organisation has embarked upon a wide-ranging analysis of the policy responses that will be necessary to maximise the benefits of the digital transformation and address the related challenges.
The OECD and the German G20 Presidency will work to deliver concrete policy recommendations, beginning at the January 12 "Key Issues for Digital Transformation in the G20" Conference in Berlin and culminating in the G20 Digital Ministerial in Düsseldorf in April and the G20 Leaders Summit in Hamburg in July.
We are committed to working together to ensure we realise as much as we can of the enormous potential of the digital economy to bring innovation, growth and social prosperity to all people in all countries.
Sigmar Gabriel is Germany's Federal Minister for Economic Affairs and Energy.Angel Gurría is Secretarary-General of the OECD.
Related
Popular in the Community