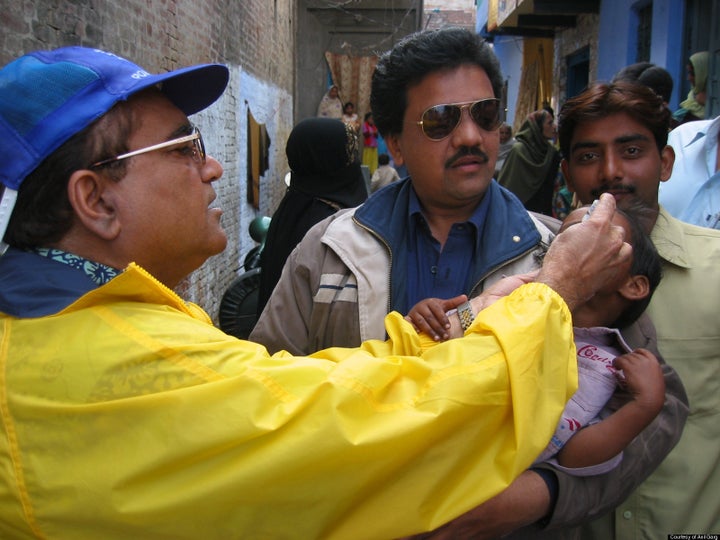 They call it "the two drops of life," said Anil Garg.
The two drops of a pinkish, transparant liquid that can change a child's life: the vaccine for polio.
This month, Anil Garg and 33 other members of a Simi Valley, California, Rotary Club will spend just under a week helping to administer the vaccine to children in the Indian state of Uttar Pradesh during a nationwide immunization drive. India's annual National Immunization Day drive vaccinates over 170 million children, reducing the number of cases by 94 percent in the past year.
"You can see it in their eyes, that they are so grateful that we are doing this," said Garg.
Garg, a 67-year-old a financial advisor, was born and raised in New Delhi and moved to California in 1970. He started running the immunization trips in 2000. He goes to India a little earlier than the rest of his contingent to visit friends and family before the hard work begins.
The California Rotarians each spend up to $3,500 of their own money, and endure the 22 hour-flight to join 1.3 million other people in the massive effort. Garg said he has no illusions about the impact of his small contingent.
Instead, he said, they're there to support the volunteers and healthcare workers organized by the Government of India, UNICEF and the World Health Organization. People who been fighting the fight for 15 years.
"They're thinking 'when is this over?'," said Garg. "We're there to say 'stay on track, because what you're doing is having a big impact.'"
The volunteers arrive in bright yellow jackets, and try to give as many children as possible the vaccine, first at immunization stations, then going door-to-door. "The kids surround [the volunteers], and once a few kids surround these people, all of a sudden, you get a gamut of people out of nowhere," said Garg.
Then the kids get a reward for taking their medicine: a small toy, a happy-face sticker, a pencil. "It's unbelievable what makes children happy," said Garg, adding that he'll never forget handing one small boy a pencil. "He broke it in two. I was surprised, I asked why he did it. He said 'I'm going to share it with my brother, who's at home,'" Garg laughed.
"I gave him another two pencils."
Rotary International has joined the Bill and the Melinda Gates Foundation in an effort to wipe out polio, which can lead to paralysis. Over the next six months, Bill Gates and Warren Buffett will travel to to India to ask top business officials to help raise $555 million to battle the disease. Gates highlighted in his annual letter the $720 million gap in the Global Polio Eradication Initiative.
Related
Popular in the Community