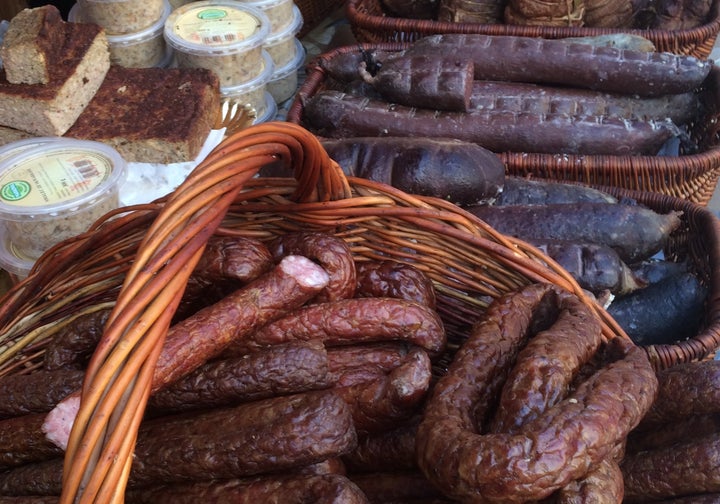 Under the guidance of chef Agnieszka Filiks at Śiwy Dym restaurant near Lublin, Poland, I recently learned how to make nettle soup (pokrzywowa zupa), forszmak, a soup with kielbasa, ham, bacon, and pickles, as well as pierogi lubelskie, earthy and delicious pierogis stuffed with buckwheat, fresh cheese, and mint. These specialties are still mostly homemade. As growing numbers of chefs are bringing back dishes like these from regional and countryside cuisines, substantial segments of Polish consumers seem attracted to plain menus dominated by pork chops and fries (often of the frozen kind, despite the great local varieties that are still available), while sticking to bland but affordable products in grocery stores.
This ambiguity points to the evolving dynamics in Polish cuisine. The influence of culinary cosmopolitanism is visible in the long-term effects of two relevant events in 2012. Amaro in Warsaw became the first restaurant to earn a Michelin star in Poland, while a group of world-famous chefs explored Polish food as part of the Cook it Raw initiative. The rediscovery of traditional and often forgotten practices and products, as well as a renewed pride in the skills and know-how of local artisans, is a core component of this new global gastronomic zeitgeist. As the past is investigated to find legitimate roots for this modern renaissance, the topic of kuchnia staropolska (old Polish cuisine) has acquired visibility, at the same time as (although not directly connected to) the rise of conservative and often nationalist movements to power.
Sometimes such politicization verges on the ridiculous: due to a dispute over canceled contracts, a deputy Defense Minister portrayed the French as "people who learned to eat with a fork from us." His nationalist rivals accused former Foreign Minister Radek Sikorski to indulge in octopus, depicted as a foreign, decadent, and inherently corrupt food. On other occasions, politicization becomes an effective tool in trade wars, as it happened when Putin blocked imports of Polish apples following the EU embargo caused by his intervention in the Ukraine. A facebook campaign to "eat apples to annoy Putin" found a great following, while the industrial sector rallied to find new uses for the fruit.
The perception and experience of what traditional food is and means varies enormously. Historian Jarosław Dumanowski points out how kuchnia staropolska became associated with simple but tasty peasant food in the 1970s, when the leader of the Communist Party Edward Gierek ushered a period of economic revitalization and relative comfort, fueled by money borrowed from the west by the state. The move of rural populations toward the cities to participate in the new productive activities generated a sense of nostalgia that in turn led to the emergence of a manufactured image of what the old cooking was like, while the actual "country" products were already quite industrialized and homogeneous.
Producers express mixed relationships with tradition. The owners of Zubrzycki Piekarnia, a bakery that produces cebularz lubelski (a sort of onion focaccia now protected by a EU geographical indication), pride themself in their belonging to the bakers' guild and their possession of old documents. Zbigniew Kołodziej at the Majatek Rutka Farm does a remarkable job at bringing back breeds of cattle, sheep, and geese what were almost extinct, but he is not interested neither in getting involved in modernizing his farm's style nor in the newfangled food movement.
Others, while producing traditional foods, do not vocally defend tradition and actively foster nostalgic attachment to the past. Frux Solis farm, manufactures amazing ciders, nalewki and powidła (a plum compote that simmers for three days in a copper pot). Pstrag Pustelnia Fishery, raises sustainably and smokes excellent trout, sturgeon, and carp. Although both companies provide high quality goods offered in ways that appeal to contemporary consumers, they do not aim to bring back the past.
Some producers embody the same ethos as many young artisans in the US and elsewhere in Europe, who are more invested in the uniqueness and excellence of their own craft than in pursuing local traditions. Anna Łuczywek and Rafeł Duszyński at Mleczna Droga Dairy Farm, who speak fluent English and had previous successful careers in the capital, feel to be part of an international food movement that promotes good and honest food. They create their own products borrowing from both local and foreign customs and techniques, so that their yogurt and fresh cheese are as interesting as their stilton-style cheese.
The diversity among these producers exemplifies the complexity of the food scene in Poland. Such ferment is likely to trickle down to consumers at large, also thanks to the growing exposure of all things gastronomy on the media. Despite its unique characteristics and present-day social throes, and although its negotiations with tradition are open-ended, Poland seems to be taking a well-trod path towards culinary cosmopolitanism, as many post-industrial societies have done before.
Related
Popular in the Community