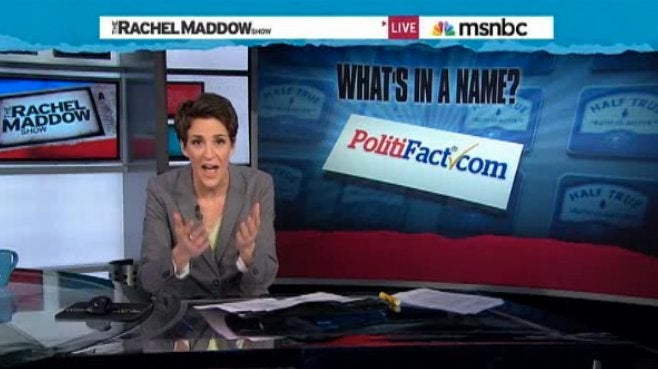 Earlier this month, Rubio made a claim that "the majority of Americans are conservative." PolitiFact rated the statement as "mostly false," stating that Rubio should have said "a plurality of Americans are conservative." Critics, including MSNBC host Rachel Maddow, laid into the fact-checking site for what seemed to be a disconnect between the investigation of the claim and the conclusion provided by the organization's patented "truth-o-meter."
On her MSNBC show earlier this month, Maddow said, "So, to sum up. Marco Rubio says, 'the majority of Americans are conservative.' Politifact looks into that and finds that a majority of Americans do not identify as conservative. And even if you wanted to extrapolate to parties...Republican-leaning instead of conservative...that still doesn't get you to a majority either. So, according to Politifact, Rubio's statement is false." Maddow seemed outraged when she learned that PolitiFact's "truth-o-meter" rated the claim as "Mostly True."
On Monday, PolitiFact modified its rating to "Half True." The Rubio piece now includes an Editor's note, which states that the site reconsidered its original rating after readers questioned its original conclusion. "The debate centered on whether to judge Rubio on his literal statement or the underlying point," the note read. "We try to balance that question in many of our rulings. Upon further discussion, and bolstered by more reporting, we have decided to change this ruling to Half True."
This is not the first time PolitiFact has modified one of its ratings after a barrage of criticism. Last month, Maddow raged against PolitiFact for rating a series of statements President Obama made about jobs and the economy during the State of the Union address as "Half True." The organization later changed its rating to "Mostly True."
Calling all HuffPost superfans!
Sign up for membership to become a founding member and help shape HuffPost's next chapter