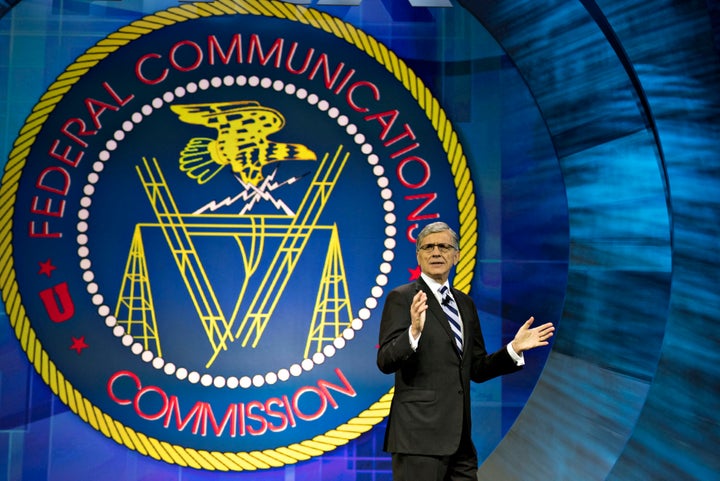 WASHINGTON -- The Federal Communications Commission voted unanimously on Thursday to expand a political advertising transparency rule to cover cable and satellite television operators and radio stations. The new rule will put a massive amount of data about political advertising online for the very first time.
Nearly all television and radio operators have been required to maintain a public file on political advertising for years. In 2012, the FCC voted to require broadcast television stations to make these files available through a centralized database operated by the commission. Thursday's rule will phase in online filing for cable and satellite operators and radio stations over the next two years, with some exemptions available for very small operators.
"This move to an online public file will not only make accessing the file much more convenient for members of the public, it will actually lower long-term costs for industry," FCC Chairman Tom Wheeler said in a statement. "The public will be able search the file without requiring assistance from station or headquarters staff, reducing the burden of maintaining the public file."
The FCC adopted this new, expanded transparency rule after being petitioned to do so by online disclosure advocates from the Sunlight Foundation, the Campaign Legal Center and Common Cause.
"We commend the Commission for moving forward on our petition," Meredith McGehee, policy director of the Campaign Legal Center, said in a statement. "This new rule drags FCC regulations governing the public file into the 21st Century and ensures that all media outlets covered by the Communications Act will make the information required in the public file more readily available to the public."
These groups did not get everything they asked for, however. They had also petitioned the FCC to require stations and operators to disclose political ad files in a machine-readable format so they can be standardized, coded and filed electronically. Currently, files need only be disclosed in non-standardized PDF files -- which means they could include scanned, printed or even hand-written documents.
This makes it nearly impossible to create a user-friendly database detailing the amount groups spend on ad buys and the number of spots they purchase, among many others things.
To address that problem, the Sunlight Foundation took the info from the FCC's database and built its own database, Political Ad Sleuth, to provide more user-friendly access to the files. However, the lack of machine-readable disclosures limits the information Political Ad Sleuth can aggregate.
"Now that we are moving toward more robust disclosure, the FCC should require a standardized form that is machine readable," Sunlight Foundation executive director John Wonderlich said in a statement. "Currently the forms are in PDFs which make it difficult for the public to analyze and reuse data from the political ad file."
PHOTO GALLERY
If Presidential Campaign Logos Were Honest 2016
Calling all HuffPost superfans!
Sign up for membership to become a founding member and help shape HuffPost's next chapter