Pulitzer Prize-winning cartoonist Ann Telnaes had a feeling back in 1999 that Hillary Clinton would become much more than a first lady.
On Wednesday, the morning after Clinton made history by becoming the first woman to clinch a major party's presidential nomination, Telnaes tweeted a cartoon she'd first published in The Washington Post 17 years ago.
The illustration depicts two men in an office looking up at a large portrait of a glamorous Hillary Clinton, who in the 1999 cartoon looks eerily like the Hillary Clinton of 2016, blonde bob and all.
"Sir, I think I figured out what the Clinton legacy is," one man says to the other, hinting that President Bill Clinton's political career would be followed by his wife carving out a space of her own. (The non-speaking man is probably meant to be Bill Clinton himself -- he's got the shock of grey hair, the ruddy nose and the pronounced chin usually associated with the former president in caricatures.)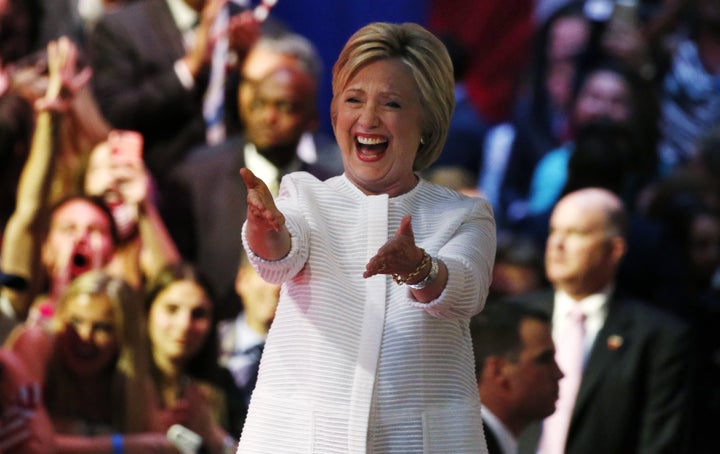 "It may be hard to see tonight, but we are all standing under a glass ceiling right now. But don't worry, we're not smashing this one. Thanks to you, we've reached a milestone," Clinton said in a victory speech at Brooklyn's Navy Yard on Tuesday evening. "If we stand together, we will rise together, because we are stronger together."
The Associated Press declared Clinton the presumptive nominee on Monday, a claim that Sen. Bernie Sanders (I-Vt.), her rival for the Democratic nomination, denounced as premature. Clinton's primary victories in California, New Jersey and New Mexico on Tuesday, however, were widely seen as the final word in the Democratic race, despite Sanders' pledge to carry on his campaign.
REAL LIFE. REAL NEWS. REAL VOICES.
Help us tell more of the stories that matter from voices that too often remain unheard.
BEFORE YOU GO
PHOTO GALLERY
Tweets About Hillary Clinton