 WASHINGTON -- In the burgeoning, opaque world of political consulting, even clients sometimes have no clue about the identities of the firms handling millions of dollars meant to influence the American public.
David Wilmot, who runs the bipartisan Ocean Champions Voter Fund, paid an outfit called Waterfront Strategies $49,867 to run an ad attacking Maryland congressional candidate Andy Harris in 2010.
"The funny thing is, I don't know anything about them at all," Wilmot told The Huffington Post.
Nor do many other people. Federal election filings reveal only an address in the expensive Washington, D.C., neighborhood of Georgetown near the Potomac River. A trip to that address on Wisconsin Avenue finds no Waterfront Strategies listed among the building's tenants.
But Waterfront has recently surged up the ranks of political advertising firms. So far this election cycle, $466 million has been lavished on campaign consultants, according to a HuffPost analysis of federal election data. Waterfront has served as a conduit for some $2.4 million in business, from which it earns a percentage. The bulk of the spending comes from two new Democratic super PACs.
Waterfront's apparent obscurity offers a vivid illustration of the problems that good government advocates warned would happen after the Supreme Court ruled that corporations can spend all they want on politics. The surging flood of cash is making it harder to figure out who is behind attempts to sway voters and ensure that candidates are not circumventing federal campaign contribution limits by having donors funnel money through shell entities.
"It's a concern because the public is not getting an accurate picture of both where the money is coming from and where it's being spent," said Meredith McGehee, policy director of the Campaign Legal Center, noting that even the Supreme Court justices who opened the unlimited money spigot in the 2010 Citizens United ruling argued that the public needs to know whose interests are being represented in political ads.
It also shows how flimsy the laws governing super PACs really are.
Because it remains illegal for candidates to coordinate with independent groups, the same consultant cannot work directly for candidates and the super PAC that wants to support them. That's where firms like Waterfront Strategies come in.
Waterfront is not actually an independent outfit. The building in Georgetown where it is located is the home of GMMB, the powerhouse media consulting shop that produces President Barack Obama's ads, and where Obama's top consultant there, Jim Margolis, boasts that he represents more Democratic senators than anyone else, among them Majority Leader Harry Reid.
Waterfront, it turns out, is an internal branch of GMMB. It was incorporated in Delaware, and its president is listed as Raelynn Olson. She is GMMB's managing partner.
Olson declined to discuss the firm within a firm, but other consultants who sometimes do business with Margolis and GMMB were willing to talk about it without being named.
Waterfront Strategies, they explained, exists so that GMMB has a separate corporate entity where it can employ people to handle outside expenditures -- in this case mostly from the House Majority PAC that aims to retake control of the House from Republicans, and the Majority PAC that is trying to preserve Democratic control of the Senate. The arrangement keeps the money legally separate from people who may be working more directly with Senate or House candidates. Thus campaign laws barring coordination are not violated.
That's an awfully thin fig leaf, critics charge.
"It's a little bit farcical when you think about it," admitted one political operative, referring not just to GMMB, but to other consultant shops as well. "It's pretty silly, but that's the way it's done, and that's the way it has to be under the law."
"I'm sure that the office dividers are at least six feet tall," said McGehee. "It's part of the shell game that shows they satisfy the letter of the law. It's like saying that Restore Our Future is not really a super PAC for Romney or Priorities USA is not really a super PAC for Obama," she said, referring to the presidential campaign super PACs that are both run by close former confidants of the men they are trying to elect.
"It's the Kabuki that's done to conform with the form while putting the lie to reality," McGehee said.
That's not to say that either GMMB or Waterfront Strategies are breaking any laws. But, consultants said, it is increasingly easy to coordinate without breaking the rules.
"The way it works is you hire people who have worked with the candidates and their campaigns before, so they know the person and they know what the campaign wants," said one longtime Democratic consultant. "Then they're all looking at the same polls and research, so they know what needs to be addressed."
In this case, the Majority PAC is run by Susan McCue, the influential former chief of staff to GMMB's second-most powerful client, Harry Reid. Majority PAC also boasts as advisers Harold Ickes, the heavyweight Democratic insider who is president of Priorities USA, and Jim Jordan, who once ran the Democratic Senatorial Campaign Committee.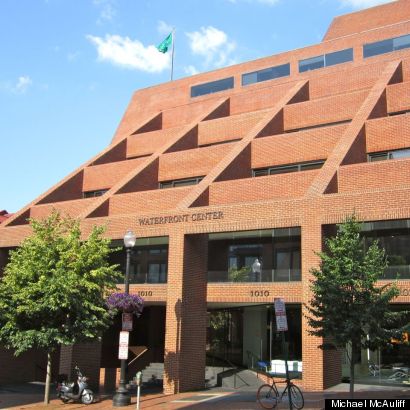 The building where Waterfront Strategies is not listed.
Waterfront Strategies has handled Super PAC ads for several Senate races this year, most prominently Missouri's Sen. Claire McCaskill. In McCaskill's last election, the Democratic Senate Campaign Committee used another firm from inside GMMB, called Great American Media, to advertise for McCaskill and slew of other Senate candidates. Most recently, the Democratic Senate Campaign Committee used the firm for some $160,000 in ads for North Dakota Senate contender Heidi Heitkamp.
House Majority PAC is run by Ali Lapp, recently the deputy director of the Democratic Congressional Campaign Committee, which has been among GMMB's top clients. Waterfront has handled House Majority ads for some 20 different House races.
There are also strategic reasons for larger, better-known firms like GMMB to have internal shops. Doing so can make it possible to work for a wider ideological range of candidates without risking becoming a liability for the clients.
"If they had a Blue Dog [conservative Democrat], for example, they wouldn't necessarily want it to come up that the parent company works for, say, Barbara Boxer or Obama," said McGehee. "It becomes another unknown, anonymous group that's not connected with a famous politician."
The clients certainly are not complaining that Waterfront Strategies is not high-profile.
"They're great at what they do. They're great at producing effective ads and making sure voters see them," said Andy Stone, a spokesman for House Majority PAC. He declined to elaborate.
McGehee said the problem is less with shops like Waterfront and more with the toothless Federal Election Commission and a Congress that could easily write laws to require more transparency -- if it wanted.
"I can't think it would be fair to say it's the fault of the companies," McGehee said. "They are taking advantage of weaknesses of election law that have been put in there purposely."
Wilmot, whose goal is to elect candidates who support ocean-friendly environmental policies, found Waterfront through yet another consultant. He explained why the intricacies of consulting rules matter little to candidates.
"If they placed the ad and did a good job, then you use them again," Wilmot said. "That's all that matters."
Paul Blumenthal, Aaron Bycoffe, Elise Foley and Jennifer Bendery contributed reporting for this story.
Support HuffPost
The Stakes Have Never Been Higher
Before You Go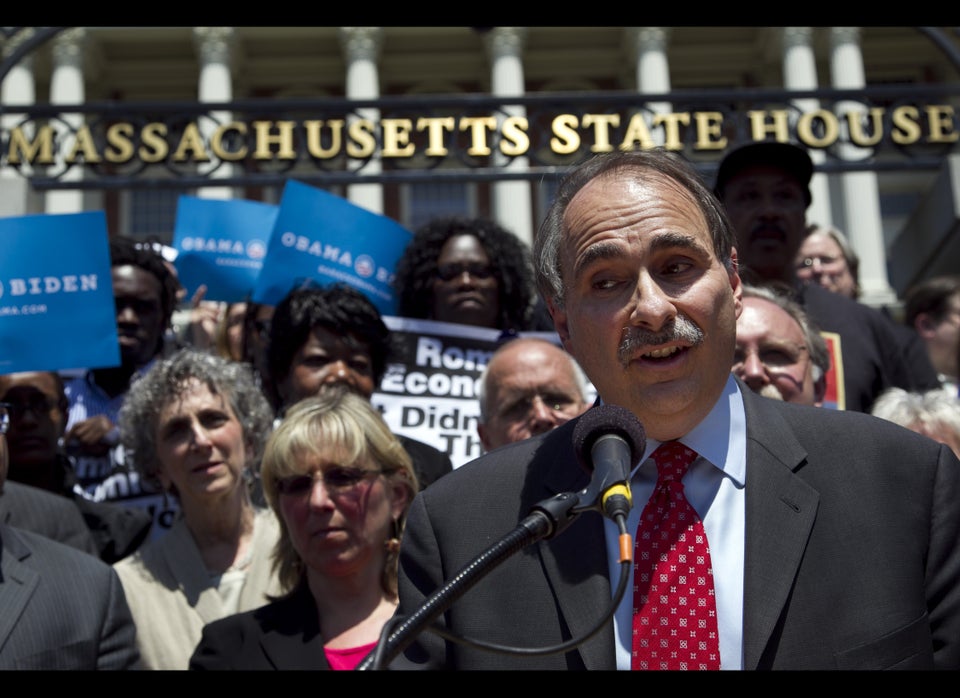 Prominent Consultants In 2012
Popular in the Community