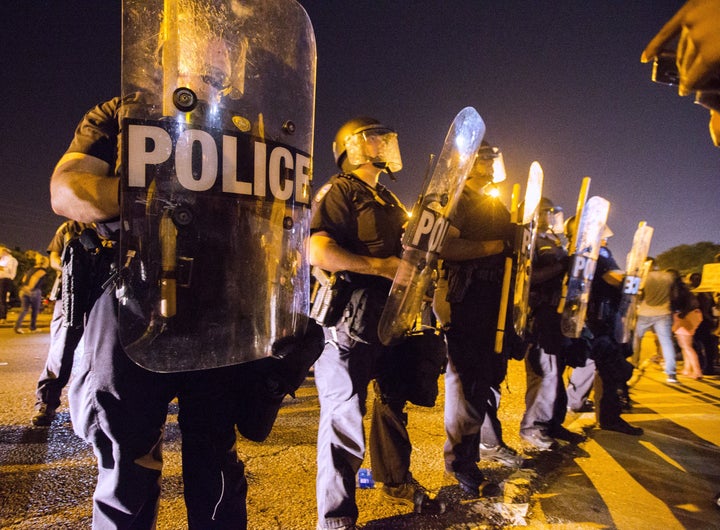 NEW YORK ― Ferguson. Baltimore. Cleveland?
Over the past two years, journalists have been thrust into dangerous reporting situations as militarized police forces have squared off with protesters, evoking scenes more reminiscent of war zones than American cities.
Thousands of protesters and Trump supporters, including a group of white nationalists, are expected to converge on the city. Cleveland will assign about a third of its 1,700-person police force to the convention, while thousands of out-of-town officers will likely be added as reinforcements. The four-day Republican gathering wraps up Thursday, with the Democratic National Convention beginning four days later in Philadelphia.
News organizations' safety concerns for this two-week stretch have kept veteran journalist and security expert Frank Smyth very busy. Smyth, the founder and executive director of Global Journalist Security, said his group has conducted nearly two-dozen civil unrest trainings for news organizations in recent months. They've held these four-hour trainings in New York, Washington D.C., Los Angeles and Cleveland, he said.
Global Journalist Security offers a two-day, $1,195 course on civil unrest and active shooter situations, the most recent taking place last week in Washington, D.C. Smyth's group also held a four-hour, interactive online course pegged to the conventions on Monday for $495, and has scheduled another for Friday. His team has already scoped out Cleveland for potential flash points, he said, and they plan to offer additional trainings depending on demand.
Smyth does not comment on his clients, though a Washington Post spokeswoman confirmed that some of the paper's staff were doing training sessions with Global Journalist Security.
The spokeswoman declined to comment further, and news organizations are broadly reluctant to discuss security protocols. While other outlets are surely taking precautions ahead of Cleveland, most of the more than 12 approached by The Huffington Post offered little about what, specifically, that entails.
A New York Times spokeswoman said the paper has "resources and procedures in place for NYT staff covering any situation including the upcoming conventions that can present safety challenges."
"Given recent events it would be irresponsible not to train journalists to be acutely aware of their situations to be prepared for unexpected developments," Mike Oreskes, NPR's editorial director and senior vice president of news, told HuffPost in an email Monday.
"We have a safety advisor who has met with staff and talked about how to best handle volatile situations," Oreskes continued. "It's always better to think ahead and plan. We have provided NPR staff and Member station reporters tips and guidelines that are lessons from people who have covered events ranging from Ferguson to Tahrir Square. It boils down to having situational awareness at all times and giving our journalists both here and abroad the tools so they can do their work and stay safe."
"We're providing our staff with resources and support as we head into the conventions," said Huffington Post Senior Politics Editor Sam Stein.
Representatives from ABC News, NBC News, the Associated Press, and BuzzFeed declined to comment. Representatives from CBS News, Fox News, CNN, Reuters and Bloomberg did not immediately respond with comment.
Smyth, who has reported from conflict zones around the world and spent more than a decade at the Committee to Protect Journalists, where he remains a senior adviser for journalist security, brings an extensive résumé to training journalists and others working in hazardous situations. His group began offering five-day courses in 2014 that tackled extreme issues like tactical casualty care and handling captivity if kidnapped. The clientele for these courses are mostly NGO and aid workers, he said, along with foreign correspondents.
But Smyth said the interest in covering domestic unrest grew in response to the August 2014 demonstrations in Ferguson, Missouri, that followed the shooting of an unarmed black man by a white police officer. Journalists got swept up in the chaos, with at least two dozen arrested, including a HuffPost reporter.
"Journalists who covered Ferguson said Ferguson was the most frightening thing they ever covered ― and some of these people had substantial overseas experience," Smyth said.
He noted how "things would change spontaneously on the ground" in Ferguson and there was a "real sense of panic and fear." Next, he said, "Baltimore was another situation where it was highly dangerous," a reference to April 2015 protests following the death of Freddie Gray in police custody.
Smyth's group began offering the two-day civil unrest class earlier this year. They recently tweaked that course to focus on the summer's political conventions, events that could draw upwards of 15,000 journalists.
Though political conventions have been the sight of civil unrest in the past, most notably during the 1968 Democratic convention, journalists have heightened concerns this election season given outbreaks of violence at Donald Trump rallies. The presumptive Republican nominee has also routinely attacked the "disgusting" reporters covering his raucous events, often to the cheers of his supporters. Beyond verbal attacks, a Secret Service agent roughed up a Time Magazine photographer in February as he tried covering a protest inside one of Trump's rallies.
The Washington Post reported the following month that NPR had sent its political reporters to a 90-minute hostile-environment awareness training, which the paper dubbed "Trump Training."
The possibility of Trump's diehard fans turning on the press has come up in Global Journalist Security simulations.
"Trump's supporters have been primed to be aggressive," Paul Burton, a former British commando and current training director for Global Journalist Security, told attendees at a convention-themed training in May, according to The New Yorker's Nicholas Schmidle. "We've got a feeling something may happen, especially if Trump doesn't get what he wants."
Schmidle described one exercise during the two-day training in which instructors simulated Black Lives Matter activists converging with Trump supporters and riot police ― the type of tense situation journalists may confront in Cleveland sometime next week.
Charlotte Klein provided research assistance.
Related
Popular in the Community