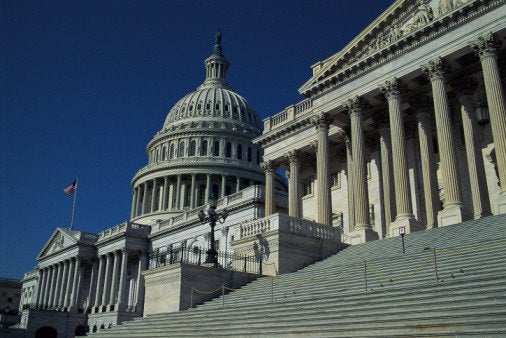 Good-government advocates on Wednesday asked the Internal Revenue Service to investigate four groups they say are blatantly flouting the law by claiming tax-exempt status as "social welfare" groups when they are in fact overtly political organizations.
The so-called c4 designation, in addition to exempting organizations from taxes, also allows groups to keep their donors secret -- even while accepting unlimited funds.
The Wednesday letter, sent by Democracy 21 and the Campaign Legal Center, represents the latest of many attempts by reformers to rein in the extraordinary growth of c4 groups, which in the 2010 election cycle began flooding the political landscape with massive amounts of money from people or organizations who for whatever reason didn't want their political involvement to be made public.
The letter called out one liberal group (Priorities USA), two conservative groups (Crossroads GPS and American Action Network) and a pro-third-party group (Americans Elect) for making specious claims -- such as that as long as they only spend 49 percent or less of their total expenditures on explicitly campaign-related activity, they can still qualify as "social welfare" groups.
"Court decisions have established that in order to meet this requirement, section 501(c)(4) organizations cannot engage in more than an insubstantial amount of any non-social welfare activity, such as directly or indirectly participating or intervening in
elections," the letter read.
Democracy 21 president Fred Wertheimer said the four groups were chosen this time around because "we had very significant public information about them." The letter summarized numerous news reports that describe their openly political agendas.
"We can't do everyone, and we think these are prime examples -- on the Democratic, Republican and independent side -- where the tax laws are being misused," Wertheimer said.
"We feel that it's pretty clear that these groups are not social welfare groups. We haven't seen, for example, Karl Rove spending too much time on social welfare activities."
Denial of c4 status would be a crushing blow to the finances of such organizations -- and would likely force them to reorganize under section 527 of the tax code. That section, explicitly for political groups, offers tax exemption -- but requires full disclosure of donors.
The two reform groups also asked the IRS in July to revise its regulations regarding eligibility for 501(c)(4) status.
Jonathan Collegio, spokesman for Crossroads GPS, was dismissive of the letter. "This is the fourth frivolous complaint in twelve months from a highly ideological group that wants to sic the IRS on its opponents," he said in a statement to reporters.
Crossroads GPS and its Super PAC affiliate, American Crossroads, recently announced a fundraising goal of $240 million to spend on the 2012 presidential election.
Americans Elect, the fourth group, is seeking to gain a place on the 2012 ballot in all 50 states for a presidential candidate it intends to nominate through an open, online process. But as the Los Angeles Times noted in July, it "has been able to keep private its financiers, raising questions about what forces are driving the massive undertaking."
The IRS's only response on Wednesday was to state that "Federal law prohibits the IRS from discussing or commenting on any particular taxpayer situation or case."
Wertheimer said he has still not heard anything back from his earlier petitions.
"We feel it is essential for the IRS to get a handle on this. Because to allow groups to abuse the tax laws for political purposes completely undermines the credibility of the laws and of the IRS if it refuses to properly enforce them," he said.
And, he said: "We're going to keep the pressure on until they deal with it. "
But there are reasons to doubt the IRS will act. In August, a lawyer for progressive donors accused the IRS of buckling under political pressure when it shut down an investigation into donor misconduct after six Republican members of the Senate Finance Committee said the agency's investigation was spurious and politically motivated.
Popular in the Community