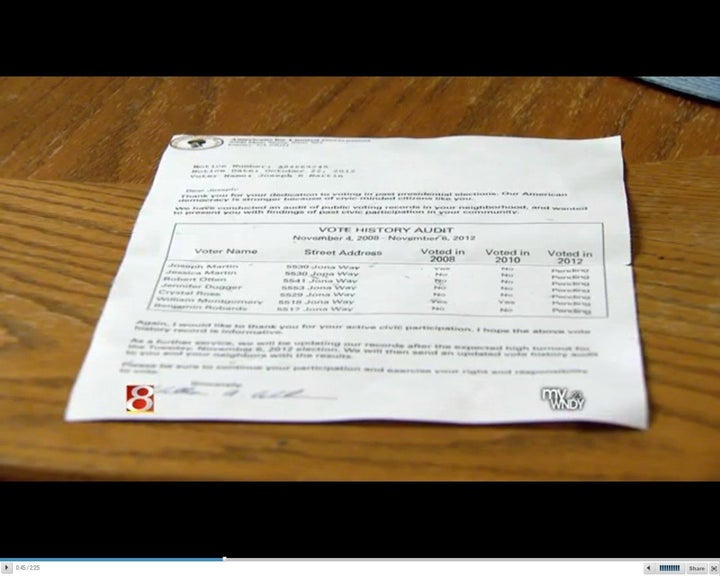 WASHINGTON -- Customized mass-mail campaigns from groups on the left and the right are using peer pressure to get out the vote by comparing recipients' voting records with those of their neighbors.
A first wave of mailers from a conservative group has spawned complaints about invasion of privacy and intimidation.
More than 2 million registered voters around the country recently received flyers in the mail from Virginia-based Americans for Limited Government. The "vote history audits" in the mailers show whether recipients made it to the polls in the last several elections, and list neighbors by name and address with their voting records.
A spokesman for the group said in a statement to reporters that the mailing "has one goal and one goal only, to increase participation in the electoral process."
Election boards across the country have been flooded with complaints. "They view them as an invasion of privacy," said Johnnie McLean, deputy director of the North Carolina state election board. Voters particularly don't like information about themselves being sent to their neighbors, she said.
One recipient, Jill Butler of Forest, Va., complained to The Huffington Post: "I think my voting record should be between me and not really anyone else."
Voting records are public documents, but haven't typically used so overtly in politics.
The Americans for Limited Government mailing also implicitly threatens to shame non-voters by sending "an updated vote history audit to you and your neighbors" after the election.
As it happens, the conservative mailing is about to be dwarfed in size by one from the liberal group MoveOn.org Civic Action, being sent to 12 million registered voters in all the swing states and in most congressional districts with competitive races.
The MoveOn mailer bears a colorful picture of children and the headline "Congratulations on your first Voter Report Card!"
It quickly addresses the biggest fear expressed by recipients of the Americans for Limited Government mailer: that somehow these groups know how the recipients voted, as well as when. "Who you vote for is your secret," the MoveOn mailer says. "But whether you vote is public record."
And instead of listing neighbors by name and address, it compares the recipient's voting record with the neighborhood average.
Both kinds of mailers are based on social science research, specifically a 2008 journal article titled "Social Pressure and Voter Turnout." The authors found that "higher turnout was observed among those who received mailings promising to publicize their turnout to their household or their neighbors." Their conclusion: "These findings demonstrate the profound importance of social pressure as an inducement to political participation."
Danny Oran, a former software engineer who designed the mailing for MoveOn, told HuffPost his goal was not to shame people into voting, but rather to capture their interest, and then motivate them to think "Hey this is kind of cool, I want to keep up with the neighbors."
"I'm not sure what the other approach is," Oran said. "But ours is definitely focused on that positive element."
"Keeping up with the Joneses" can be a good thing or a bad thing, Oran said. "I guess it depends what you're keeping up with."
MoveOn conducted its own 173,000-voter scientific trial in Delaware during the state's primary elections in September. One group of voters got the voter report card mailing, a second got a different mailing, and a third got nothing. The first group ended up voting at a considerably higher rate than the other two.
"The effect size is so big that in states like Florida or Ohio, it really could mean like 50,000 extra progressive votes," Oran said. "A postcard truly could change the outcome of the election." He said the MoveOn mailings were aimed at "folks who we hope will vote for progressive candidates."
News reports about the conservative mailings have raised concerns about their accuracy, as well as their tone. "It is basically wrong as far as voter history goes," McLean, the North Carolina elections official, said of the Americans for Limited Government mailings.
That's especially galling to people who did vote, but are listed as no-shows, McLean said. "They don't want anybody accusing them of doing something wrong. And they don't like people posting that information out there."
The Raleigh News and Observer quoted local resident Joseph Hernandez saying that his 98-year-old grandmother was wrongly listed as a non-voter.
"How dare they put out people's names and addresses like that?" Hernandez said. "In this society we live in, it can be dangerous. You never know what people are going to do. ... My (grandmother) is one of the oldest people voting in this country. She doesn't deserve this."
Americans for Limited Government could not be reached to explain how it targeted people to receive its mailer. Richard Manning, the group's spokesman, said in an earlier statement: "Using publicly available information, we have been able to identify voters who have a tendency to vote but for whatever reason have failed to do so at the most critical moments. We unapologetically urge these voters to exercise their right to vote, a goal which we are confident everyone applauds."
Other groups are in on the action as well. Elizabeth Crisp, a reporter for the St. Louis Post-Dispatch, wrote about receiving what she called "an official-looking flyer from the Voter Participation Center" which rated her voting score as "BELOW AVERAGE."
Calling all HuffPost superfans!
Sign up for membership to become a founding member and help shape HuffPost's next chapter
BEFORE YOU GO
PHOTO GALLERY
2012 Swing State Polls