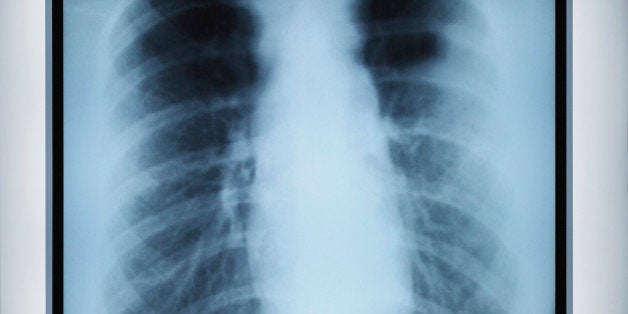 Unfortunately, it has become common practice in electoral politics for a candidate (often the one trailing in the polls) to wait until mid-October to launch unsubstantiated claims and accusations in an attempt to sway voters before his or her opponent can set the record straight and repair damages before Election Day. Far from enlightening the public, these win-at-all-costs "October Surprises" undermine frank and open debate on serious issues, and are among the reasons so many Americans find politics so distasteful.

The same types of political scare tactics have now crept into the health policy debate.

In this Monday's JAMA Internal Medicine, two competing editorials were published on the lung cancer screening, leaving the false impression that there is an even split in opinion regarding the safety and efficacy of screening among high-risk populations. In fact, the evidence falls far more heavily on the side of the scale that favors screening's lifesaving benefits.

Lung cancer screening was validated in 2010 by of one of the largest randomized controlled trials in the history of the National Cancer Institute (NCI). NCI's National Lung Screening Trial (NLST) confirmed that screening can reduce overall death from lung cancer -- which is currently the number one cancer killer in the U.S. -- by at least 20 percent. In 2013, lung cancer screening also received a B recommendation from the United States Preventive Services Task Force (USPSTF) -- an independent federal panel of experts that spent two years considering the NLST findings, as well as a large body of additional evidence prior to issuing its final recommendation. This USPSTF recommendation, by the way, makes lung cancer screening an "Essential Health Benefit," meaning that it must be covered by most private health insurance plans by the end of next year.

Now, it's up to the Centers for Medicare and Medicaid Services (CMS) to determine if it will cover this lifesaving benefit. CMS has until November 10 to make its decision. Given this deadline, the editorial published in Monday's JAMA Internal Medicine authored by Steven H. Woolf, MD, MPH, "Low-Dose Computed Tomography Screening for Lung Cancer: How Strong Is the Evidence?" is right on time for an "October Surprise." Far from being a productive contribution, this editorial misleads the public by rehashing previously raised -- and rebutted -- claims that potential harms of screening outweigh its benefits. While all medical professionals and patients should be wary of the risks associated with any procedure, multiple studies have confirmed that the benefits of lung cancer screening far outweigh the risks.

For instance, a recent study published in the peer-reviewed, scientific journal Cancer explored how anxiety relates to false-positive tests resulting from a scan for lung cancer. The researchers examined patients involved in the NLST and compared the effect of anxiety on those who received a false-positive screening result and those who received a true negative. Ilana Gareen, ScD, assistant professor of epidemiology at Brown's School of Public Health and the lead author of the lung cancer study confirmed that "most people anticipated that participants who were told that they had a positive screen result would experience increased anxiety and reduced quality of life. However, we did not find this to be the case."

As for concerns about radiation exposure, those advocating for Medicare coverage are advocating for screening with low-dose computed tomography (CT) technology which uses highly advanced medical imaging to deliver the lowest radiation dose possible without compromising image quality.

Finally, while concerns about diagnostic workups and resulting complications can be universally applied to any medical procedure, the lung cancer community has gone to great lengths to ensure that those undergoing lung cancer screening receive the safest, most appropriate care. In a recent letter submitted to CMS, Lung Cancer Alliance, along with the American College of Radiology (ACR), The Society of Thoracic Surgeons (STS) and an unprecedented coalition of 70 other public health leaders set forth a series of quality control measures to ensure safe, equitable and cost effective care. This same letter asked Medicare to support existing data registries and screening infrastructure. Indeed, if this infrastructure supported by CMS, we could guarantee the quality, safety and consistency of these exams.

Even more disappointing than Woolf's "October Surprise" was an editor's note in Monday's JAMA, written by Dr. Robert Steinbrook. In it, Dr. Steinbrook unfairly accuses those of us who cite the irrefutable evidence and support Medicare coverage of lung cancer screening of engaging in "intensive lobbying efforts." However, far from playing politics, our coalition is the very one insisting that CMS make its decision based on the evidence -- rather politico innuendo, half-truths and resurrected myths.