The mayor of Detroit, a businessman turned novice politician, is failing to provide the political leadership necessary to turn one of America's most troubled towns in a new direction.
My wife Ellen and I appeared recently at the Coleman A. Young Municipal Center in downtown Detroit to find out more about Mayor Dave Bing's Detroit Works Project -- his high-priority, privately supported, publicly run operation to plan a downsized future for the shrinking city. The guard at the city hall information booth said he'd "never heard" of the Bing administration's centerpiece project. He said it has no city hall office.
The Detroit Works Project marks the beginning of the most sweeping overhaul ever attempted of a major American city. At first glance, city officials' deployment of social media, fancy live opinion tracking and other e-techniques suggests smart use of 21st-century digital communications tools. A closer look reveals a lack of transparency and citizen involvement that virtually negates any real chance for the sort of radical restructuring likely required to save Detroit.
As the city gets smaller, the stakes remain huge. It's true that more than half of the 2 million people who once lived in Detroit have long since died or moved away. But for nearly three quarters of a million people, Detroit is still home.
Ellen is a photographer; I'm a former Detroit reporter. We had come to take a look at Mayor Bing's brand of citizen involvement by attending the ninth in Detroit Works' 10 public meetings. The announced purpose of the meetings was to hear citizens' voices and educate them about the reasons Detroit needs dramatic change. But there was absolutely nothing at the municipal building to indicate a public meeting was scheduled that evening: no posters, no fliers nothing inviting the public, nothing mentioning the meeting or even the project.
Such is the schizophrenic state of Detroit's political leadership under Bing: The mayor has said he needs "the participation and support of many" to get his plan going. He has urged citizen involvement, saying he is listening to the public's voices. His project has a Facebook fan page and he has an official Twitter page. There's an inspirational message from Bing on Detroit Works' sophisticated website.
Yet, Bing did little to promote the project's public meetings, which were carefully stage-managed to keep give-and-take with citizens to a minimum. The mayor, a former Detroit Pistons star and steel company CEO who proudly describes himself as a corporate manager and "not a politician," is effectively hiding the inner workings of the policy-making process from public view, either claiming that aspects of Detroit Works are exempt from the Michigan Freedom of Information Act because of its partially private funding or, alternately, simply ignoring questions.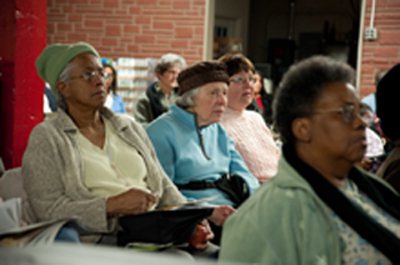 The public meeting we attended at Gleaners Community Food Bank on the impoverished east side was apparently typical. Bing wasn't there. His appointed officials kept control of the conversation. The centerpiece was a slickly produced corporate Powerpoint presentation displaying a range of urban statistics. The presentation purports to explain why Detroit needs to change while also asking participants to "vote" electronically on a carefully framed set of multiple-choice questions.
The roughly 150 people who attended were permitted to submit videotaped or written comments, but were not allowed to comment from the floor. Questions were allowed after the presentation, but had to be submitted in writing and screened. There was no give and take; no open debate.
This entire performance has given rise to widespread doubts about the sincerity of Bing's interest in hearing what citizens really want. When a local TV anchor recently asked Bing about such public doubts, Bing responded, "I'm listening to people. I'm getting all of the data as it comes back in."
The "data" that Bing apparently is relying on are the electronically recorded responses to the multiple-choice questions in his Detroit Works presentation. But Bing, knowingly or not, misrepresents or simply ignores what the so-called voting has said.
Bing has repeatedly said that he wants to raze some of the most distressed Detroit neighborhoods and concentrate residents in a smaller area to reduce the cost of providing them with city services. In the set of questions that comes closest to a referendum on this crucial part of Bing's plan to downsize the city, public meeting participants were asked, "What should be done first to make neighborhoods stronger?" There were three possible answers:
Repopulate stable neighborhoods
Spread resources to neighborhoods across the city
Disinvest in declining neighborhoods
On average, the city's data shows, only 12% of the meetings' participants voted for disinvesting in declining neighborhoods, a polite way of describing the urban triage that Bing has advocated. In effect, the mayor's downsizing plan has been rejected by his own polling. But he seems unaffected by this outcome and, clearly, sees no duty to discuss it openly with his constituents.
I covered Detroit city hall for the Detroit Free Press in the '70s and have a life-long interest in Detroit and urban affairs. Detroiters have watched their city steadily decline since the end of World War II. As a community, they have long memories, particularly of the "urban removal" schemes of the '60s and other rescue efforts that did as much or more harm than good. None of them reversed Detroit's economic slide. As of now, Bing is doing nothing to reassure the people of Detroit that his effort is any different or any more likely to succeed.
Some friends and I -- journalists and community organizers -- have been trying to launch a new kind of news enterprise for Detroit called Detroit143. Our mission, should we get it going, is to focus exclusively on the issues of ensuring the best possible future for the city's 143 square miles of land and water and the 700,000-plus people who still live here.
Like most old-fashioned reporters, we are motivated mostly by a strong belief that the people of Detroit deserve to hear the truth from their political leaders and to be truly heard on matters of public concern. Detroiters aren't getting that from the Bing administration at the moment and they appear unlikely to get it anytime soon.
This is more than unfortunate, because turning Detroit around after six decades of decline will be impossible without broad public participation. And such participation will be impossible unless Mayor Bing can begin paying more than lip service to his constituents.

REAL LIFE. REAL NEWS. REAL VOICES.
Help us tell more of the stories that matter from voices that too often remain unheard.