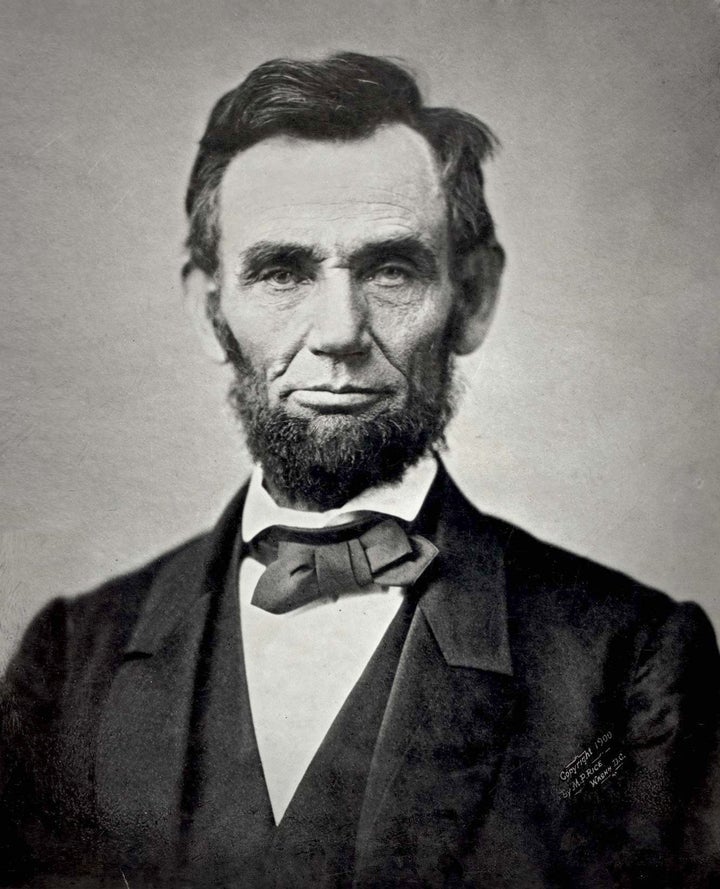 We hear the concluding phrases of the Gettysburg address being spoken by Abraham Lincoln, while three TV panelists, a male anchor (Wolf), a male commentator (Sean), and a female pundit (Rachel), prepare to air their comments on the event.

VOICE
-- and that government of the people, by the people, for the people, shall not perish from the earth.

WOLF
Well, I think our whole television audience is itching to hear your commentary on the speech we just heard this afternoon --

SEAN
It was okay.

RACHEL
I'd give it a B.

WOLF
Am I right in believing that neither of you thought the President added anything new to the current debate?

SEAN
No one says the man isn't a shrewd orator, Wolf. But what did he hope to accomplish by dragging the press corps all the way down to a remote whistlestop in Pennsylvania just to listen to a few paragraphs on the subject of dead veterans?

RACHEL
You know what I think? He was trying to bring closure to a troublesome campaign issue.

WOLF
Which one?

RACHEL
The Civil War. It's not exactly proving popular in the polls.

WOLF
Certainly not with Southern-Americans.

SEAN
Nor with States Rights Americans either. I'm not even sure if it's popular in the Blue States. But forget about the speech for a moment. I'm more interested in the motives behind the speech.

WOLF
And your take on that, Sean?

SEAN
Transparently political. He was wooing undecided voters.

RACHEL
Who? Dead soldiers?

SEAN
No, I mean people who can still cast a ballot. The president wasn't just talking to tombstones. He was addressing all the living relatives of the dead.

RACHEL
And how big a constituency is that? No, I think the president was pitching this speech to the history books. Consider his opening phrase: "Four score and seven years ago." Now how many people are going to understand what that means? Why couldn't he just say "eighty seven years ago" like any other moderately-educated American citizen?

SEAN
Pure showboating. The rhetoric of an autodidact who talks in sound bites. And the most transparent one in the speech was this one -- (looking in his transcript) -- "the world will little note, nor long remember, what we say here." Really? Then why call in the entire press?

RACHEL
With special invitations, bearing the White House seal.

WOLF
Are you suggesting that our president is secretly a headline hunter?

SEAN
No doubt about it, Wolf. A passion he cleverly hides through an air of fake modesty. (Quoting) "The world will little note nor long remember what we say here." Hello! Each word he utters is meant to be long remembered, and endlessly reproduced on every front page, cable channel, blog, and tweet.

WOLF
Let's turn to some of the political issues the president brought up this afternoon. What do you say to his assertion that all men are created equal. Rachel?

RACHEL
Well, it's perfectly obvious why he made no mention of women. They don't have the vote. And you can bet he wasn't going to mention gays and lesbians. His eye is only on the straight male electoral bloc.

SEAN
To me, all this talk about equality exposes the subversive un-American nature of Lincoln's thinking.

WOLF
Really? You think the president is un-American?

SEAN
Does that surprise you? You're bound to pick up foreign ideas when you weren't born in this country.

WOLF
Abraham Lincoln wasn't born in this country?

SEAN
A lot of people are saying he's an illegal immigrant. How else do you explain that dark skin and those bushy eyebrows? The president claims to have been born in Kentucky but has anyone ever seen his birth certificate?

WOLF
Sean, surely you're not suggesting that the president has African blood!

RACHEL
Isn't Abraham a Jewish name?

SEAN
It's also the name of a Muslim prophet. I don't know what foreign country he came from. But you can bet your bottom dollar all this talk about everyone being equal is a secret code for redistributing wealth.

WOLF
Let's be fair. He said that all men were created equal, not that all men were entitled to equal income.

RACHEL
If you make an argument for equal birth, you make an argument for equal income.

SEAN
I am in rare agreement with Rachel here. Underneath the president's pious rhetoric rumbles the thunder of class warfare.

WOLF
So you're telling us that Abraham Lincoln's ideas owe more to Das Capital than to the American Constitution. But if he's really a secret subversive, how do you explain the fact that he always wears a top hat and a tailcoat!

RACHEL
It's a disguise designed for the super PAC committees who bankrolled his first election campaign. Sean, you mentioned his complexion and his eyebrows. You know what worries me more? His beard. Can you imagine how much it costs us taxpayers to trim a growth like every day?

SEAN
John Edwards's haircuts cost the taxpayers $500 a pop.

WOLF
Well, there's not enough time remaining tonight to resolve the equality issue, or the socialism issue, or the top hat issue, or the beard issue, or the issue of Lincoln's birthplace, for that matter. So I'd like to devote the remaining moments of this program to what may prove to be the most controversial statement in the whole speech -- the reference to a "government by the people, for the people, and of the people."

RACHEL
You can make a case that the government is for the people...

SEAN
If you make a case for getting the government off the backs of the people -- !

RACHEL
But does anyone today believe that the American government is "of" the people or "by" the people? I sincerely doubt it!

SEAN
"Of and by the people" is just more socialist blather.

RACHEL
It all depends on how you define "the people." If you're talking about elite Wall Street males with three-story mansions in Easthampton, then I suppose you can say it's a government of and by the people.

SEAN
Yeah? You don't think "the people" includes those wealthy Boston liberals who throw fundraisers for him in their McMansions on Martha's Vineyard?

WOLF
Whoa, there, Sean, Rachel. Let's be fair. The president can't be both a left-wing liberal and a conservative one-percenter at the same time. Maybe he does mean what he says about government being of, by, and for the people. He did free the slaves, didn't he? They don't have the vote.

SEAN
And they won't have it as long as the Dred Scott decision is in force.

RACHEL
The Dred Scott decision is dead. Don't you remember? It was overturned by the Emancipation Proclamation. Every ex-slave will soon be an American citizen.

SEAN
And guess what party they'll support?

RACHEL
On the other hand, the Supreme Court is said to be considering a case that would repeal the Emancipation Proclamation.

SEAN
Lincoln would find some sneaky way around that one, too.

RACHEL
If they do repeal it, I hope the press gets it right this time. Remember how we reported too quickly on the Dred Scott decision, and then had to apologize to our viewers for providing the wrong information.

SEAN
Only because we miscounted the liberals on the Court.

WOLF
Everyone makes mistakes. But speaking of the Emancipation Proclamation, do you think there might be a black President in America's future?

RACHEL
I'll bet we see a black president before we see a female president.

SEAN
Are you kidding? A black president of the United States? You're dreaming.

WOLF
Well, we're certainly not going to see one tonight. (Listening to his earpiece) I'm told we're running out of time. Any final thoughts before the commercial break?

SEAN
I agree the president's speech contained a few memorable phrases. But it was far from his best. Too rhetorical, too unfocused, too general. Just what happens when you try to satisfy competing constituencies.

RACHEL
I would fault the president for making this speech in such a remote part of Pennsylvania on such a wet day. Especially when nobody bothered to supply the press corps with umbrellas.

SEAN
That's been his problem ever since he was elected. Timing. He should have delayed this war until his second term. As it is, I doubt that the president's Republican Party will be able to count on the Southern vote again for many many years.

RACHEL
Give it time. The South will drift back to the Republicans. You'll see.

SEAN
Well, as the saying goes, you can fool some of the people all of the time, and all of the people some of the time. But you can't fool all of the people all of the time.

WOLF
Didn't Lincoln say that?

RACHEL
Probably his speechwriter.

WOLF
We have to wrap it up now. I want to thank our distinguished guests for being here tonight, and for lending their expertise to such an historic event. Rachel? Sean? Come back soon.

RACHEL
Thanks for having us.

SEAN
Yeah, thanks a bunch.

WOLF
What's next for you guys?

RACHEL
I'll be going to the White House next week to interview the First Lady about her family situation. Some say that the president was recently overheard in their bedroom shouting "Damn you, Mary Todd!"

SEAN
I'll be covering the president's visit to a new British comedy called Our American Cousin at Ford's Theatre in Washington.

WOLF
I saw it in London. A very funny play. I'm glad they're giving it a shot. It'll be a solid hit. On behalf of our viewers, I want to thank you both for being the best political team on television. Keep up your informed and insightful contributions. Only America can boast of a press that always knows the truth beneath the surface of events. Viewers interested in letting us hear your comments on the president's speech are invited to call 1-800-693-CARP, or write to us care of the Bitch and Bellyache Division of CCC, the Coyote Cable Channel. Good night and happy hunting. (He shakes hands with the two commentators)
Calling all HuffPost superfans!
Sign up for membership to become a founding member and help shape HuffPost's next chapter