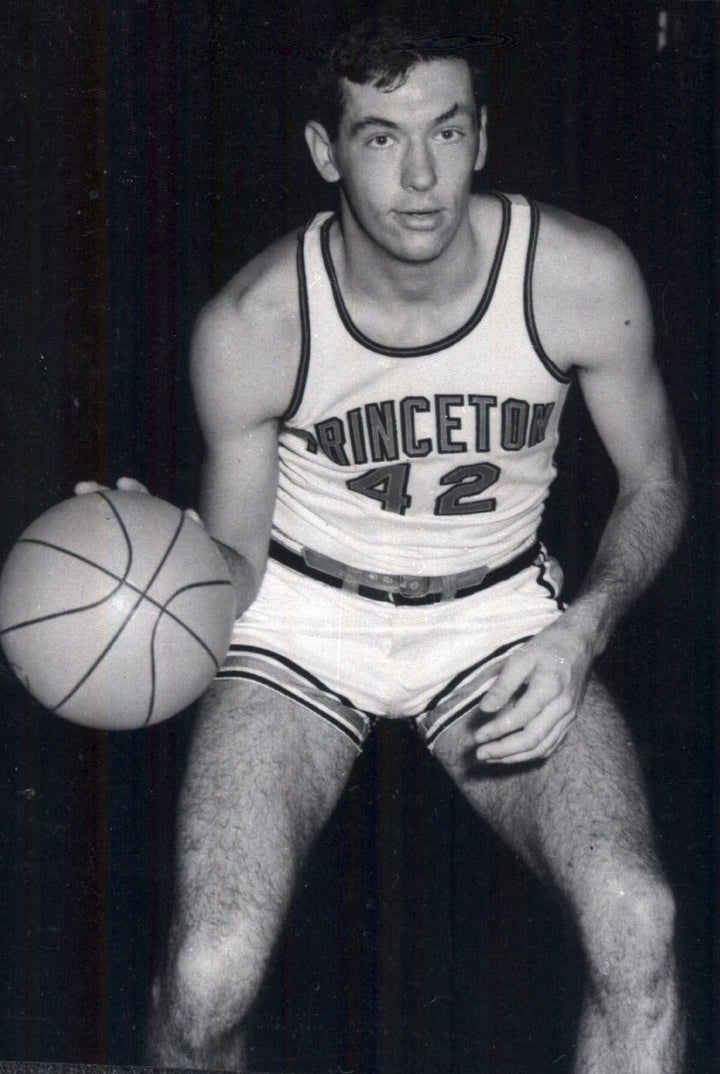 Companies like Nike, Adidas, and Mitchell & Ness allow both casual and obsessive sports fans to relive their fondest childhood memories with throwback jerseys, limited-edition replications of jerseys from a team's history. Proud owners of throwbacks -- my personal favorites include Jerry West's WVU yellow and Magic's Sparty green No. 33 -- believe that throwbacks allow you to look smoother than the original threads themselves.
But why stop there? Many of America's most famous politicians were once athletes, either in school or professionally. Ever wondered what President Obama's 11th grade basketball jersey looked like? Did you know President Ford played football at Michigan? Or that Al Gore played college basketball? Sure, you can rock a retro Dr. J uni, but what about John McCain's high school wrestling jersey? How clean (or dirty) would that be? Let's check out an entirely new land of possibilities -- politicians who deserve throwbacks of their own, if you will -- and just for kicks, see if you can determine which descriptions and statistics may not be entirely true.
Bill Bradley (Princeton) – Made history when he led Princeton –- yes, Princeton -– to a No. 3 national ranking while scoring 58 points in the consolation game of the 1965 NCAA Tournament. I heard he had a "decent" pro career as well. Career stats include an induction to the Hall of Fame, three-time collegiate All-American, more than 9,000 career points -- oh yeah, and he was a Rhodes Scholar. Deadly mid-range jumper, cerebral player morphing around the court who can beat you in a plethora of ways. Natural predatory instincts as a scorer with an array of offensive weapons. 


Barack Obama (Punahou High Basketball) – Mr. President himself won a state title in Hawaii in 1979 as a left-handed guard. His game is a mixture of speed and hustle. The stealthy southpaw relies heavily on the left hand, and although not ultra athletic, knows how to finish around the basket. Doesn't exactly possess a jump shot from the gods, however. 


Sarah Palin (Wasilla High Basketball) – Won a state championship as a guard in Alaska. Known for her aggressive play, she was given the nickname "Sarah Barracuda" by her teammates. Only drives right – the ball literally never touches her left hand, not even when she shoots. She also plays best against schools whose teams are named after animals. For example, she scored a career-high 27 points against the East High Orcas, and dished out a season high-five assists versus the Anchorage High School Deers.
Gerald Ford (University of Michigan Football) – No, you did not misread that. I'm not sure what is more amazing - the fact that Gerry Ford played two-way football at Michigan -- he was both a center and a linebacker -- or that he was voted team MVP as a senior. An unselfish player whose strength lies in his ability to work as part of a team. Don't mess with another member of the maize and blue; Ford won't tolerate it. I wonder how many "pancake" blocks he recorded as a senior?
President Dwight Eisenhower (Army Football) – Apparently suffered from a career ending knee injury. I'd say things worked out alright for America's 34th President, though. Ridiculously aggressive on the field. This stone-faced bundle of energy loves contact. Pre-game tactics include a series of Chinese water torture methods. 


John McCain (Episcopal High School Wrestling) – A successful wrestling career in high school at a prep boarding school. Now that'd be a sight to see. Call him names like "Big Bacon" or "Porker." He will quickly become distracted. But don't push too hard. At the highest stages of competition, he seems to resort to some sort of indomitable will. Think about how many injuries he inflicted on opponents as a senior. 


Al Gore (Harvard University Basketball) – Third string guard for the 1965-66-freshman team. Refuses to wear leather shoes, or any sneakers not produced within full regulations of an Earth-friendly, green company. Run him off screens the entire first half, and his shoes simply won't be able to take the punishment. By the second half, his entire productivity will go down. He also refuses to wear jerseys not made of 100 percent recycled material, hurting both his rep and his game. 


Jack Kemp (Buffalo Bills) -- Brimming with talent and hailing from my alma mater of Occidental College, the late Kemp was a stud QB long before the days of Jim Kelly, Thurman Thomas and Marv Levy. His best season came in 1965, when he reached the Everest of football, becoming the AFL MVP and leading the Bills to the AFL Championship. He will always hold the defunct AFL career regular season passing yards and completions. 


Richard Nixon (Whittier High School Soccer) – Had a fearless playing style. Hmm. Attempts to airbrush bad games by calling in fabricated statistics to reporters. His career stats (according to the Whittier Daily Emerald, 1930): 186 goals, 78 assists, four-time 1st Team All-League performer, despite only playing two seasons on the varsity team. 

The key is to make him uncomfortable, as he will soon become mentally fractured and frayed and start sweating profusely. He will then revert to blaming his teammates for failing to properly execute the game plan. I strongly question his overall guile.
Ken Dryden (Montreal Canadiens) – Winner of six Stanley Cups, .790 winning percentage, 2.24 goals-against average. Remember those really scary masks that hockey goalies used to wear? Well, as a Hall of Fame goalie for the Habs in the 1970s, Dryden wore one of the freakiest looking ones I've ever seen. Displaying a feline smoothness in the net, he will forever be remembered for his scintillating brilliance as the ultimate backstop. 


Dave Bing (Detroit Pistons) – Before the bad boy days of Bill Laimbeer and Isiah Thomas, Bing's immaculate amalgam of moves led him to the pinnacle of the Motor City. Hall of Fame inductee, seven-time NBA All-Star, career average of over 20 points. Bing is currently the Detroit mayor, hopefully translating his relentless and dazzling style of play into turning the city around. 


Kevin Johnson (Phoenix Suns) – Averaged 18 points and 9 assists per game. Five-time All-NBA selection. Member of the 1994 Gold Medal winning U.S. Basketball team. KJ may have been the biggest crybaby in league history, but, man, could he play. The former long-range sniper guard is now the mayor of Sacramento. Think Kings fans have accepted this yet?
George H.W. Bush (Yale Baseball) – Had a rather innocuous career playing first base for the Bulldogs. When he was batting, the key was to make incessant remarks about the middle class, which triggered him to swing at pitches in the dirt and become a far less palpable threat at the plate. Favorite pitch to hit is the screwball, often spurring him to hit for both average and power.
George W. Bush (Yale Baseball) – Played up the middle at second for Yale. It's important to constantly change pitches, as he becomes quite stubborn and has difficulty making adjustments and changing course. Struggles mightily hitting the curveball.
REAL LIFE. REAL NEWS. REAL VOICES.
Help us tell more of the stories that matter from voices that too often remain unheard.