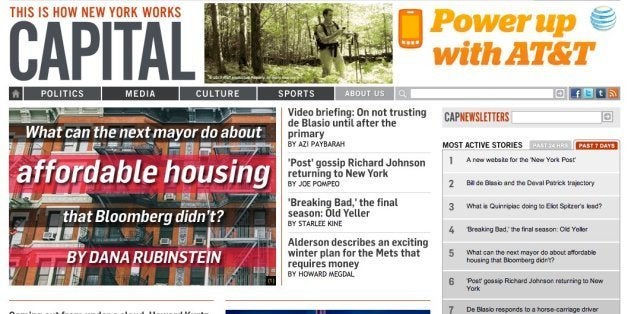 NEW YORK -- Politico, which has grown from startup to dominant player in Washington, D.C., media over six-and-a-half years, is planning to take on New York city and state politics with a similar hard-driving spirit.
"We're coming to play," Politico Executive Editor Jim VandeHei told The Huffington Post. "We don't do small ball. This is going to be some serious resources into media, city hall and Albany."
Politico is making its play in Manhattan through the purchase of Capital New York, a site focusing on politics, media, real estate and culture that was launched by former New York Observer editors Josh Benson and Tom McGeveran in 2010.
The Capital founders share an entrepreneurial streak with VandeHei and John Harris, the Politico co-founders who decamped from The Washington Post in late 2006 to start their own shop. And the men have had informal talks going back several years both about the process of launching news sites online and about the possibility of partnering.
In early 2009, McGeveran and Benson, then top editors at the New York Observer, headed to Politico's Rosslyn, Va., headquarters to discuss the idea of creating a New York politics site. The Observer, under new ownership, was changing, with legendary editor Peter Kaplan and many longtime staffers heading out. Both McGeveran, who briefly took over for Kaplan, and Benson left by the end of the year.
Benson said what he took away from that 2009 meeting was that Politico's editors were interested in doing something in New York down the line. They kept in touch.
At the time, Politico was only a few years old and still expanding an operation that now boasts more than 200 staffers. Politico publisher Robert Allbritton -- who had conversations years back with New York Observer owner Jared Kushner about a partnership or possible deal, according to sources familiar with the talks -- was also very focused on his family company's stable of TV stations. So the timing wasn't right for expansion into another highly competitive media market.
But Allbritton announced in May of this year that he was selling the TV stations, which would soon net his company nearly $1 billion. Allbritton said at the time that he planned to invest more heavily in Politico, which is now launching a new magazine, and to "plunge in further on a variety of other potential investments that intrigue me."
So McGeveran and Benson circled back to gauge Politico's interest in expanding into New York -- and Allbritton and Co. were intrigued. Benson said that Politico made "a really compelling case" about what the deal could do for Capital New York. The deal was hammered out over the past few months and announced just after midnight Monday.
"I have very big ambitions for Capital: to do in New York what we did in Washington with Politico," Allbritton said in a statement.
A company release noted that Capital's business model will be similar to Politico's in terms of "ads and subscriptions targeted at the most influential readers in the core subjects it will cover."
Politico has a couple of revenue streams beyond online advertising. It publishes a lucrative print edition in Washington that features ads from companies and organizations looking to influence lawmakers, from defense contractors to unions. It also runs Politico Pro, a paid subscription service for premium journalism in areas such as defense and energy. Capital will not be launching a print edition, but it remains to be seen whether the site expands into niche premium content.
On Monday, Allbritton announced plans to add two dozen staffers at Capital, a site that has long punched above its weight in New York politics and media with a small staff comprising former New York Observer reporters. Capital will be relaunched in the fall.
McGeveran and Benson, two highly respected journalists with strong institutional knowledge of New York politics and media, will remain as Capital co-editors, with VandeHei, based in D.C., overseeing the operation as president. (Disclosure: I worked under McGeveran and Benson at the New York Observer, from 2004 to 2007, and VandeHei at Politico, from 2007 to 2010.)
VandeHei -- who once predicted to this reporter that Politico, originally named Capitol Leader, would burst out of the gate and compete on the national political stage with the New York Times and Washington Post, which it did -- similarly sees an opening for a staffed-up Capital New York to make its mark.
"What we do is unique. What we do really resonates with readers and paying readers," VandeHei told HuffPost. "We heard the same stuff in 2007: 'This can't work. It's way too saturated.' The areas we care most about, we think those areas are underserved. As for people covering the politics and policy of [New York] City Hall, the politics and policy of Albany, the bigness of media, I don't think it's over-saturated. I think it's underserved in terms of people producing what these folks need at the velocity they need it."
With Allbritton's backing, Benson said, Capital will soon have "a more robust staff and better resources," which will allow the site to cover "government much more comprehensively and in-depth." The site will add reporters to more closely cover state politics in Albany and to more fully cover politics and media in New York City.
"We very much believe there's no substitute for beat reporting," Benson said. "It's the oldest concept in the world."
Allbritton stumbled with the 2010 launch of TBD, a local news site that was heralded as a would-be competitor to The Washington Post. Much of the staff was gone within a year, and the site was eventually shuttered.
Capital may be a better fit with Politico in that the publications share a focus on political and media power. Capital has also covered New York real estate, sports and culture, but was never intended to be a comprehensive metro news site like TBD. Given that the New York Observer's focus was traditionally on the power elite of Manhattan, it made sense for Capital's editors to launch with the tagline, "This Is How New York Works."
While Politico hasn't officially had a New York bureau, the publication has long had top reporters based in the city, including Maggie Haberman and Ben Smith, the latter who was one of the publication's original hires and left to lead BuzzFeed's editorial expansion in late 2011. Other New York media vets currently at Politico include Glenn Thrush and Gregg Birnbaum.
VandeHei said that Politico has "always been attracted to the type of reporter New York produces, because it's a competitive environment."
"Folks who came from New York, they're used to the rough and tumble of journalism," he said. "They're used to real competition. We're very attracted to that -- that DNA, that mentality."
Popular in the Community