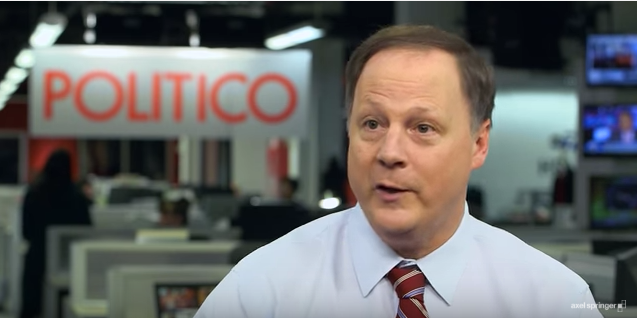 NEW YORK -- Politico's management is currently searching for the news organization's next editor and has signaled a desire to find a top candidate by early summer, ahead of the 2016 conventions, according to sources familiar with the matter.
Co-founder John Harris, who serves as publisher and editor-in-chief, has told staffers he hopes to soon zero in on a successor to editor Susan Glasser, who had previously announced plans to take on a new role after the presidential election.
Several journalists have so far been considered for the job, one of the most influential in coverage of politics and policy in Washington. Candidates have included Politico national editor Kristin Roberts, Politico Europe managing editor Carrie Budoff Brown, Bloomberg News' Washington managing editor (and former Politico managing editor) Craig Gordon, and Daily Beast executive editor Noah Shachtman, sources said. Gordon and Shachtman declined to comment.
Management also approached former Politico reporter and current BuzzFeed editor-in-chief Ben Smith early on in the search process, but Smith indicated he wasn't interested in returning, according to sources. Last month, Smith knocked down the rumors while guest-writing Politico's Playbook.
A Politico spokesman acknowledged there's been an ongoing editor search and said it "continues with many tremendous candidates, both internally and externally."
Indeed, the next editor may not come from the list of names currently making the rounds in the newsroom, and presumably Harris has approached other contenders. Once he settles on a top candidate or two, Politico owner Robert Allbritton will make the final decision.
Even after Allbritton signs off, there's expected to be a transition period, given that Glasser already has coverage plans in the works for the election. So despite plenty of newsroom buzz, it's unlikely a new editor will imminently take the reins.
Harris, who steered coverage for most of Politico's nine-and-a-half-year existence, shifted in September 2014 to focus on the company's U.S. and European expansion efforts, as Glasser, then running Politico Magazine, began leading the newsroom.
Politico announced in January that Glasser would be getting a new role after November, when she moves to Israel with her husband, Peter Baker, who begins this summer as The New York Times' Jerusalem bureau chief. The pair, who previously co-wrote a book while Moscow bureau chiefs at the Washington Post, are currently working on a biography of former Secretary of State James Baker.
The announcement regarding Glasser's future with Politico came amid news of a larger company shake-up that included co-founder and CEO Jim VandeHei and star writer Mike Allen deciding to leave at the end of the year to start a new company.
VandeHei wound up departing in April, and though Allen is still expected to remain through the presidential election, management has already been talking to possible successors to lead Playbook.
Popular in the Community