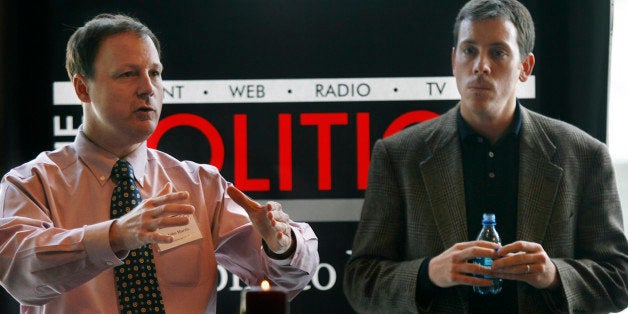 NEW YORK -- Politico announced Tuesday that the Washington news organization is partnering with Berlin-based media company Axel Springer to launch a new European edition.
The Huffington Post reported Monday that Politico was gearing up for a European expansion, though management did not comment at the time.
Politico CEO Jim VandeHei and Editor-in-Chief John Harris wrote in a Tuesday staff memo that "it looks like the secret is officially out" regarding plans for Europe. They Politico co-founders said the partnership "is the start of a very important project for us" and more details would be available in the coming weeks.

"We can tell you this is a 50-50 joint venture with Axel Springer and will cover not just Brussels but European politics and policy more broadly," VandeHei and Harris wrote. "There is a lot more to this new venture, and we will keep you in the loop as this proceeds."
The memo and accompanying release did not include the name of the new organization. According to sources familiar with the discussions, the outlet is tentatively titled Politico Europe. It is still unclear who will lead the effort.
Politico's management had previously approached Financial Times Brussels Bureau Chief Peter Spiegel about becoming editor, sources told HuffPost. However, he's remaining at the newspaper.
Read the full Politico staff memo below:
It looks like the secret is officially out: We are joining forces with Axel Springer, Europe's largest and most powerful media company, to start a European edition of POLITICO.

This is the start of a very important project for us, and we will have many details to share in the weeks ahead.

We can tell you this is a 50-50 joint venture with Axel Springer and will cover not just Brussels but European politics and policy more broadly. There is a lot more to this new venture, and we will keep you in the loop as this proceeds.

This partnership is aimed at exploring journalistic opportunities in Europe and is being set up as a stand-alone enterprise.

Axel Springer is a highly impressive, highly ambitious company that shares our obsession with building media companies that produce and can sustain nonpartisan journalistic excellence. They do about $3.6 billion in annual revenue and house a number of digital start-ups in their Berlin-based offices. We are excited to join forces with them.

This represents Robert Allbritton's first big move since selling the TV stations and he is extremely excited about this next phase of our growth.

A statement about the joint venture is below.

Thanks,

Jim and John
Related
Popular in the Community