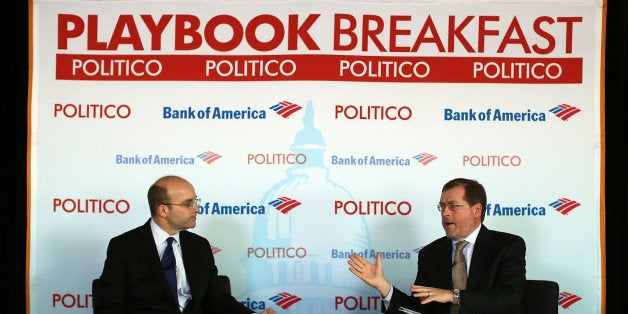 NEW YORK -- Politico is planning to expand into Europe through the launch of a new organization based in Brussels, Belgium, the capital of the European Union.
On Monday morning, Politico CEO Jim VandeHei told senior editors that the company's plans for Europe are "much bigger than anyone is thinking," according to a staffer with knowledge of the meeting.
BuzzFeed reported in June that Politico was eyeing Brussels, but no additional details have surfaced. On Sunday night, VandeHei and Editor in Chief John Harris told staff that Politico is looking to expand "here and elsewhere" in a memo tied to the resignation of Executive Editor Rick Berke. The Politico co-founders didn't elaborate in the memo as to where "elsewhere" would be.
Politico executives declined to comment to The Huffington Post.
Details have not yet been finalized for the new organization, though Politico's leadership has been working on the plan throughout the year. VandeHei, Harris and owner Robert Allbritton have met in Brussels with top European journalists and diplomats about the potential launch of "Politico Europe," as the outlet is tentatively titled, according to sources familiar with the discussions.
Politico, which increased the metabolism of Washington journalism since launching in 2007, is hoping to replicate that success in Europe's capital. Given Politico's focus on the goings-on of political power players, the news organization would seem to have plenty of fodder in the home of the European Commission, Parliament and Council.
Still, many major decisions aren't typically hashed out in Brussels exclusively but also in European capitals such as London, Paris and Rome. So even if it's trying to comprehensively cover a major power center of Europe, like Brussels, Politico would presumably need reporters plugged in elsewhere on the continent.
Politico's business model in Washington has evolved to focus heavily on paid subscriptions of thousands of dollars for access to premium content on subject areas such as defense policy, education and health care. And Capital New York, which Politico purchased last year, now similarly offers several premium subscription packages on city and state politics and media. If it's trying to replicate that business model abroad, Politico would need to find coverage areas in Brussels that large, international organizations are willing to pay for.
And Politico also needs an editor with deep contacts in Europe to get things off the ground.
Politico had approached Peter Spiegel, the Brussels bureau chief for the Financial Times and a former Washington-based reporter for the Los Angeles Times and Wall Street Journal, about leading the new effort, according to sources familiar with the discussions. The veteran journalist will not be taking the job.
"I love the Financial Times and have no plans to leave," Spiegel said in an email to The Huffington Post.
Related
Popular in the Community