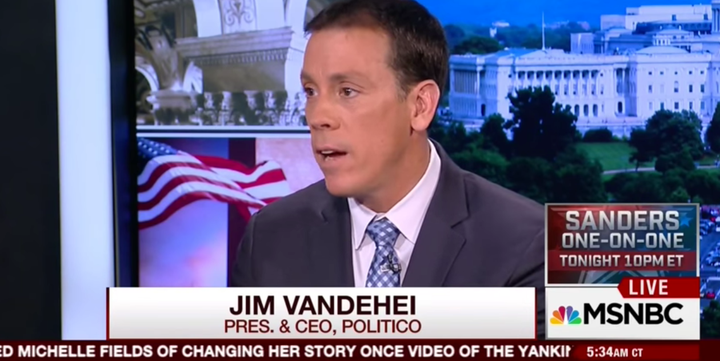 NEW YORK -- Politico president and co-founder Jim VandeHei is likely to soon leave the company he co-founded, roughly seven months ahead of the previously announced schedule. 
Politico said in January that VandeHei and star political writer Mike Allen would depart the company after the November election. HuffPost reported at the time that VandeHei had clashed with owner Robert Allbritton over budgets and wanted to start his own media venture. 
VandeHei has had little presence of late in the company's newsroom just outside Washington in Rosslyn, Virginia, according to staffers. Some said his influence has waned so much that it was a surprise last week when VandeHei was identified on MSNBC's "Morning Joe" as Politico CEO and president. 
But Politico hadn't officially announced any change in VandeHei's status until Monday night. In a staff memo, co-founder and editor-in-chief John Harris said VandeHei would be leaving sometime this spring. A source familiar with the move said it was likely to happen this month. 
Harris told staff that he and VandeHei had "worked closely on a smooth transition that worked in the best interests of the publication and its new leadership team."
In the memo, Harris touted recent Politico achievements, including a record 30 million unique visitors in the past month. "Having not only met but surpassed our goals, Jim and I and agreed that it made sense for him to wrap up his tenure at Politico this spring," Harris wrote.
Harris said in the memo that chief operating officer Kim Kingsley and chief revenue officer Roy Schwartz -- both of whom were announced in January to be leaving sometime later this year -- also will depart this spring. 
Executive vice president Danielle Jones, who was among those Politico had said was leaving, will continue working for the publication as a consultant, Harris said. 
The memo didn't mention Allen, who is said to be joining VandeHei in a future venture. Though there have been rumors inside Politico that Allen might leave after the Republican and Democratic conventions this summer, Politico has said the reporter will remain through the election. 
Politico will not only need to find a replacement for Allen, whose Politico Playbook remains a must-read and spawned a newsletter franchise for the company, but also editor Susan Glasser. She's scheduled to keep the top newsroom job until November, when she'll move to Israel to be with her husband, Peter Baker, and son.
Baker, a New York Times White House correspondent, has been tapped as the paper's next Jerusalem bureau chief and will move there in the coming months.
Read Harris' full memo to staff below:
Team,

As you know, Danielle Jones let us know a couple months ago that she was ready after nearly nine years to refashion her role at POLITICO. The really terrific news that has emerged from our conversations since then is that we have settled on an arrangement that will be much more robust -- and allow her to provide much more benefit to the publication -- than we at first had been expecting.

Later this month, Danielle will become a consultant to POLITICO, advising us on talent, both recruitment and personnel issues across the enterprise. This allows her to continue, on an effectively full-time basis, working on tasks she is singularly good at, thanks to her combination of shrewd judgment and gift for human connection. At the personal level, a consulting arrangement allows Danielle more flexibility, since her family is in Norfolk and in recent years she has been commuting back and forth. She will be here a lot, but also working part of the time from afar.

This is great and fun news for the company, and we expect it will be a great opportunity for Danielle to remain vitally engaged with a publication she loves and helped build.

This news comes as Robert Allbritton and I have been making good progress on some important fronts, including filling out our business team and, in the newsroom, finding a replacement for Susan Glasser as her family heads to the Middle East and she transitions to a new role with us after the election. I've had good brainstroming conversations with lots of you on these subjects, and would welcome hearing from anyone with thoughts. Please just reach out to Kate Murphy to get on my schedule.

This is a good moment to update you on the status of a few of our departing business colleagues. (To be honest we've had some media inquiries today on subjects that I assumed most people already knew…) 

From the moment that our friend and co-founder Jim Vandehei announced his departure, he and I worked closely on a smooth transition that worked in the best interests of the publication and its new leadership team. With the publication soaring journalistically and meeting its business goals, operational responsibilities were quickly taken over by the executive team that Robert Allbritton has tasked with leading our publication forward. As we shared with you this morning, in March POLITICO shattered all previous records with 30 million plus unique visitors -- the most in company history. Additionally,  our total of 180 million-plus page views was up more than 230% from a year ago, and the homepage and POLITICO Magazine (with close to 6 million unique visitors and 15 million page views) also recorded best-ever months.  Having not only met but surpassed our goals, Jim and I and agreed that it made sense for him to wrap up his tenure at POLITICO this spring. We have had similiar conversations with Kim Kingsley and Roy Schwartz.  Robert agreed with our proposal, confident that the team here now is best-suited to take the wheel as we as plan for 2017 and beyond. 

Jim, Kim, and Roy have my thanks and Robert's for their friendship and the phenomenal work they did over nearly a decade here. 

In the two months since this transition began, I've been impressed anew by the efforts of all parts of this enterprise -- the power of our newsroom to own big stories, the passion of our business, finance, technology and strategy teams to meet the challenges of this era of nonstop disruption. This is what great publications do.

We will find time soon to celebrate POLITICO achievements, past and present, and talk more about the future.

John
Calling all HuffPost superfans!
Sign up for membership to become a founding member and help shape HuffPost's next chapter
BEFORE YOU GO