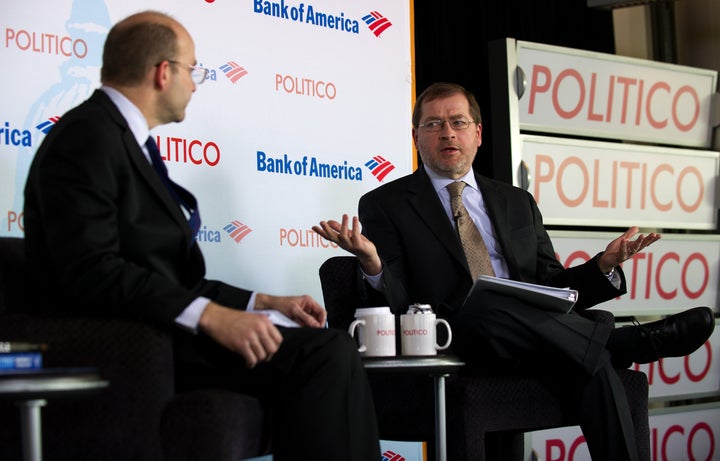 Politico has quietly placed its thrice-weekly web show "Politico Live" on hold while retooling the format, perhaps to a weekly show featuring its marquee writers, according to newsroom sources.
The decision to reformat "Politico Live" comes as The Washington Post staffs up its own web video operation. In recent months, the Post has hired several producers, a technical director and studio technician in preparation for a new online political channel. The Post has also recently poached Julio Negron, a Politico senior video producer responsible for creating graphics for "Politico Live," according to sources not authorized to speak because the hire has not yet been formally announced.
On Monday, The Post hired USA Today reporter Jackie Kucinich to co-anchor a politics show with "The Fix" founder and editor Chris Cillizza that should be a signature program for the new channel.

Politico's top editors have long sought a flagship TV or video series, with discussions during its first year in operation about creating an "ESPN for Politics" and later producing a Sunday show called "Politico TV." Politico's management also once tried to lure political reporter Mark Halperin for a TV-focused role.
A Politico spokeswoman declined to comment on the status of "Politico Live" and web video strategy.
During the 2012 campaign, Politico seemed to finally hit its stride with "Politico Live," an online program featuring the publication's editors engaged in the Beltway insider political conversation the publication is known for, complete with senior White House correspondent and news-breaking machine Mike Allen donning a "Mikey Cam" around the newsroom. Politico Live generated buzz on election nights, got profiled in The New Yorker's "Talk of the Town," and recently won a Cronkite award alongside ABC7-WJLA and NewsChannel 8, the D.C.-area stations also owned by Politico-parent Allbritton Communications.
But Politico faces a similar dilemma as CNN, which has struggled on days when there isn't a major event. "Politico Live" got attention -- and national pick-up through a C-SPAN partnership -- around big political events that featured the publication's better-known writers. Yet it has proven more difficult for the web show to make an impact on, say, a Tuesday morning when Congress isn't in session and the midterm election is over a year-and-a-half away. It's hard to make such less-newsy days appointment viewing for even the most hardcore political junkies.
The schedule for "Politico Live" also likely didn't help bring in viewers, with the half-hour show airing Tuesday and Thursday mornings at 8:30 a.m. -- as many potential viewers head to work -- and midday Wednesday. "Politico Live" was stuck in those time slots largely because Politico borrows studio space from NewsChannel 8 and those times were available, according to newsroom sources not authorized to speak. The last show aired on Feb. 28, with management quietly telling Politico staffers around a week later that it was on hold.
Politico beefed up its video team last summer and made a couple key hires during the end of the 2012 election who would be involved with "Politico Live."
CBS News' Christine Delargy joined in August as a senior producer for "Politico Live." In October, Politico hired veteran television journalist David Chalian as vice president of video programming, just a couple months after Yahoo News fired him for making an off-color joke on an open mic at the Republican Convention. Politico described his role as helping to "enhance video quality and content across new and existing platforms, including the Politico Live programs."
Politico still produces plenty of video content involving reporters and editors and streams Politico events, such as Wednesday's breakfast conversation with top Obama adviser Dan Pfeiffer.
While it's unclear exactly where Politico goes next in terms of a sustained, flagship program, executive editor Jim VandeHei told The Huffington Post last June that there is a "major upheaval" in the media industry over television and online video content. "We think we're well positioned, because of the size of the newsroom, and because of the type of people we recruit here, to be able to produce that content," VandeHei said.
"Is there a big market for that? Over time, can you sustain that financially?" VandeHei asked. "At this point, we're not as worried about the financial question. We're more worried about the experimentation question. I think over the next six months, hopefully you'll see different experiments that tip our hand where we think things are going on video."
Disclosure: This reporter worked at Politico from Nov. 2007 through March 2010.
Calling all HuffPost superfans!
Sign up for membership to become a founding member and help shape HuffPost's next chapter