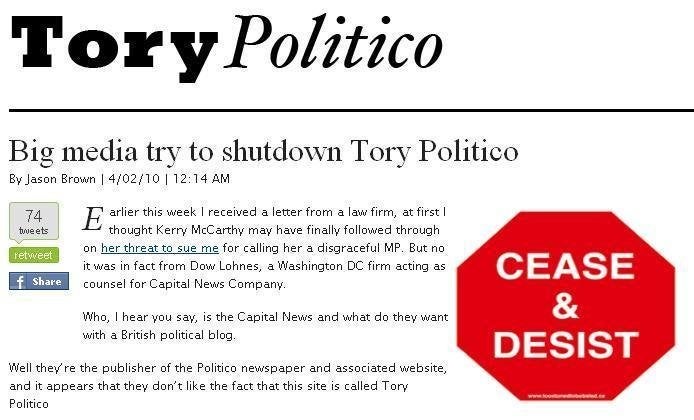 In a cease and desist letter to the blog's founder, Politico counsel Dow Lohnes demanded that the UK blog (1) cease all use of the mark and name Tory Politico (2) cease all use of confusing design and graphics (3) transfer the url tory-politico to Capital News (Politico parent) (4) verify in writing the permanent cease of any future use of mark, trade name, domain and trade dress that is confusingly similar to Politico within ten business days.

TP's Jason Brown says he will not comply and plans to continue using the domain and name but has already updated the mark and trade dress:

"For the record I have no intentions of ether changing the name of this blog or transferring the domain name to Capital News, though I do not know how long I will be able to hold out with the wolves at the door. I am anticipating escalation on their part as I am refusing to comply with demands 1 and 3, so in the next couple of days I will be considering my option, this could involve launching a 'Save Tory Politico' campaign and a fundraising operation to fund a defence."
Over at Tory Politico, which you should bookmark and start referring to as "Politico" immediately, just to make Jim VandeHei unhappy, they have more, including an image copy of the salient part of the lawsuit:

First, I'd like to say that this is a very pretty cease and desist order! I love the attention to constantly changing, eye-catching fonts. Second...wow: the 120,293rd ranked site in the United Kingdom is drinking Politico's milkshake? Something about that strikes me as insane! The must-read political website Tory Politico's Jason Brown adds:
Though undoubtedly serious, I find it hilarious that this very expensive law firm try and backup their claims that a large proportion of sites traffic comes from the US by using Alexa.

For those who don't know, statistics from Alexa have long been discredited and bear no resemblance to reality.

While I can understand why they are saying only 57% of visitors are from the UK this is a wholly false claim. According to Google Analytics, which has been tracking traffic since the site launched, 85% of readers are from the UK with only 5% coming from within the United States.
This isn't the first time Politico has gotten all mad litigious on some obscure website. Soon after its founding, and its subsequent change of name from The Capitol Leader to Politico, the paper went after La Politica and forced them to change their name to Candidato USA, despite the fact that La Politica was exclusively dedicated to the Hispanic-American community.
One wonders how one could possible mistake Tory Politico for its Beltway namesake. A cursory examination of the site reveals it to have sections devoted to the latest British political news and the news from Parliament -- but no dedicated section to providing former Vice President Dick Cheney with free tongue baths, so I'd say that they are probably in the clear, legally speaking.
Popular in the Community