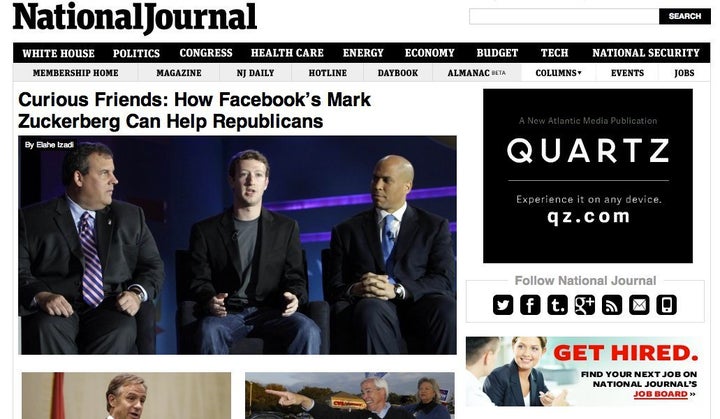 NEW YORK -- In fall 2010, National Journal tried ramping up its Web presence following the success of Politico, a high-metabolism outlet that launched just three years earlier, but was increasingly dominating the uber-insider political conversation in Washington.
David Bradley, owner of National Journal-parent Atlantic Media Co., told The New York Times then how he "began thinking about how effortlessly Politico had wedged itself into the ad market against a very strong group of incumbents." Bradley said "a radical rethinking" was needed for National Journal, a staple of Washington media that was losing traction to the frenetic upstart.
National Journal made a number of high-profile hires, including editor Ron Fournier, who spoke in October 2010 of a desire to "win the morning," to borrow Politico's mantra. But in November, National Journal went through another reorganization, with Fournier returning to writing and Charlie Green taking over as editor. Since that reorganization, the publication has been looking for a new editor to lead NationalJournal.com.
On Friday, National Journal again looked to Politico by hiring Politico managing editor Tim Grieve.
Grieve's departure took Politico's Rosslyn, Va., newsroom in the Washington suburbs by surprise, given the many editorial hats he's worn throughout organization's existence, including serving as founding editor of Politico Pro, a subscription service launched in 2010 that the company sees as a key part of its financial future. The move surprised Politico's management, which responded in a short staff memo after National Journal had blasted out a press release.
Within Politico, Grieve had been seen as an integral part of the organization's future, according to staffers not authorized to speak publicly. Since giving up Politico Pro oversight in November, Grieve had moved to a more central spot in the newsroom among top editors and was involved with key editorial decisions throughout the day.
In June, The Huffington Post reported that Politico has locked up many of its top editors and reporters under contracts, a practice more common in TV news than the newspaper or online news industries outside of, perhaps, an editor-in-chief. Several staffers under contract, including reporters Maggie Haberman and Alex Burns, reportedly re-upped with Politico, but contracts for others expired in the months after the 2012 election. Sources said Grieve had a window to leave, but his exact situation wasn't clear.

The Friday afternoon move also was surprising, some staffers said, given Grieve's reputation as a hard-driving, at times, combustible newsroom manager and National Journal's reputation as a collegial environment that hasn't traditionally competed on the incremental political and policy scoops that are part of the Politico DNA. FishbowlDC's headline summed up how Grieve is viewed by a number of reporters in Washington: "Ex-Politico Hot Head Editor Joins NJ." (Disclosure: Grieve served as this reporter's editor for a period at Politico).
Perhaps National Journal is fine with a little culture clash if Grieve can help increase the site's metabolism in a way that challenges Politico. According to National Journal's statement, Grieve "will lead the effort to bring National Journal's distinctive insights and provocative reporting to a national audience."
John Harris, editor-in-chief of Politico, in what may be a slight dig at his competitor, said in a staff memo that Grieve told them he's leaving "to help rejuvenate National Journal."
Since Grieve is heading to a competitor, it makes sense that he wouldn't spend two more weeks in the Politico newsroom. With Greive is "leaving for another leadership position," Harris noted, "we mutually decided that it was in everyone's best interests to make his departure from the team immediate."
Grieve could not be reached through his Politico email or cell phone.