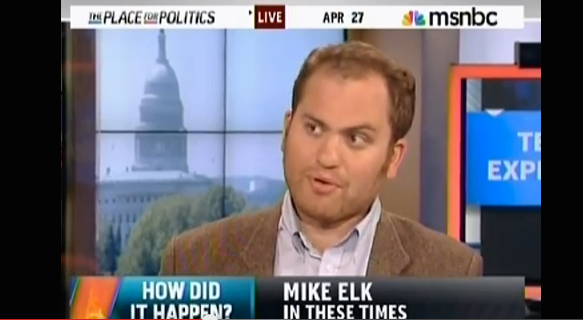 NEW YORK -- Politico confirmed Thursday that labor reporter Mike Elk is no longer with the company and said his efforts to unionize the newsroom were not the reason for his departure in a statement provided to The Huffington Post.
"Mike Elk no longer works at POLITICO," the statement read. "As a long-standing company policy, we do not and will not comment on the specifics of personnel matters. We can say that Mike Elk's recent departure has nothing to do with his union activities. POLITICO employees have been, and continue to be, free to engage in or refrain from union activities."
The Huffington Post reported Monday that Elk appeared to no longer work at Politico, though the reporter did not confirm his status with the company. "I'm a union organizer," Elk said at the time. "I'm going to go wherever digital media workers need to unionize. I'm going to do whatever I can. The story really isn't about me."
Bruce Jett, a Washington-Baltimore Newspaper Guild representative handling questions for Elk, released a statement Thursday claiming the reporter was still employed at Politico.
"Mike Elk is an associate member of the Washington-Baltimore Newspaper Guild through the national guild, and he is a labor reporter for Politico, and he is on vacation until Sept. 1," it read.
Though Elk is allowing a union rep to field questions about his employment status, he' publicly discussing other aspects of Politico, including in a Thursday interview with New York magazine. He predicted Politico will unionize in a year or two.
This story has been updated to include comments from Elk's union representative and information about his magazine interview.
Popular in the Community