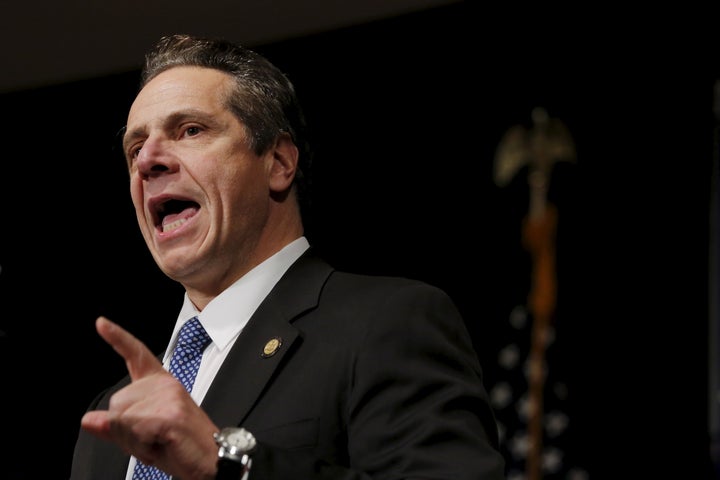 The finger points at New York Governor Andrew Cuomo. Politicians and wealthy business leaders with ties to Cuomo are behind the push to exempt some of the state's charter schools from hiring certified teachers. It is a move that would weaken University-based teacher education programs, undermine teacher professionalism, and seriously hurt the education of children across the state.
Cuomo has long been a supporter of expanded and minimally regulated charter schools. In 2014, while preparing to run for reelection, Cuomo spoke at a pro-charter rally on the steps of the State Capitol Building in Albany. In his speech he praised charter school groups and Republican and independent Democrats who were joining with him to "save" charter schools, although there was no movement trying to destroy them. Curiously, Cuomo never discussed pulling the children out of school and shipping them to Albany for a staged rally.
In 2016, while no one was paying close attention, the State Legislature with Cuomo's endorsement extended the regulatory authority of the Trustees of the State University over charter schools. The SUNY Charter Institute, a sub-committee of the Board of Trustees, now claims this legislation empowers them to permit charter schools under their jurisdiction to hire uncertified teachers and train them according to their own guidelines.
The Trustees of the State University of New York currently authorize 165 charter schools in New York State including those operated by some of the most politically connected networks. Six SUNY charter schools operate in the Capital Region (Albany and Troy), six are in Buffalo, two are on Long Island, and over 140 are in New York City. The New York City charters include seven sponsored by Carl Ichan, ten affiliated with Achievement First, and 38 Success Academy Network Schools operated by Eva Moskowitz. Ichan is a corporate raider and real estate magnate with ties to the Trump Administration. Achievement First is connected to former New York City Schools Chancellor Joel Klein who left the city's Department of Education to work for Rupert Murdoch of News Corp. Eva Moskowitz is New York City's Charter School Queen with political ties to Andrew Cuomo and hedge fund companies and foundations.
According to a 2015 expose by Juan Gonzalez for the New York Daily News, between 2000 and 2015, 570 hedge fund managers made nearly $40 million in political contributions to New York State candidates, including $4.8 million to Andrew Cuomo. Several of Cuomo's 2014 reelection campaign donors including Carl Icahn, of Icahn Enterprises, Julian Robertson of Tiger Management, and Daniel Loeb, of Third Point LLC, are major supporters of charter schools.
Loeb, chairman of the board of Moskowitz's Success Academy Network, gave Cuomo $62,000. Other Success Academy board members or their members of their family members kicked in an additional $600,000 Cuomo's campaign chest.
Acting through a group called New Yorkers for a Balanced Albany, hedge fund charter school backers financed a massive advertising campaign in 2014 to keep the state Senate in Republican hands and pro-charter. Loeb contributed $1 million to the group. Two other charter school lobbying groups, Families for Excellent Schools and an organization affiliated with Students First New York, spent more than $10 million during that election cycle to keep the state government pro-charter.
Charter school dollars are truly bipartisan, willing to garner support from elected officials in both major parties. The New York Post's Page Six spotted Republican State Senator Majority leader John Flanagan at a 2016 Success Academy fund-raiser. Flanagan's major campaign donors include the Students First pro-charter group, and an association that promotes for-profit colleges. The charter groups also channel money to the Independent Democratic Conference that helps keep Republicans and pro-charter politicians in charge of the State Senate. Last year, Assembly Speaker Carl Heastie, a Democrat, was opposed to allowing charter schools to circumvent state education regulations. This year a spokesperson for Heastie said Assembly Democrats would leave the decision on charter school teacher certification up to the SUNY Trustees.
At least three of the four SUNY Trustees on its Charter Institute sub-committee have close Cuomo connections. Committee chair Joseph Belluck was a major Cuomo campaign donor. Edward Spiro's former wife, now deceased, was assistant executive deputy secretary and executive deputy chief of staff when Cuomo was state attorney general. Eric Corngold was Cuomo's deputy for "economic justice" from 2007-10 when Cuomo was Attorney General. The fourth trustee, Angelo Fatta, is a Cuomo appointee, but I could find no other connection.
Two of New York's principle educational leaders, Betty Rosa, Chancellor of the Board of Regents that sets standard for public education, and State Education Commissioner MaryEllen Elia, oppose this disastrous proposal. In a joint statement, they declared, "Every student in New York State deserves a high-quality teacher. The Board of Regents and State Education Department are focused on ensuring that strong and effective teachers with the proper training, experience and credentials are educating New York's children in every public school – including charter schools. SUNY's teacher certification proposal is cause for concern in maintaining this expectation. Teaching and learning are part and parcel to ensuring teachers have the skills to be successful in the classroom. We have established comprehensive standards and guidelines to develop capable and competent teachers. Through rigorous coursework and extensive preparation, teaching candidates are better prepared to foster and support student success."
In my last HuffPost piece, I linked to a NYSUT email campaign to pressure the SUNY Charter School Committee and the other SUNY Trustees to reject the proposal to waive teacher certification for charter schools. But the reality is the SUNY Trustees are just doing the bidding of Andrew Cuomo and his wealthy hedge fund backers. Andy has Presidential ambitions and the pressure has to be put on him to tell his people to vote "NO."
Andy, do not sacrifice the education of children, the needs of families, and the teaching profession to raise campaign funds and advance your political ambitions. If you betray us, we will not forget or forgive!
Click to sign the Network for Public Education letter to the SUNY Trustees.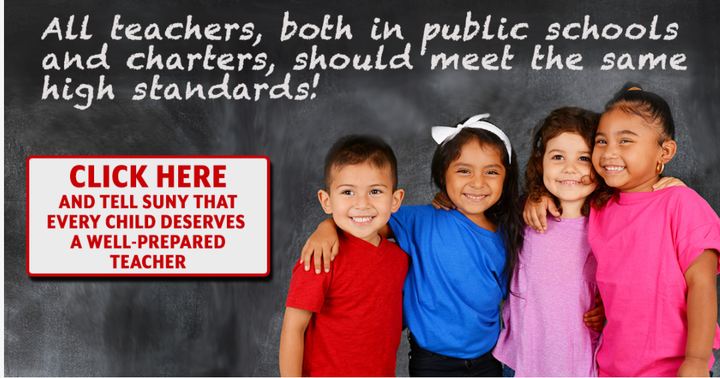 Popular in the Community