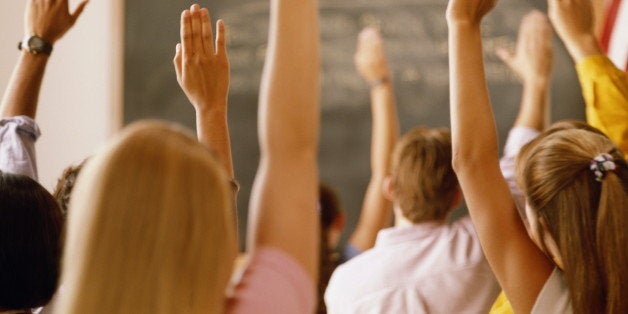 Here's an assumption few would dispute: Democrats and Republicans don't agree on much. And in the year leading up to a big election, it can seem like we don't agree on anything. These moments—when big, important issues get obscured or distorted by partisan squabbling—are low points, no doubt.
Yet despite what you may have heard from politicians and pundits on the very far right, there's one policy that can still accurately be described as bipartisan: the effort by states to ensure teachers teach to and students learn by academic goals that will help students master what they need to know to be successful in college and the workplace. Yes, I am referring to the Common Core State Standards.
Here's the thing: politicians have been setting forth declarations to overhaul our education system for decades—spanning from the Reagan-era A Nation at Risk to President Clinton's Goals 2000 to today. This focus on our education system—particularly how it serves our most disadvantaged students—has produced achievements.
But what has not changed is that we have a system that essentially decides for a child if they are college material. For example, while the number of Latino students enrolled in college has tripled, less than one third of first-time students earn a degree in four years—compared to more than 40 percent of their white peers. Getting more students into college is a great accomplishment, but in order to truly help ensure that all of our young people are positioned for a healthy and financially secure future, we must make sure that they're prepared to complete college.
That's why more than 40 states are sticking with the Common Core, a consistent, rigorous set of K-12 standards that outline what students should know at each grade level in math and English. The standards were created by the states. They've had support on both sides of the aisle from the very beginning: without it, they wouldn't still be supported by 43 different state legislatures and school boards, from California to Alabama to New York. And by all accounts, this effort is working.
They help level the playing field for our nation's kids.
For too long, we made it easy for states to tell the story people wanted to hear about student performance, by cherry-picking statistics that masked the hard truth: students weren't getting what they needed in the classroom. The result was that a student might be told she's prepared for 4th grade, 8th grade, college—you name it—while her peers across state lines were performing up to three grade levels ahead of her.
Who bore the brunt of our failure to provide clear, consistent guidelines in schools before the standards were in place? Sadly, it was students. And as with so many problems related to geography and inequality, low-income students of color were the hardest hit.
A consistent set of high-quality standards means that students' zip codes don't determine their prospects for higher education or success in the job market. Of course, it's up to individual schools and teachers to design the curriculum, and it's up to the rest of us to ensure that implementation is successful. It will take time to assess students' progress. But the first states to adopt the standards are showing through assessment that reversing the trend is possible: early results show that Kentucky, the first state to adopt the standards, in 2009, has bumped its graduation rate for Latino students from 58.5 to 80 percent.
They fuel innovation and opportunity.
Today's economy demands a nimble and personalized approach to education. That includes teaching students real-world skills that they can apply to real-world problems. Of course, how to teach these skills is and should always be up to individual teachers and local school districts—no one is arguing for a standardized curriculum. But it is a worthy goal to make sure that no matter where they live in this great country, students graduate with the ability to use logical reasoning to make connections and to break down big problems into smaller problems until solutions emerge. It's an important goal and one that will keep us at the forefront of scientific and technological innovation.
That won't prevent some people from continuing to use the Common Core State Standards as a political weapon. Some will argue that supporting them is bad for Republicans, or bad for Democrats. Some candidates have even publicly reversed their support for this progress for political reasons.
The fact is, these standards are good for everyone. That's why none of the efforts to repeal the standards this year—that's zero—have succeeded. And for the sake of our students, I'm proud to say I'm confident they never will.
Bill Richardson, former governor of New Mexico and secretary of Energy, and founder of the Richardson Center for Global Engagement, is an adviser to Collaborative for Student Success, a pro-Common Core advocacy group funded by the Gates Foundation.
Related
Popular in the Community