HONG KONG -- When Leung Chun-ying campaigned for Hong Kong's top job against the doyenne of Hong Kong's established moneyed elite, he stressed his humble beginnings as the son of a colonial policeman and his stated purpose of unifying Hong Kong society under the slogan "united in heart."
After his rival was tarnished by revelations that there was illegal construction in his family home, Leung won the backing of Beijing, and 689 members of the 1200-strong committee that chose the leader of a city of more than seven million people.
Since then, Leung has become Hong Kong's most unpopular leader since the territory was handed over to Chinese sovereignty in 1997, and society is increasingly polarized. Leung's high-handed leadership style, Beijing's increasing assertiveness in Hong Kong affairs and escalating tensions between Hongkongers and Mainlanders mean the city is now more divided than it has been since violent riots inspired by China's Cultural Revolution pit "leftist" groups against the British colonial government in 1967.
For every group calling for more democracy, or against government policy on a range of issues from compulsory patriotic education to the development of rural lands, counter groups quickly spring up to support the government. Just recently, an alliance of pro-government groups was set up with the specific aim of opposing the Occupy Central movement, which advocates peaceful civil disobedience as a last resort to gain genuine universal suffrage.
While the provenance of some of these groups is questionable, a clash in values and worldviews within the community is undeniable. Nowhere is this more keenly felt than within individual households.
This was brought home to me recently when I read the Facebook status of a former student. "I honestly think politics shouldn't be discussed at the dinner table with family," she wrote.
Within minutes she received a multitude of replies. There were messages of support, messages saluting her courage, messages that expressed incredulity that she had only just discovered this truth. But most of all the messages expressed resignation and a sense of recognition.
It seems that many young people have had similar experiences. Television news and current affairs programmes, which are often broadcast around dinnertime, are common triggers. It often starts with a parent or older family member criticizing pro-democratic protesters, politicians or academics for being too "radical" and a young person trying to explain the protestors' points of view or express understanding for their methods.
The outcome is rarely pretty.
Victor, a 24-year-old secondary school teaching assistant says his father, a 65-year-old bus driver gets defensive.
"He'll say 'you guys haven't experienced the hardship of the (British) colonial days! When I was young, our lives were really hard. We're much better off now. Are you young people qualified to say anything?' I just end up keeping my mouth shut," says Victor.
Sometimes, keeping silent becomes impossible. Ah Wai, a twenty-something journalist says he is a member of several WhatsApp groups, each comprising 10 to 20 people from his extended family, friends and colleagues.
WhatsApp, the smartphone app which is perhaps best known for being bought by Facebook for US$ 19 billion earlier this year, is hugely popular in Hong Kong. In 2012, the app, which allows users to share text messages, links, photos, videos and audio quickly and efficiently, had three million users in Hong Kong.
Ah Wai says he recently noticed a big change in the tone of the groups. Whereas members used to mainly discuss things like travel, shopping, music and food, older members suddenly started to share political articles that were sharply critical of pan-democrats. These posts would get many thumbs-up endorsements in the group.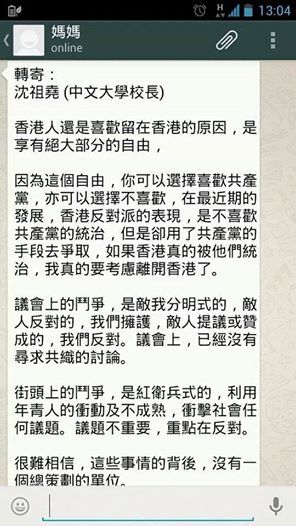 A WhatsApp message claiming to be an article critical of pro-democracy protesters written by the Vice-Chancellor of the Chinese University of Hong Kong, Prof. Joseph Sung. It was later confirmed to be fake. (Source: United Social Press)
Like other younger members, Ah Wai kept quiet, until he was directly challenged.
"[Someone wrote] 'Hey, you're a reporter, you support the pan-democrats. Speak from your conscience'," says Ah Wai. "[My] silence continued. Then they said: 'You've nothing to say. That's right, no comeback. It's clear what's black and what's white. Shit-stirring is clearly wrong'."
Ah Wai broke his silence and fought back for the first time, with a 1,971 character point by point rebuttal of one of the articles. Although his points were backed up with facts, they unleashed a stream of angry replies. They included suggestions that he should emigrate if he was so anti-China and Hong Kong. There were calls for reality checks such as "Hong Kong has already returned to China, you have to depend on China or you'd be finished!"
One poster, who Ah Wai says is a police officer, even said "What's the problem with politically-motivated prosecutions, political considerations? That's just the way it is. Hong Kong is just like the Mainland now. Even if you're put in a police car and beaten, there's no problem."
The whole experience has been a shock to Ah Wai, who says recent developments have pushed the conflicts in Hong Kong society to another level.
"It is not just about the fight for universal suffrage. It's about an ideological struggle between generations that we initially ignored.
Older people have started to pick up smartphones, the internet, they have started to read WhatsApp messages ... which is indeed a kind of Arab Spring for them."
Social media and the internet may be fueling youthful dissent but it also seems to be driving a conservative pushback from the older generation. This tends to result in one of two scenarios: disputes and hurt feelings, or silence and simmering resentment.
Reaching across the divide
Ruby Lai, a 24-year-old graduate student hopes to facilitate a different outcome. Lai says politics has become a wedge in Hong Kong society. It can no longer be ignored in everyday life, yet still has the aura of a taboo among friends and especially among family members. It is a taboo she believes must be broached. Lai, who is herself gay, likens stating one's political views to "coming out"
"I feel I have to state my mind, show them that there is another perspective. The key is how I handle this interaction with my family and friends."
Lai has never seen eye to eye with her father on social and political issues. When she rushed back from a trip abroad to take part in an unofficial civic referendum on the method for choosing nominees for Hong Kong's Chief Executive election in 2017, he admonished her.
"He said 'why are doing all this? It's ruining Hong Kong' and then he started talking about the riots in 1967 when people were killed and petrol bombs were thrown," recalls Lai.
After a heated argument, Lai reflected on her experience and concluded conflict was unavoidable, so she needed to figure out how to limit the damage to both sides and how to try to understand her father's experiences and thoughts.
She decided to set up a Facebook page for people to share strategies on how to discuss politics with relatives. She initially expected around 100 or so friends and friends of friends would join in. But without any promotion, the page has already received more than 1380 likes. Strangers have told her how glad they are to learn they are not alone and how grateful they are to have a platform for mutual support.
Ultimately, Lai is not hopeful that she can change her parents' points of view and she says this is not her goal. However, she wants to create the possibility of communication and find a way to maintain relations between people across the divide.
"I just want them to accept that someone can have a different view to theirs and that just because their view is different, you cannot completely dismiss it."
"Hong Kong's values will continue to be eroded," she says. "It may become an uninhabitable place, or it may become like just another mainland city. " Even if some people are unwilling to protect and uphold those values today, Lai hopes that by communicating her views calmly and consistently, she can "maybe sow the seeds of resistance that may bear fruit when things deteriorate further and become more extreme."
Postscript: Taiwan yesterday, Hong Kong tomorrow
The WhatsApp wars are not just being fought between the generations, but also among peers of the same generation. While the young people I know were talking about the inter-generational conflicts in their families, more and more of my friends were complaining about a similar phenomenon within their peer groups.
Chu Hon-keung, a 50-year-old former environmental campaigner says he noticed the tone began to change around six months ago in a WhatsApp group comprising his secondary schoolmates. Members of the group come from different sectors of society, including those in business, the police and civil servants.
Chu says posts and articles expressing strong views against socially liberal and pro-democratic politics appear every day, often more than once a day. Protests against government plans to push through funding for a huge redevelopment plan in a rural area near the border with the Mainland further inflamed emotions in the group. Chu was perceived as being sympathetic to the protests, in which some demonstrators broke through police lines and tried to storm the Legislative Council.
"I would be attacked by four of five people, it was very uncomfortable," says Chu, who eventually left the group.
Chu, who studied and lived in Taiwan between 1983 and 1991, sees parallels between the Hong Kong of today and Taiwan during and immediately after martial law ended in 1987. For years afterwards and as Taiwan transitioned to a multi-party democracy, the island was split between the pro-Kuomintang blue-camp and the opposition, pro-independence green-camp. The blue-green chasm was known to split families and even prevent people from marrying across the divide.
"Hong Kong is becoming more and more split, you can only take one of two sides, the voices in the middle are being extinguished," he says. "There is no way to communicate or resolve problems."
Popular in the Community