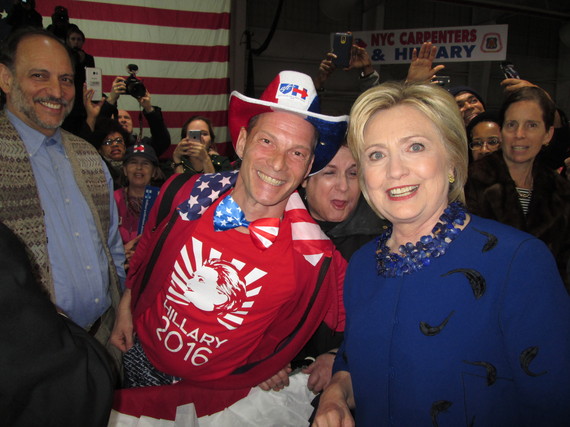 Are you revved up about this election cycle? Planning on attending any of the campaign events that will crisscross our fair country from now till next November? Do you crave to see your candidate of choice up close and personal? Are you pining away for that oh-so sought after presidential Selfie? Well, then it's past time that you got your political fashion game on point!
Last week when Hillary Clinton held a large rally in New York City I decided that not only would I attend, I was going to have some fun and possibly garner a little extra attention by dressing up for the rally. I went all out, if I do say so myself. Dressed in all red, white and blue with my Hillary 2016 shirt, Declaration of Independence pants, cowboy hat and Old Glory bow tie, I was indeed a sight to see. And the results were amazing! I didn't even make it inside the building before volunteers had pulled me out of the line, asking for photos and then giving me a prime seat on the bleachers directly behind the stage where Hillary would be speaking (I was noticeably visible on the news clips on NewYork 1 the next morning). And several reporters and photographers broke away from the press pool and began following and photographing me. It was all very surreal but the best part was yet to come.
After Hillary's speech was over large crowds of people pushed towards the edge of the stage trying to catch a glimpse of Hillary up close and one of the volunteers ask if I was going to try and get a picture with Hillary, but I said I doubted I could even make a dent in the crowd that was surrounding the stage. But once again, the volunteers told me that I should really try because they thought Hillary would get a kick out of my outfit. And much to my delight they brought me over to the edge of the stage and told me I should just wait there. It was at this point that I realized they had plunked me down right in front of Huma Abedin, Hillary's personal assistant (that's when I really started to get excited)!
And sure enough, though it took some time, Hillary did make it over to me, smiling as soon as she saw my outfit. There was a group of secret service agents with her and I could see that people in front of me had been handing their cameras/phones to the secret service agents and asking if they would take a picture of them with Hillary, so I did the same. But wouldn't you know it, my fashion extravaganza was almost undone by a sweet little older woman who either didn't see that I was about to have my picture taken, or was just a bit overwhelmed to have Hillary so close to her, that she stepped in between me and Hillary and began speaking to her. The secret service guy who was holding my camera just froze for a second and Hillary, bless her heart, didn't miss a beat, and smiled at the woman and said "I hear you, so please keep talking, because I am listening, but this colorful young man wants to get a picture." She then leaned in closer to me and the secret service guy snapped the photo -- which I absolutely adore!
The power of fashion. It's an amazing thing!