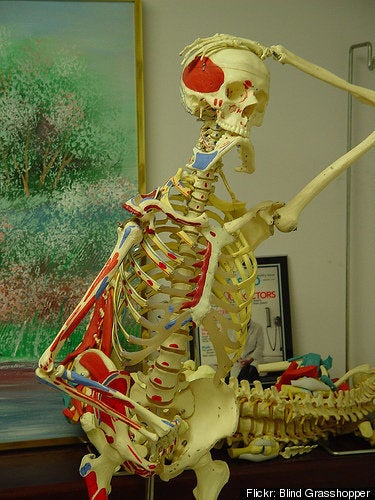 Shirley Rish of Mesa, Ariz., met with an orthopedic specialist earlier this month hoping for relief from some pain in her wrist. Instead, she received an unwanted dose of politics.
"Well, we're in a box, because I can't give you a cortisone shot, because of the valley fever," the specialist said, according to Rish, who had recently recovered from valley fever. "Your valley fever doctor would not be happy with me. But we're lucky we're not in the Obama box, because if we were, I couldn't treat you because you're over 70."
"I could not believe my ears," Rish said in an interview with the Huffington Post. She took what the doctor said to be a version of the false "death panel" propaganda spread by opponents of health care reform. She told him she disagreed. "I'm 74, but I'm not stupid," she said.
The orthopedist, Dr. Ralph V. Wilson, did not return calls left with his assistant. Annette Procknow, practice administrator of the orthopedic office where he works, said she wouldn't comment, citing doctor-patient confidentiality. But she didn't shy away from talking about health care reform.
"It's a very emotional situation for lots of people, and here in Arizona we have so many senior patients, and it's also a big thing to our physicians who are trying to treat patients," Procknow said. "The number of Canadian patients we see in our office during the winter time for joint replacements is incredible, because they can't get it done in Canada with their socialistic medicine... People are only hearing certain things that are coming out from Obama, and our physicians know that."
HuffPost readers: Have you talked politics with your doctor? Has your doc spoken negatively or positively about health care reform? Tell us about it! Email arthur@huffingtonpost.com.
American Medical Association policy says physicians have a responsibility to keep themselves informed and "to work for the reform of, and to press for the proper administration of, laws that are related to health care." And they should tell their patients:
"It is natural that in fulfilling these political responsibilities, physicians will express their views to patients or their families," the policy says. "However, communications by telephone or other modalities with patients and their families about political matters must be conducted with the utmost sensitivity to patients' vulnerability and desire for privacy. Conversations about political matters are not appropriate at times when patients or families are emotionally pressured by significant medical circumstances. Physicians are best able to judge both the intrusiveness of the discussion and the patient's level of comfort. In general, when conversation with the patient or family concerning social, civic, or recreational matters is acceptable, discussion of items of political import may be appropriate."
Arthur Caplan, director of the Center for Bioethics at the University of Pennsylvania, said the AMA's policy is too generous.
"Doctors can be political, but they have to keep it in the waiting room. It should not ever be in the clinical setting. You've gotta keep it informational," he said. "The patients are vulnerable because they want to please the doctor... You don't want to irritate your doctor when you're in your little half-naked nightgown and you try to find out if the doctor will see you again about your defibrillating heart."
Rish, a retiree and a widow who volunteered for both the Kerry and Obama campaigns, sent her physician an angry letter.
"I am extremely well informed, and I know that you are one of those peddling lies that are preventing much needed health care reform," the letter said. "I believe that your comment was intended to intimidate and frighten an elderly patient. I don't doubt that you make that kind of comment to all of your elderly patients. Your comment was unethical and immoral. Those opposing health care reform are motivated by greed, ignorance, or stupidity. I have to assume that in your case, it's not ignorance or stupidity.
"I was terribly upset when I left your office. Please stop perpetuating those kinds of lies."
Popular in the Community