Chude Jideonwo is the author of three books, including his latest non-fiction title, How to Win Elections in Africa. Fresh off concluding a fellowship at Yale University, we spoke about his book, his company, what he thinks about young people running for office in Africa, and why he is not standing for elections anytime soon.
"To be honest, I write books so I can do book tours," Chude Jideonwo tells me with a twinkle in his eyes, and a wide smile he is trying to contain. "Book tours are such fun. You meet all these brilliant minds with piercing questions, a pulsating heart for the issues you care about and just a desire to be in a space where thought is the meal of the day. Ah, what's there not to like?"
There has certainly been plenty to like for him since he launched his new book (co-authored with his business co-founder, Adebola Williams), How To Win Elections in Africa. Fresh off a launch at Yale University hosted by its Council on African Studies, he has been on a two-month whirlwind tour of North America, with events in Vancouver, Atlanta, Washington DC, Pennsylvania, Ohio, Boston and then in London. This is apparently only the first phase of the international tour.
"I told you I am having too much fun," he says, still smiling. "I felt like I was going to collapse, and heeding my own lessons about joy, I knew I had to pace myself. Not that this wasn't already brutal, but I have done a massive book tour before, in 2014 and it was almost a city a day. I promised myself I wouldn't do that to myself again, so I moved some of the events to 2018. I will be returning to New Haven and to London, and then will have events in Toronto, Texas, Kansas City, New York and other cities to be announced."
But wait, if the book is about Africa, why is the tour focused on the West? "Well, there is the fact that it is subtitled 'Parallels with Donald Trump'. For me, I wanted to be part of the global conversation as to what this new populism means for the world, especially because people keep isolating Trump as an American phenomenon, and I say they are not paying attention: this is happening everywhere in the world: France, Germany – that can't even do a basic thing like form a government – of course the UK, not to talk of Nigeria, Ghana, Gambia, almost-Kenya etc. So there is that. This anti-establishment fervour is a global reality, and it is important for me as a storyteller to tell that major story.
"Then of course, I was already here in America for the fall, as a Maurice Greenberg World Fellow at Yale, and so it was natural to kick off the book tour with this leg since these places were closer to me, and I was going to be here for a full semester. So I am back in Nigeria this month, and I think there are events scheduled for me in Ghana, Cameroon and I think Kenya. Plus, Adebola (Williams) has been doing the rounds in Lagos, after his big Obama speech in Chicago. He was at the Ake Festival, the Lagos Book and Art Festival, too. So this has been kind of a neat division of labour."
'How to Win Elections in Africa' draws from the author's experience through his company, StateCraft Inc., the nation-building subsidiary under the media group RED, that has worked in presidential elections in Nigeria, Ghana and Kenya and that has provided advice to candidates in Liberia, but it is an unusual, if also unexpected, book. It isn't a tell-all ("that would be such a waste of opportunity," he says with a slight grimace), and it really doesn't present a secret sauce for willing elections, instead it is in fact a heavily researched, heavily sourced 294-page tome that will find a cushy space in the bookshelves of the academia.
"Yeah I say waste of opportunity because I don't know, to share inside juicy details of what went on in the campaign? How does that help anyone? I mean I share bits and bobs at my readings, but that's not the focus. Also, as you rightly point out, it doesn't give anyone a simplistic roadmap. As I always tell people, if I wrote a book telling everyone the secret sauce to winning elections then, uhm, it's no longer a secret sauce! What it is instead is a book that seeks to make a point about what matters and should matter for elections and political movements across the world. Then it brings that framework, through the lens of Brexit and Donald Trump to help people understand how these 30 factors matter or don't matter in African elections.
"One of the most gratifying stops on the tour trail was when an official of the State Department in DC came to me after my reading to say thank you for helping him clarify some knotty issues they had been dealing with and other things I can't share in detail here. That said to me that we achieved what we wanted. Because this book has two broad goals: the first is to take our fortune as social movement builders who have front row seats to major political revolutions to help de-mystify elections in the region especially for non establishment players and for serious minded young people. It's basically saying, you can do this, if the playing field is level, and this is how you can level it. But the second is for the world; it's a guide to what I annoyingly call 'Friends of Africa', in and outside, who want to understand for instance, does social media really make a difference? Is it true that without money people cant win in Nigeria or Ghana? Those kinds of questions that follow, not just gossip, and not just our personal experiences, but use our personal experience as a roadmap to delve into the research and the evidence about voting behaviour on the continent. So that people have a major resource that really does something no one seems to have done for contemporary African politics: take a scholarly approach to understanding how exactly it works."
I notice he mentions 'serious minded young people'. I ask him about that. "Ah, you caught that. To be honest, I am very impatient with my generation. I have taken to saying that it's only in politics that young Africans believe that a) the fact of youth is itself a predictor of success and b) that just because they show up, they deserve to be taken seriously or to be supported. All that is, to use the academic term, bull shit. No one will make such a silly argument for business, for the academia, not even to open a church. Sometimes someone will say, but young people don't have money to run elections. And I say, it means we don't yet have serious candidates. How do young people manage to raise millions for businesses in every area of industry and not for this more important field, for instance? It's lazy nonsense. If you are a young candidate and you claim to have a fresh, compelling message, and you cannot even inspire the people in your local government to reach into their pockets and invest small amounts of money to launch you into victory. If you can't even inspire those around you to believe in you, why do you think you deserve to be taken seriously? In my country, we urgently need to elevate the conversation amongst for instance my peers, so that it is evidence based, reality-rooted, and – I apologise for being somewhat dismissive here – thoughtful. Right now, it's this terrible old/young, PDP/APC binary and it is both unhelpful and counterproductive. If young people want to be taken seriously in politics, those who want to be politicians, then they should make people take them seriously, not moan petulantly."
So why doesn't he go into politics? "Because that's not my mission today. In terms of my country Nigeria, RED has always had a 20 year vision from when we launched in 2005. Our company was founded on a long term goal to help rebuild the foundations of our leadership and governance by that time. We first said we would do that in spite of politics, and then eventually we realized politics was inevitable. We have created branches of our company and branches of our passion to help enable this path, and I dare say Nigeria is on course. We have come a very long way from the massive election rigging of Olusegun Obasanjo (who was, and still is, an impressive leader) to both electing a minority president and proving that no one owns the country by putting in office the first ever opposition candidate in our country's history. Over the next eight years, the next stage of this mission is simple: electing the kinds of contemplative leaders who actually know how to construct a modern society. Because leadership matters. In the RED vision, that's where we are now. It is most likely that this leader will be young, but that is less important than the age of the person's ideas – about the economy, about patriotism, about the negotiable parts of our uneasy construct as a nation, about institutions. It may not happen in this election cycle, but if we keep moving, if we build upon the success of 2015 as citizens, then we will make another huge leap forward within the next few years."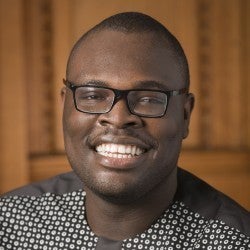 So, no politics? He laughs heartily. "No, not for me, or maybe I should say, not for me now. In fact, I suspect this book is my valedictory politics book. I have helped build this beautiful, innovative company called StateCraft Inc, which is doing mind-blowing work, as we speak, across Africa. It has a central role that it will and is playing in Nigeria's elections because that's the country of our birth as co-founders, as well as across the continent. It has an amazing team that is hooked on achieving our long term 2025 vision, with or without me, which is one of my proudest accomplishments as chief executive of RED for 12 years. And now I can move on to really answer my calling as a human being, beyond my crucial identity as a Nigerian citizen.
"You see, politics is deeply important, and inevitable," he says. "It's also the one thing that most converts all the thought into action, so its always in my sights. But it is neither the most important thing in the world, nor does it often deserve the disproportionate attention it receives. Often, it can be terribly small as a platform to launch real change, to really transform societies. There are bigger forces that define our actions; social constructs that we are often unconscious of, faith which is a major deal for me these days and the life of the mind – the things that define how we think, how we act, the stories we tell ourselves to motivate and justify our actions, and how we try to make the world in our own image. I think the world in general is in urgent need of a new story, and that story will drive our politics, our economics, maybe the culture. In January, I am launching a new mission in this regard. I am going to be part of telling and navigating this new story, especially for Africans. I am terribly excited."
Chude Jideonwo is on Twitter as @Chude.
Calling all HuffPost superfans!
Sign up for membership to become a founding member and help shape HuffPost's next chapter
This post was published on the now-closed HuffPost Contributor platform. Contributors control their own work and posted freely to our site. If you need to flag this entry as abusive,
send us an email
.