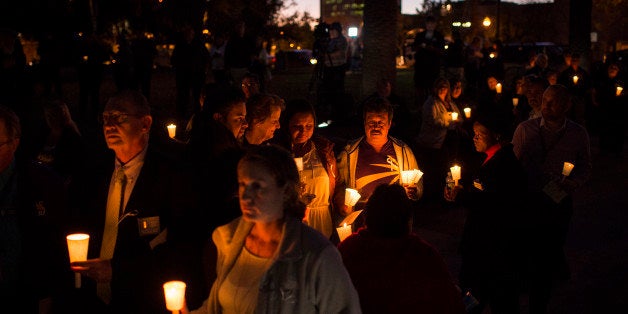 Benjamin Franklin is credited with saying: "Those who would give up essential liberty for temporary safety deserve neither liberty nor safety."
Yet, today, fear is compelling many Americans to do just that.
According to one recent Gallup poll, at least 30 percent of Americans now believe countering terrorism and protecting national security justifies the violation of our civil liberties.
Despite proposed anti-Muslim and anti-immigrant policies that are both racist and unconstitutional, favorable poll numbers for GOP presidential candidate Donald Trump indicate more and more voters are willing to surrender core American values in exchange for a perceived sense of security.
It's no small coincidence that the trepidation boosting these poll numbers stems partly from sensationalized media reports and inflammatory anti-Muslim rhetoric from GOP presidential candidates themselves.
Such rhetoric was especially pronounced in Tuesday night's fifth Republican presidential debate, which was a chilling reminder of these candidates' careless disregard for our Constitution.
This fear combined with ignorance is contributing to hate crimes and threats against Muslims and Islamic institutions
The fire-bombing of a California mosque. A pig's head left outside a mosque in Pennsylvania. Threatening messages sent to an Islamic center in Kentucky. Vandalism of property at mosques in Arizona and Texas.
These are just a sampling of an alarming spate of disturbing incidents that have taken place at U.S. mosques in the last seven to ten days. Such incidents are occurring at an unprecedented rate.
According to data collected by the Council on American-Islamic Relations, the nation's largest Muslim civil rights and advocacy organization, over 60 U.S. mosques have been vandalized, subjected to arson, or targeted in some other manner this year alone. That number has tripled from last year and is increasing daily.
Consequently, Muslim communities are left feeling vulnerable and concerned for their safety.
Like most houses of worship, mosques are generally open to the public. They are intended to be safe sanctuaries where people can congregate, worship, reflect, and learn.
But now the task for mosque leaders is to proactively safeguard a facility that is deliberately designed to be open and accessible. As concerns elevate, so does the priority of this task.
Last Saturday, two days after holding the first statewide emergency preparedness summit for faith leaders in Maryland, I was scheduled to speak at a local mosque.
En route to the mosque, I learned that two more U.S. mosques had been defaced with graffiti.
A security officer vigilantly stood guard as I pulled into the parking lot and parked my car. When I entered the mosque foyer, two children shrieked playfully and chased each other down the hall under the watchful eye of their guardian.
The adhan -- the Muslim call to prayer -- was announced on the overhead PA system. As people entered the building and made their way to the musallah for congregational prayers, a security camera diligently recorded every movement.
The additional security precautions have not always been routine. Once upon a time, the main concern of Muslims walking into a mosque during the calling of the adhan was simply to make it to prayer on time.
But as daily headlines paint a grim portrait of rising anti-Muslim sentiment, and as GOP presidential candidates continue bashing Muslims as they claw and fight their way up in the polls, many within our communities are plagued with legitimate safety concerns.
Fear is a powerful emotion. It silences consciences and paralyzes dialogue. It normalizes intolerance, perpetuates bigotry, promotes division, and inspires hatred.
Perhaps most dangerously, it persuades Americans to compromise our values and relinquish our hard-fought rights and freedoms for perceived temporary security.
It is a normal to feel afraid in troubled times, but Americans who are afraid must recognize that those who stoke fear and animosity want us to feel afraid. They have an interest in perpetuating fear because it allows the masses to be more easily manipulated.
We are strongest when we are united. Our security and well-being are intertwined regardless of race or religion. Collectively, we represent the fabric of one nation with common dreams and shared values, seeking the same rights to life, dignity, and the pursuit of happiness.
Our future and the legacy we leave behind for future generations depend on how we respond to challenges. We must re-program our instinctive response to fear and resist the inclination to succumb to it.
Let us open our minds to different ideas and embrace unique perspectives even as we recognize that our endurance lies in our diversity and the ability to enrich ourselves individually and collectively through it.
Regardless of which side of the fence we stand on, we must check our fears and maintain a balanced perspective. Let us work to dismantle those fences and stand together on common ground.
We must resolve to protect civil liberties and ensure that the politics of fear will never overshadow the power of faith -- in a supreme being, in one another, in ourselves.
Only then can we successfully safeguard our communities, protect our nation, and defeat the forces that seek to harm us.
REAL LIFE. REAL NEWS. REAL VOICES.
Help us tell more of the stories that matter from voices that too often remain unheard.