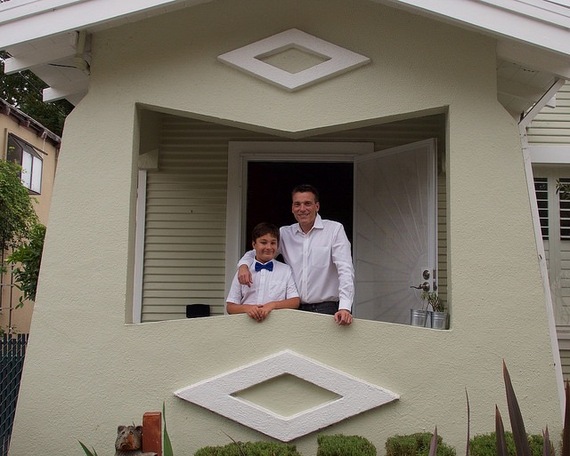 Who I am today has been largely shaped by the battles I have fought my entire life. From the moment I acknowledged my sexuality I have struggled with issues like self-worth, prejudice, and acceptance. These struggles were based on generations of discrimination and systemic homophobia.
As children of the eighties and nineties we were taught a very valuable lesson: Silence=Death. Our voices needed to be heard in order to change the hearts and minds of current and future generations.
In my fight for equality, I have always been the outsider. I never accepted the limitations that society put on me, yet no matter how successful I was at breaking stereotypes and forging new relationships, I still found myself being labeled. I was the "gay fraternity brother" or the groom at the "gay wedding" or the "gay dad".
It wasn't until I moved to Albany, a small town nestled next to Berkeley, that I found myself accepted for who I am--without any labels.
I chose Albany because of the stellar reputation of its public schools. However, I discovered that my adopted hometown offers much more than its schools. It's Albany's people who make this town very special.
There are no gay pride parades in Albany or gay and lesbian film festivals, but there are people that care for one another and look out for each other. You are not a label, but rather a neighbor, or a friend. I have never felt so special--just by being treated like everyone else.
As someone who has spent most of his adult life as an outsider, I had to change my perspective. The struggle for equality within California, or the Bay Area, or even Albany, is by no means complete, but now I truly belong to a community, and I'm comfortable here.
So what happens when you are more comfortable? When it feels like the war is over? When being gay is no longer an issue? When your community has taken you in as one of its own? At first it felt like victory but now it feels like responsibility--an obligation to give back to the community that has given my son and me so much.
Because it was the schools that brought us here, and because I was once a teacher, I recognize that running for the Board of Education is my opportunity to fulfill this obligation. I am campaigning, not as the first openly gay dad to run for the Board, but as the former teacher and current small business owner who understands the economic and social challenges we face today.
Over the course of the next several weeks I hope to earn the votes of my Albany neighbors by demonstrating my passion for and commitment to being an exceptional Board of Education member. But win or lose, this small town east of Oz has changed me for the better, and I have been changed for good.
Calling all HuffPost superfans!
Sign up for membership to become a founding member and help shape HuffPost's next chapter