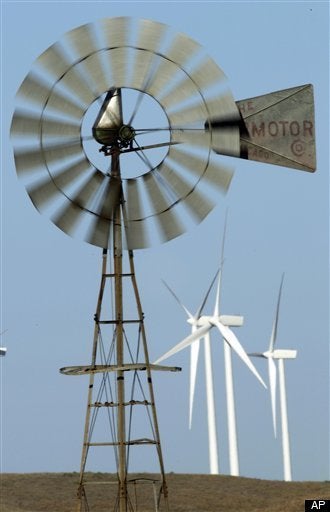 Juliet Eilperin's and Jon Cohen's Nov. 10 Washington Post story about the growing gulf between Democrats' and Republicans' views on renewable energy paints a grim picture of our country's stalled clean energy future. As it says, "support for putting federal funds into alternative energy sources such as wind, solar and hydrogen has slipped to its lowest point in polls since 2006, driven by growing Republican opposition to such initiatives."
The findings, Eilperin and Cohen say, "show that attitudes toward renewable energy have diverged between the two parties."
While it makes for a nice headline, this data misses the point. Clean energy isn't a Democratic issue or Republican issue. It's a consumer issue -- and, ultimately, a jobs issue. According to the Solar Foundation's 2011 Solar Jobs Census, the solar industry grew 6.8 percent from August 2010 to August 2011, nearly 10 times faster than the overall economy grew during the same period.
Yet the media's focus on the politicization of clean energy in America is cutting this growing industry off at the pass. Washington isn't helping, either. As the Solyndra investigation heats into a cross-aisle blame game, Cape Wind -- what would be the first offshore wind farm in the U.S. -- still faces setbacks and fierce opposition, 10 years after first being proposed. Thankfully, President Obama seems to have found an elegant solution to the Keystone XL quagmire, but even this seems like small comfort to an industry that's struggling to break through.
Meanwhile, consumers across the country aren't waiting for Washington. They're choosing clean energy because it's good for their wallets -- and good for their communities. In Arizona, which moved from eighth to third in the Solar Jobs Census's job growth rankings, homeowners of all political leanings are leasing and purchasing solar energy systems for their homes because it's saving them money and supporting local contractors. Arizona SmartPower's Arizona Solar Challenge, which encourages solar adoption as a way to put solar on 5 percent of homes by the year 2015, has already signed on 15 communities. Two of those have already met their 5 percent goal -- and are forging ahead to achieve even more.
Meanwhile, three large-scale, renewable energy utility projects currently under construction in Arizona represent total investments exceeding $2.7 billion. That sounds like something both Democrats and Republicans can get behind.
Until we get serious about discussing clean energy's benefits to consumers -- more choices, more energy independence, more cost savings -- and stop focusing on how politics gets in the way, the industry will fight to go mainstream.
Brian Keane is the President of SmartPower, a non-profit marketing organization funded by private foundations to help build the clean energy marketplace by helping the American public become smarter about their energy use.
REAL LIFE. REAL NEWS. REAL VOICES.
Help us tell more of the stories that matter from voices that too often remain unheard.