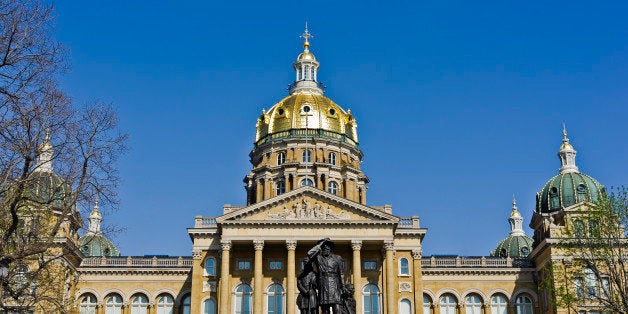 Chad Brown, co-chairman of the Polk County Republican Party in Iowa, has resigned and switched his political affiliation to "independent," arguing in his resignation letter that the GOP has become too conservative.
Brown, who served in his position since March, submitted a letter of resignation on Aug. 5, the Des Moines Register reported Tuesday. In his letter, the former co-chair wrote that he was "severing all ties to the Republican Party," despite having identified as a Republican for his entire life.
Brown told the Register in an interview that his decision was spurred by the influence of the Christian right and National Rifle Association within the GOP, as well as Rep. Steve King's (R-Iowa) controversial comments last month comparing young, undocumented immigrants to drug mules. While House Republican leadership condemned King's comments, many of his colleagues remained silent on the subject. The congressman also continues to serve on the House Judiciary Committee.
Brown also took issue with the Republican Party's refusal to acknowledge climate change and global warming, telling the Register the GOP "has declared war on science and common sense."
Read Brown's full resignation letter here:
Dear Polk GOP Executive Committee Member,

I am writing to inform you that I changed my voter registration to Independent today – severing all ties to the Republican Party. Having been a Republican all my life, I did not take this decision lightly.

Having spoken with a pastor and having prayed about this for hours, I came to the conclusion that this is my only recourse. I'm disappointed with the Republican Party at the National level. I'm disappointed with the Republican Party at the Statewide level. I'm disappointed with the Republican Party at the Countywide level. I find it increasingly difficult to defend issues and statements made by Party leaders and officials from all three levels.

I decided to get back in this arena following the "contentious" 2012 Polk County GOP Convention. I was upset by what happened at the conventions, and I entered into the arena with the intent to help fix the problems. However, I think this level of dysfunction is not going to be fixed any time soon.

I donated time and financial resources to the Polk GOP and haven't had a good return on my investment. In the 2000 Presidential Election, the Polk GOP lost Polk County by about 16,000 votes. In fall of 2000, the Polk GOP had no headquarters. The Polk GOP had no paid staff. The Polk GOP didn't even have a working telephone number. Fundraising was minimal.

In 2012, the Polk GOP lost Polk County by over 32,000 votes. Until 2002, Republicans were elected to the State House from Des Moines. In 2012, Republicans lost 2 State House seats in suburban, Republican-leaning districts and came two dozen votes from losing a third. Facts are stubborn things. I think we are now headed in the wrong direction on several fronts and regretfully must step aside.

It's my opinion that rather than fix the problems that led to such a massive 2012 defeat, the GOP does not seem to seriously want to fix the issues. I think helping a dysfunctional Party that does not want to address its problems is enabling. I do not believe in enabling. I debated this for weeks and am certain this is the only course.

I wish you the best of luck,

Chad Brown
Calling all HuffPost superfans!
Sign up for membership to become a founding member and help shape HuffPost's next chapter
BEFORE YOU GO
PHOTO GALLERY
Obama's Fist Bumps